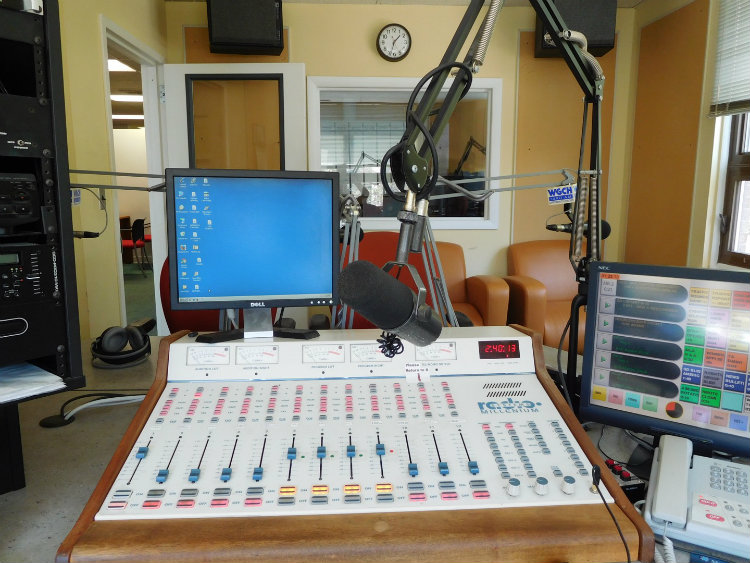 By Rob Adams
Sentinel Reporter/Broadcasting Manager
The corner of Lewis and Mason Streets has Bruce Park Sports, Computer SuperCenter, and Patriot National Bank on it. Climb a flight of stairs above the bank, go to the first door on the left, and there is one of the electronic nerve centers of Greenwich: WGCH Radio.
The station, found at 1490 on the AM band, has been a part of the Greenwich community since 1964. Yet the history and fascination with radio in Greenwich predates that.
The website hartfordradiohistory.com says that a WGCH-FM went on the air on December 5, 1948. The studio was located near the Pickwick Arms Hotel, at the top of Greenwich Ave.
According to the site, "It (WGCH-FM) played a variety of music but concentrated mostly on light classical and classical themes."
FM Radio was invented by American Engineer Major Edwin Armstrong, and thanks to a protracted battle with the Radio Corporation of America (RCA), the concept never really took off until the late 1960's. RCA, and other radio pioneers in the first half of the Twentieth Century, saw FM as a threat to the more-established AM radio. As such, WGCH-FM was gone by the mid-1950's.
Major Armstrong, in fact, played another role in radio in Greenwich. He and a team of engineers set up a home radio station near the corner of Clapboard Ridge Road and North Street. That station was considered to be the first of its kind in the US and also made the first trans-Atlantic shortwave broadcast on December 11, 1921.
In September, 1964, a new WGCH debuted, this time on the more-established AM radio. Initially located in studios near the corner of Milbank and East Putnam Avenues, the station moved to Dayton Ave in 1969. Being smart in marketing, former ownership, including John T. Becker ensured the address was 1490 Dayton Ave, and the phone number was 203-869-1490. That's still the phone number, though the studios moved to Lewis Street in 2007.
The station has had its fair share of names that are known throughout the industry pass through its doors. Bill Daughtry, once heard on New York Yankees broadcasts on MSG TV, is now part of ESPN Radio in New York. Dave Rothenberg, a former studio host on Greenwich Cardinals sports broadcasts, is also on ESPN.
For years, mornings were anchored by Jim Thompson. Known for his authoritative delivery of the news, Thompson could also be found playing music on his Mario Lanza and Friends radio show. The Polka Party, The Trading Post, and many other shows, were also a part of "GCH's" past as it shifted formats from music to talk to business talk.
Currently, Tony Savino occupies the prime real estate known as the "NewsCenter," weekday mornings from 6-9. Savino has become of the news voice of Greenwich, and has brought listeners the stories, school closing, political chat, and much more for over a decade. Savino also has a Noon NewsCenter weekday afternoons. Jim Campbell, Savino's backup in the news chair, hosts "Business Talk with Jim Campbell," a show that airs nationally on Biz Talk Radio, but is produced at WGCH and airs Monday nights at 6 p.m.
Debbie Nigro occupies the 10 a.m slot with her show that she describes as, "The elite to the street." Her one-hour show is a high-energy mix of authors and other great guests talking about food health and wellness, and anything else that comes to Nigro's mind.
In a less-frenetic, but equally electric way, some of the same can be said about The Lisa Wexler Show, airing from 4-6 p.m. Monday through Friday. A probate judge in Weston and a co-author of an award-winning book, Secrets of a Jewish Mother, Wexler holds down the drive-time slot with a mixture of current events and hints of entertainment and beyond. Wexler can boast a guest list that stretches from Maya Angelou to Mike Huckabee to Gloria Steinem.
Darby Cartun, host of Darby and Friends, which airs weekdays at 12:30, adds to the collection of community-focused radio hosts bringing a wide-range of guests to the WGCH airwaves.
Of course, not to be forgotten is Sam Romeo's Greenwich Matters, Thursday-night at 6 p.m. The two-hour show is a Greenwich-focused program, featuring politics and items that matter to the town.
Not be forgotten, of course, is Greenwich Sentinel Doubleheader. The sports talk show – the newest entry to WGCH's daily mix – features topics both big and small. Each of the local high schools, along with youth sports, minor leagues, and independent guests get their say as the sports spectrum is reviewed each day.
All of the programs can be heard on wgch.com with many of them being archived.
Sports plays a big part of the WGCH schedule, with Boston Red Sox, New England Patriots, University of Connecitcut games on the air. Yet high school sports is still the heart and soul of the sports schedule.
The station, currently owned by Forte Family Broadcasting, is getting ready for the 53rd season of Greenwich Cardinals football on WGCH. The Cards' first game – on the road against Westhill of Stamford – will air at 3 p.m. on Saturday, September 10, with the pregame show beginning at 2:50.