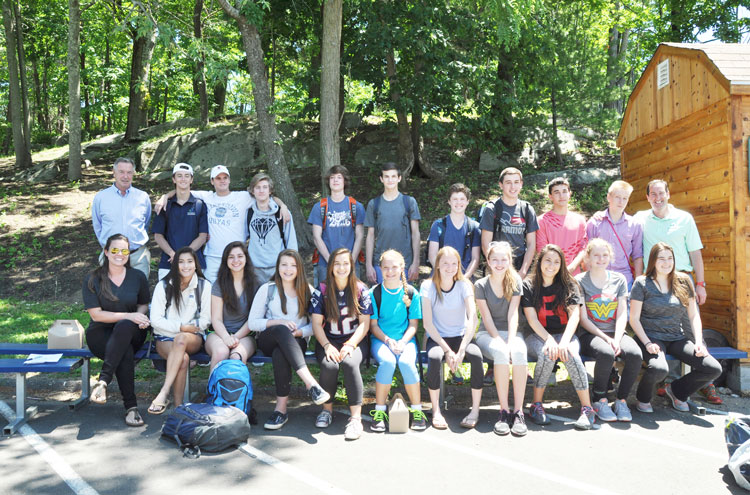 When Stanwich School science teacher Shaun Fletcher traveled to Rwanda in the summer of 2008 he was on a quest — he was searching for a community with needs that Stanwich could support on a long-term basis. And he found what he was looking for in Cyabatanzit, a rural Rwandan community.
On June 15, Mr. Fletcher and Stanwich Librarian Linnea Davis traveled to Cyabatanzit with 18 Stanwich School students and alumni to take part in Project Blessing, so named because its work will be a "blessing" to the men, women and children of the village – as a multi-phase project with limitless opportunities. Along with hundreds of pounds of donated clothing, the sojourners will be bringing more than 1,000 pairs of shoes with them that were collected by a student-run shoe drive.
Over the past few years, the funds raised by the Stanwich community have been used to construct a water well, three kindergarten classrooms, a kindergarten playground, as well as the foundation for a Grades 1-3 classroom.
In addition to installing electricity to the village this summer, as part of this year's trip, Stanwich volunteers will be conducting eye exams. "We are thrilled to be partnering with One World One Vision to conduct a vision screening clinic at The Blessing School in Cyabatanzit," said Mr. Fletcher. "This organization works to reduce vision loss, especially in developing countries where individuals – many of them children – often don't have access to eye care. Thank you Dr. Martin Lederman, Lederman and Lederman Pediatric Ophthalmology, and Adult Strabismus for the many hours you have given to our students to train them for this opportunity."
A second group of volunteers will be traveling to Cyabatanzit at the end of the month, including teacher Alex Fornaciari, and Head of School, Charlie Sachs.
The long-term project includes drilling and installing a fresh water, and the construction of various buildings, such as kindergarten classrooms, a library, medical center, Primary 1-9 classrooms, and full bathrooms complete with showers and a laundry room. A critical aspect of the project was the creation of a water system, a waste management system and an irrigation system in order to support a community-led fruit and vegetable farm.
During their trip, the student will also visit a genocide memorial museum, build and paint classrooms, distribute supplies to local villages, go on a safari, and teach at Kigali City School.
Stanwich students and alumni, Alice Belshaw, Ethan Berman, Jackson Boolbol, Lukens Boolbol, Brenna Carbone, Ted Carbone, Kenton Cooper, Elyse Crimmons, Rector Davol, Sue Sue Drennen, Ted Frascella, Lily Grady, Isabelle Jackson, Thomas Goundrey, Jaden Kennedy, Nikita Kovalev, Jackie Lubarsky, Cullen Murphy, Alex Orwitz, Cameron Paradiso, Valerie Romo, Charlie Rote, Isabel Vigale, Gaby Wakim, Sam Walker, Kirsty Winn will be living in the community for which they helped raised funds.