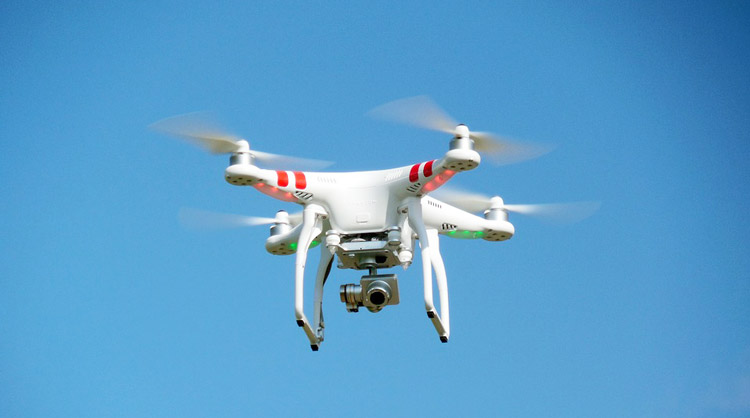 By Anne W. Semmes
Sentinel Columnist
I remember the moment when I arrived at the Byram Park osprey nest as a Connecticut Audubon Society osprey steward and saw a sight that sent my adrenalin rushing: hovering over the osprey nest was what looked like a war machine from a distant planet. 
It was a drone, black and menacing, with remote-controlled video. The ospreys were frantic, flying around, calling out their high-pitched squeals.
It was egg-laying time in early June, and I was particularly concerned since the returning female from her winter hiatus in the tropics was missing a mate. When a shy young male arrived, I had wondered if there would be eggs.
I promptly headed for the four men out on the ball field near the nest (which sits on the ball field lights), all eyeing the video—one holding the controls—with smiles on their faces. They were seeing perhaps what I couldn't see—the newly laid eggs. (There are fledglings now.)
Did they not know this was illegal, I blurted out, to disturb this protected bird species?
(Did I even know for sure if it was illegal?) Could they not see what their play was doing?
No matter: this scenario must end. My heat drove them off.
Minutes later, by chance, a police car arrived just as drone number two sailed over the Byram docks. The policeman was swift to dispatch those in control. "No drones allowed in town parks."
So comforting to know!
Drones first entered my life in a wondrous way. A friend introduced them at a birthday party when passing overhead came a small drone capturing the outdoor scene for posterity. I've since seen the majestic film "The Pursuit of Shackleton" of Cos Cob explorer Luc Hardy's journey to Antarctica in the footsteps of Ernest Shackleton, in which some spectacular scenery was filmed by Hardy's drone.
I've read how conservationists are using drones to map the wilderness down to a five-centimeter resolution, and African game managers are enlisting drones to lure elephants out of harm's way, such as from farms where they might be shot.
There are countless other uses of drones to aid wildlife that I can imagine, such as tracking that brave mountain lion that nearly crossed a continent in search of a mate and territory, only to be shot down along the Merritt Parkway. What if wildlife specialists could have kept him in their sites with a drone?
But a drone has no place cruising over a forest fire as it did earlier this month in California, nearly colliding with a helicopter on its mission to gather water to fight the fire. Fire officials promptly grounded all firefighting aircraft for some 20 hours as the fire raged on. The U.S. Forest Service has reported grounding aircraft in over a half dozen states due to drone interference.
Regarding the military's use of drones, I'll take a pass.
It's the hometown presence of drones I am reacting to. Such as that recent dinner moment with friends overlooking Greenwich Harbor when a small but distant object moving on the horizon caught the eye. "It's a bird, it's a plane… it's—a drone!" I announced.
My dinner companions didn't believe it. I insisted. Others at nearby tables stood up in wonder as the drone made its pass over the harbor, over the boats, and then disappeared. What was its mission? Peeping Tom? Why did it leave behind that unsettling feeling?
The presence of drones in our town is indeed a bit unsettling to those who are in charge.
Jeff Freidag is superintendent of the Marine & Facility Operations Division of Parks & Rec with jurisdiction over "aircraft … any contrivance … used or designed for flight in the air." Other than being verboten in town parks, he said there are no restrictions of drones in the air space over water. "It's not governed by the FAA," he said. His view is the FAA regulations haven't kept up with the drone industry. But he's had no hassles when encountering drone users, say in Greenwich Point. He explains the rules, and the drone enthusiasts depart peacefully—just like those men I confronted in Byram Park. But Freidag noted, "Half the time, you don't know who the operator is."
Such as Fourth of July fireworks night, when two drones were spotted flying over the beach, and "no one knew where they came from."
Similarly perplexed is the Greenwich Police Department, as seen in a response to my question regarding regulations of drones. "In brief," wrote Lt. Kraig Gray, GPD's public information officer, "Greenwich has a local ordinance that prohibits the use of drones within town parks. On a federal level, the FAA has enacted regulations regarding the registration of drones and limiting their use within five miles of an airport. Between those two extremes of authority (with countless legitimate situations that might be of interest to a private citizen) there isn't much the municipal police can do."
The lieutenant ends with a little legal advice: don't start shooting down drones near your property. "The FAA considers shooting down a drone a federal crime."
The last and most comforting words for this osprey steward came from Audubon Connecticut's Patrick Comins, the go-to director of Bird Conservation. First off, "Greenwich Audubon properties are definitely within the FAA exclusion zone for Westchester Airport."
Importantly, Comins added, "Using a drone near active bird nests without the proper permits could potentially cause a violation of the Migratory Bird Treaty and/or Bald Eagle Protection Acts, if that activity harmed a bird or their nesting success."
It appears that Byram Park is also within that five-mile radius of Westchester Airport. My osprey nest is most definitely in a no drone zone!