July 22, 2016
Arts Society: Keeping Art Education and Outreach Alive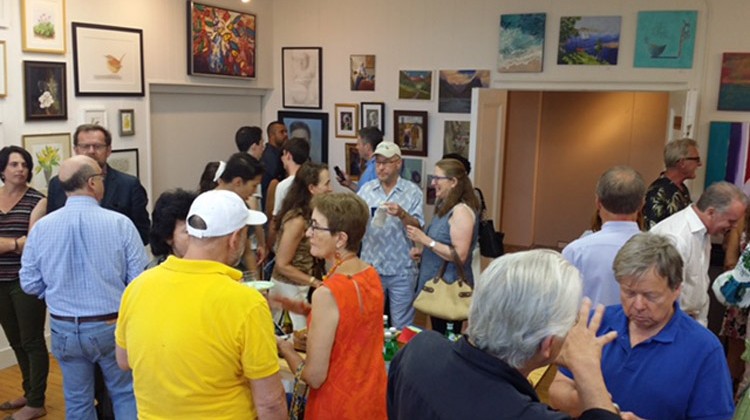 By Michelle Moskowitz
Sentinel Contributor
Art: The expression of human creative skill and imagination, typically in visual form, producing works to be appreciated for their beauty or emotional power.
The Greenwich Arts Society (GAS) is one of Greenwich's most historic organizations, originating around the same time as the Bruce Museum, in the early 1900's, where it held its first exhibition.
Known originally as The Greenwich Society of Artists, the founding members included many distinguished pioneers, including its first president, Edward Clark Potter, a sculptor best known for the grand marble lions in front of the New York Public Library. Early members also included American Impressionist painters Leonard Ochtman and Elmer MacRae and others associated with the Cos Cob Art Colony.
In 1958 this colony of artists became officially known as GAS, a non-profit organization providing year-round art classes for both children and adults, birthday parties, and summer camps. All classes are taught by professional artists, who undergo a complex vetting process to ensure they are the right fit.
The studio school offers a broad range of classes such as drawing, painting, and printmaking, targeting beginner, intermediate and advanced skill levels.
In addition to its abundant studio class offering, GAS provides an impressive gallery of ongoing exhibitions of artistic works by its members, students and faculty.
They also present annual exhibitions at local galleries including the Flinn Gallery at Greenwich Library, the Gertrude White Gallery at the YWCA, and the Garden Education Center of Greenwich.
"Our exhibits are highly competitive and juried by well-respected professionals in the field, such as the Metropolitan Museum of Art and the Whitney Museum," said director and president of GAS, Anna Patalano.
"We are truly stewarding the careers of our artists through our coursework and the value of our organization is deeply rooted in our student shows," added Patalano.
Not to mention the cultural experience for Greenwich residents to simply peruse the quality work of local artists right in town.  GAS is conveniently located at the Senior Arts Center at 299 Greenwich Avenue.
While GAS currently has a member base of almost 300, donations have been significantly down and fundraising has been increasingly more difficult to obtain.
Today, the organization is in critical need of raising money in order to continue its programming and gain better visibility for its future.
Patalano, an accomplished artist herself and a teacher at the studio, feels passionate about building a solid foundation for her artists.
"Our members truly value the outlet of exercising their creative mind, and we offer a sacred opportunity to share that energy which we very much want to continue to do," said Patalano.
Many people often confuse GAS with the Greenwich Arts Council (GAC), which is another well-regarded non-profit outfit offering its own programs, but primarily serves as an umbrella organization to the cultural arts in town such as Art to the Avenue, and Curiosity Concerts.
Fortunately, GAS has an angel donor, an artist who participates in their juried shows. This donor highly values the organization and has offered to match, dollar for dollar, any money that can be raised up to $10,000. This pledge will be in effect until December of this year.
If GAS can raise the full amount of matching funds, they will have secured the required funding through 2017 as well as enabled the launching of an endowment campaign for the future.
Please visit the GAS Go Fund Me page at https://www.gofundme.com/2e23ps9e to make a pledge and help keep the arts community thriving in the community.
Visit greenwichartsociety.org for information.
Tags:
art classes
,
art school
,
funding
,
greenwich arts society