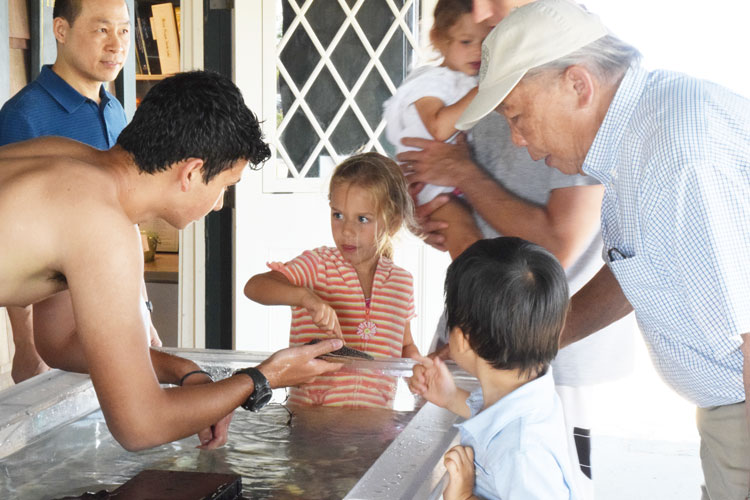 By Chéye Roberson
Sentinel Correspondent
As children and families filled Greenwich Point Park for the Greenwich Shellfish Commission's "Experience the Sound: From Streams Through Soil to Sea," held in conjunction with the opening of the Bruce Museum's Seaside Center on Sunday afternoon, it seemed that summer was fully here—and that kids continued their learning in fun and exciting ways.
"It's a wonderful resource for kids exploring the ecosystem of the Long Island Sound and learning about the animals that live there and why it's important to us and important to the environment," said Daniel Ksepka, the science curator of the Bruce Museum. "And what a beautiful day to do it."
Inside the Seaside Center, program coordinators and naturalists highlighted some of the interactive learning programs that are available this summer while representatives from multiple environmentally conscious organizations provided people with information about Long Island Sound marine life, nature, and outdoor recreational outdoor activities.
The two naturalists who coordinate the program, Steven Fong and Cameron Driscoll, were on hand to explain the program and its benefits for kids.
"It's our responsibility to manage and create these programs to make them as interactive as we can," said Fong. "It contributes to the environmental appreciation and that's our goal and vision—to grow appreciation for the natural environment around them."
Fong had great things to say about Driscoll, who was an intern last year. Fong said Driscoll did such a wonderful job that he was hired for the job the following year.
"He's energetic and good with the kids, passionate and enthusiastic. Kids can sense when you're enthusiastic about a project," said Fong.
Sometimes the kids catch animals themselves in seining nets and contribute them to the touch tanks.
"We catch our own animals, but sometimes kids bring up animals we don't get see every day, like a stargazer [fish], which is rare to find on this side of the Sound," said Fong. "It really helps us and it's cool to see them get out and catch these animals."
Jennifer Lindsay said her daughter, Leda, contributed a baby pipefish to the touch tank.
Rudy Cordero said the program is great for his son Alessandro, who loves being outside and exploring.
"He loves the touch tank and to be with other kids. There's always something going on so it keeps all of us entertained. He's two and a half so he wants to touch everything," said Cordero.
The Seaside Center has 40 to 60 high school volunteers from around Fairfield County each year assisting the naturalists. The volunteers enjoy helping kids learn about the richness of the Sound.
"I like promoting all of this education about the Sound," said Kavir Parker, a volunteer at the center. "It doesn't look like much, but there's all these animals you find."
Parker stood at a large touch tank with another volunteer, Henry Ridgway, allowing a group of kids to touch some of the creatures that can be found in the Sound including horseshoe crabs, spider crabs, green crabs, sea stars, and Asian shore crabs.
The Seaside Center will be open through Labor Day, Sept. 5, Tuesday through Sunday, 11 a.m. to 5 p.m. The daily programs include using seining nets to catch small sea animals, discovering animal anatomy, microscopic observations, and arts and crafts projects.
Beach and parking passes are required for entrance into Greenwich Point Park. Passes for non-residents can be purchased on weekdays at Greenwich Town Hall or the Old Greenwich Civic Center-Riverside Civic Center.