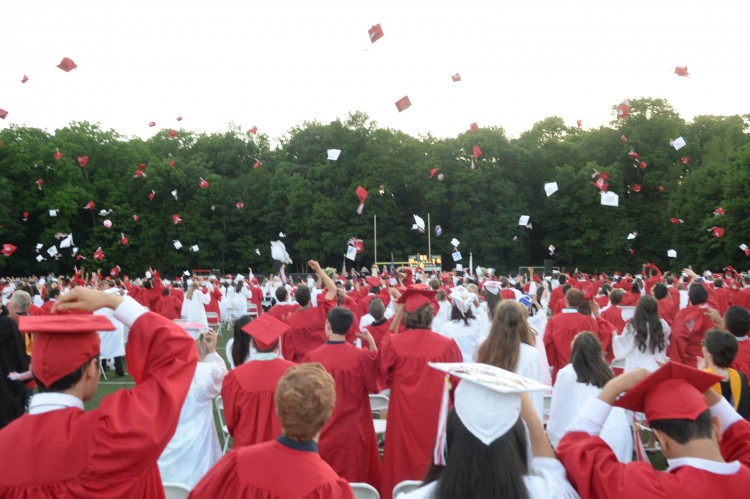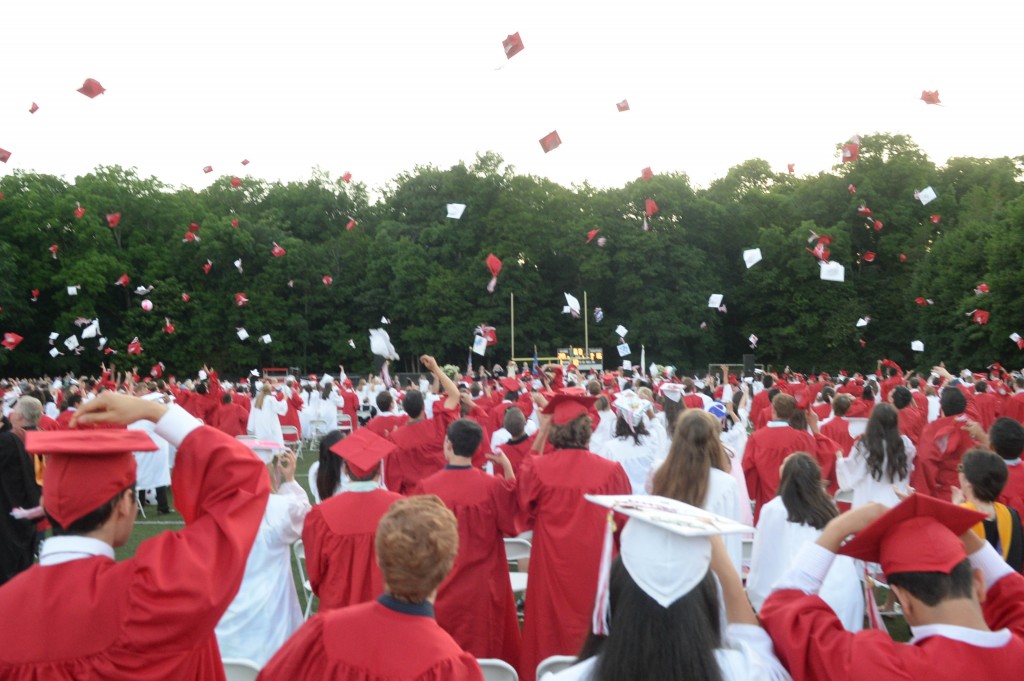 Beneath a dramatic sunset on Tuesday evening, family, friends and loved ones filled Cardinal Stadium to celebrate the 615 graduates of Greenwich High's Class of 2016.
"The GHS Compass yearbook asks, 'What's your story?'" said GHS Headmaster Christopher Winters before the graduating class organized themselves by house. "Today is one of life's milestones, and a very important and memorable one. It is just one chapter of the book about you. So how will your story continue?"
Graduates, dressed in Cardinal red and white caps and gowns, received their diplomas after taking in advice and reflection from their own peers, faculty and commencement speaker Hannah Storm, ESPN SportsCenter anchor.
"The first and most fundamental step is to believe in whatever it is you are trying to achieve," Storm said. "You can go to college, be talented, have great connections and great ideas, but if you don't work hard, you will not achieve your full potential. Hard work is the key to all of it."
Storm told her personal story of becoming a sportscaster, and of the journey that took her to ESPN and to hosting her own show, Face-to-Face with Hannah Storm.
"When I graduated, there were no women doing the job that I wanted to do," said Storm. "I sent out tapes and resumes, and I got hundreds of rejection letters. So how do you respond? How did I respond? 'No' means 'go.' You use it to make you more determined. You hear no, you go."
Emily Berzolla gave the valedictorian address to her classmates, commending them on years of hard work and dedication.
"The dents we pick up along the way, the things that challenge us and even hurt us a little, are the things that shape who we are," Berzolla said. "High school years can be tough. Each one of us were challenged with problems, some big, some small, but all difficult."
Berzolla compared her high school years to watching the movie "Cars" with her younger cousins earlier in the week.
"Without these challenges that knocked us down or shook us up a little, we wouldn't be the people sitting here today. We should be proud of our dents."
Tuesday's ceremony also honored classmates who would have graduated alongside their peers had it not been for tragedy in one form or another.
"We are a class that has achieved great success, but at the same time has had to face horrible tragedy," said Class President Joseph Peters. "With celebration, we reflect and remember our classmates that are not here with us today. In time of sadness and rejoice, through everything whether we realize it or not, we have been together."
Dr. Winters added, "While this day is one of celebration, it is not without some loss. Three who started with the class of 2016 are not with us today. Bart [Palosz], Emily [Fedorko] and Carey [LeCamp], you are in our hearts."
The diverse class, Dr. Winters noted, came from 35 countries and spoke 21 different languages at home. Sixty percent of the class took and passed at least one advanced placement class while 63 percent of the class participated in some form of athletics.
"You were the first class to be issued Chromebooks, and certainly not the last class to complain about the Wi-Fi connectivity at GHS," Dr. Winters joked. "You were a class that collected record numbers of food items to commemorate 9/11, provided hundreds of meals for families on Thanksgiving, and contributed to numerous additional causes. Your stories are unfolding, you have the power to shape that story. Act wisely, act ethically, be nice to others, and always come back to visit."
The commencement served as a farewell for Superintendent William McKersie, who will begin working for Weston Public Schools next month.
"No matter where you are or what you're doing, make your signature the actions of remembering, caring, building and rebuilding, and reaching across," Dr. McKersie said. "Our nation needs your leadership. Be peace, find peace, live peace."