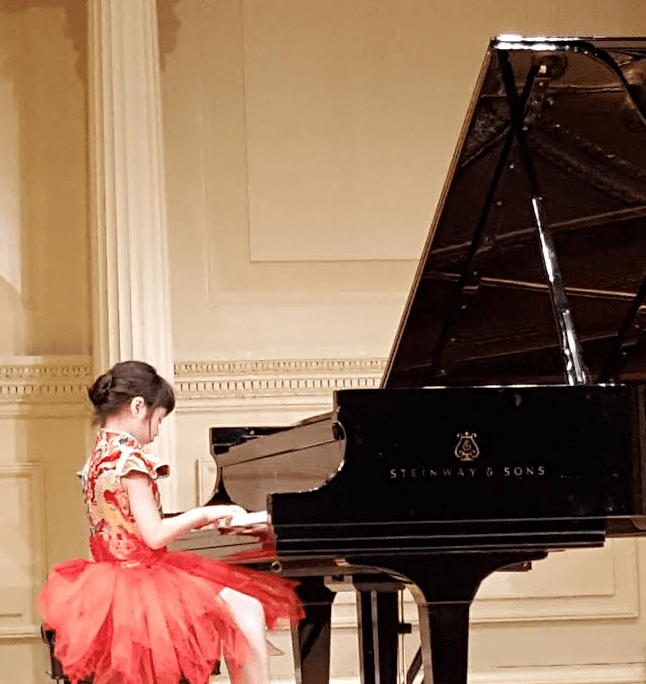 By Chéye Roberson
Sentinel Correspondent
Children from Felicia's Professional Piano Studio in Greenwich were given the opportunity to play at Carnegie Hall last month to a sold out crowd after winning the Little Mozart Piano Competition held at Caldwell College in Caldwell, N.J.
The competition was held on March 20 and drew competitors from as far away as Canada and South America. Although the judges usually select only first-place winners to play at Carnegie Hall, this year the first and second place winners were awarded the honor.
According to Irene Ng, her six-year-old daughter, Alessia Rosa, received a hugely impressive score of 28 out of 30. The international piano competition is designed for children ages three to 14 years old. The performances are judged on the interpretation, technique, and musical achievement. Alessia performed "Morning Snowfall" by Carol Matz.
"I was a little stunned, because she's so young and only started playing recently," said Ng.
To celebrate after learning of the news, the family went out to eat at a nearby diner. Along with the opportunity to play at Carnegie Hall, the competitors received a $20 gift certificate.
Ng said that when she told her daughter she had won the contest, she asked, "Does that mean I get to have a big trophy?"
Since there was no big trophy given out by the judges of the competition, Alessia's parents went online and had one custom-made for her.
Other winners of the competition from Connecticut included Cary Wang, a seven-year-old from New Canaan; YiFei Wu and YiLin Wu, sisters from Westport who are four and eight years old, respectively; and Alexandra Oxenstierna, a sixth-grade student in Sacred Heart in Greenwich.
Alessia's parents started their daughter on piano because they believed it would help her learn Mandarin Chinese, which Ng said is a very musical language that relies heavily on inflection to differentiate words from one another.
"Chinese characters have different tones and every tone means something else. You have to have a musical ear to learn it really well," said Ng.
Felicia Feng Zhang, who taught many of the finalists in the competition, believes there are multiple benefits to playing musical instruments early in life.
"I think playing music at a young age holistically helps their thinking and learning," said Zhang. "They really enjoy music. Everyone has music in their hearts and joyfulness builds a foundation of happiness."