June 2, 2016
Greenwich Girls Second, Boys Seventh at LL Track Finals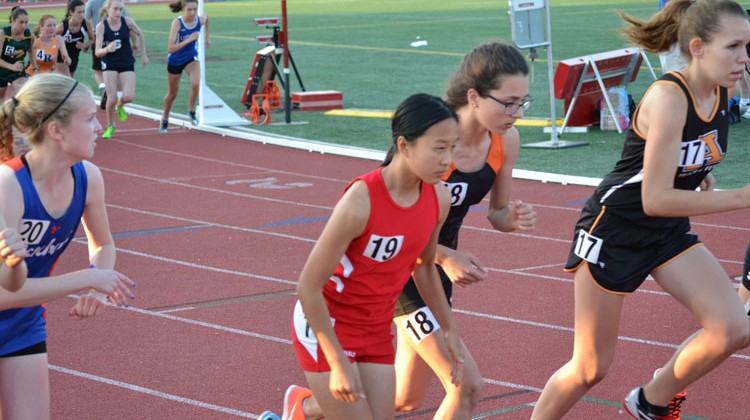 It's a very safe assumption that the Greenwich High School boys and girls track and field teams had a blast during the Connecticut Interscholastic Athletic Conference class LL championships Wednesday afternoon.
Highlighting the trip to Willowbrook Park in New Britain was several top honors individually for both the boys' and girls' squads. 
And, for the first time since the 2012 indoor season, the GHS girls track team picked up some hardware at the state level, grabbing second place overall.
As a team, the Lady Cardinals placed second overall with 77 points and outdueled the same Danbury High School team that crushed them at FCIACs last week. The Hatters finished the class LL meet with 76 points and took third. 
Overall it was Ridgefield that came away with the class LL crown, grabbing 84 points. Manchester finished fourth with 57 points and Glastonbury rounded out the top five with 55 points.
"I was not expecting second place as a team going into today," GHS girls head coach Evan Dubin said. "I knew our team would be good, but with how handily Danbury beat us last week at FCIAC I never thought we could beat them today. That's a real testament to all the hard work and effort the girls put in today. I am proud of them."
On the boys side, Big Red took seventh place overall with 41 points. GHS was one point away from Hamden, as the Dragons took sixth with 42 points. Overall it was Danbury High that took the class LL championship, netting 110.70 points. Brien McMahon High School took home the silver with 72 points and Ridgefield rounded out the top three with 57 points.
"We had a lot of good competitors," GHS boys head coach Brian Robbins said. "They put their hearts out there and had a lot of energy in the races that they competed in. We had some great jumps, sprints and throws today and I am very proud of my team."
For the Greenwich girls' team, no one had a better day than Emily Philippides. The GHS sophomore claimed gold in the 800-meter run and was almost a full second ahead of her second place opponent, crossing the finish line with a time of 2:14.56.
Phillippides wasn't finished. In addition to her gold individually, she helped the 4×800-meter relay team take home top honors and was on the second place 4×400-meter relay squad.
"It feels great," Phillippides said. "I liked my performances and liked my times. My goal in the 4×800 was to catch up to the other girls and I really wanted to win in the 800-meters. In the 4×400 my goal was to pass Ridgefield because we were really close in team points and knowing that if we passed them we would get second place as a team."
Phillippides, along with junior Kristen Lodato, freshman Jordan Numme and sophomore Hetty McMillan were on the 4×800-meter relay team that struck gold, posting a time of 9:17.19. Glastonbury was second with a time of 9:18.45.
Another sophomore, Lia Zavattaro, also came up tops in her event. Competing in the pole vault, Zavattaro reached a height of 10-06 and that was good enough for first place and 10 team points.
In addition to her performance in the 4×800-meter relay, Numme took home the silver in the 400-meter dash, posting a time of 58.53 seconds and was mere inches away from the top spot. Joining Numme in the 400-meter dash was senior Caroline Frey, who finished sixth overall with a time of 59.58.
Numme and Phillippides, along with teammates, McMillan and Frey ended the day second in the 4×400-meter relay, crossing the finish line with a time of 3:58.24
"We have had good teams in the past, but this team has proven themselves to be our best overall," Dubin said. "We could go event by event finding people on our team that were scoring points. Yeah, we have our few that will give us 10 points, but we are getting points in throws, jumps and winning pole vault. In year's past, that wouldn't have happened."
Fellow senior Abbie Wolf took home a pair of fourth place finishes and picked up some key points for Big Red. In the shot put, her distance of 33-07 ¾ was only a few inches away from a bronze.
In the discus throw, Wolf took home a fourth-place distance of 104-08 and was one of only six athletes that threw over 100 feet.
"I am really proud of the team," Wolf said. "The whole team has a lot of young kids and a bright future. I surprised myself in shot by getting a 33-07 feet, which is six feet further than I threw at FCIAC. Discus is my main event and everybody didn't have a great day there, so I was happy to be out there working hard."
Also competing in the field events was Katherine Doyle, as the GHS senior grabbed the seventh spot in the triple jump with a distance of 33-08 ¾. Sophomore Olivia DiLascia battled in the high jump and took home seventh overall with a height of 5-00.
Other GHS girls tracksters fared well and netted all important points for the team.
In the 200-meter dash, sophomore Katherine Gallagher took home seventh overall with a time of 26.45, while McMillan grabbed eighth in the 1,600-meter run with a time of 5:17.59.
Competing in the 100-meter hurdles, Big Red's Emily Wu was seventh overall, posting a time of 16.68.
Rounding out the relays was another top five finish. In the 4×100-meter relay, the foursome of senior Jenna Restieri, Gallagher, senior Treloara Harrisson and Anna Giannuzzi ended the day fourth overall with a time of 49.42 and just edged out New Britain, who crossed the finish line with a time of 49.45.
"All season we have been trying to break 50 in the 4×100, so with this perfect running weather today, it was great to use that to our advantage and get that time out there," Giannuzzi said. "Knowing that this is my last state meet and that I will never be able to run in these races again helped get me excited. I was going to leave it all out there on the track."
For the boys' team, junior Safir Scott paced the team. Competing in the high jump, Scott was able to pick up a height of 6-04 and got two inches higher than Danbury's Judah James for the gold medal.
"I felt good out there," Scott said. "I won the high jump and in the triple jump I qualified for Nationals, so I was happy with that. This is one of the best teams that I have been around and one of the better Greenwich teams ever. There's a lot of potential on this team."
Scott also took home a top five distance in the triple jump, as the junior's distance of 44-06 landed him in third place overall.
While Scott fared will at the high jump and triple jump, another GHS athlete took high honors in the field events. Senior Joseph Lanni battled in the javelin throw and his distance of 174-01 easily beat out Cheshire's Ethan LaChance for second place. LaChance posted a distance of 162-06.
Also competing in the field events was junior Issac Floyd, who took home fourth place on the day and a distance of 21-03 ¾.
In the shortest track event of the day, the 100-meter dash, junior Tyler Farris also found a way to get a silver medal, as his time of 11.14 was mere inches away from the top spot. Danbury's Devonte Clarke took home the top spot with a time of 11.10.
"To think that Tyler would be possibly first at this meet is amazing," Robbins said. "We didn't project that at the beginning of the season. To see him grow as an individual, as a competitor and as a leader was beautiful. It is great to see."
In the relays, the GHS foursome of senior Andrew Kates, sophomore Georgios Karkadas, senior Sebastian Oe and senior Kieran Caroll took part in the 4×800-meter relay and finished seventh overall with a time of 8:12.76.
"I was really proud of the guys for coming out here and competing to the best of their abilities," Robbins said. "That's all you can ask for. They are a track team and a good one. At the beginning of the season I didn't know what they were capable of. Now we are hitting our stride and there's still a lot of track to go, with Opens, New Englands and Nationals. It's going to be fun. The guys are excited."
Tags:
Brian Robbins
,
CIAC
,
class LL
,
cttrack
,
Evan Dubin
,
FCIAC
,
greenwich
,
Greenwich Track
,
track & field