June 1, 2016
Greenwich Baseball Bows Out of ClAC Tourney With 3-0 Loss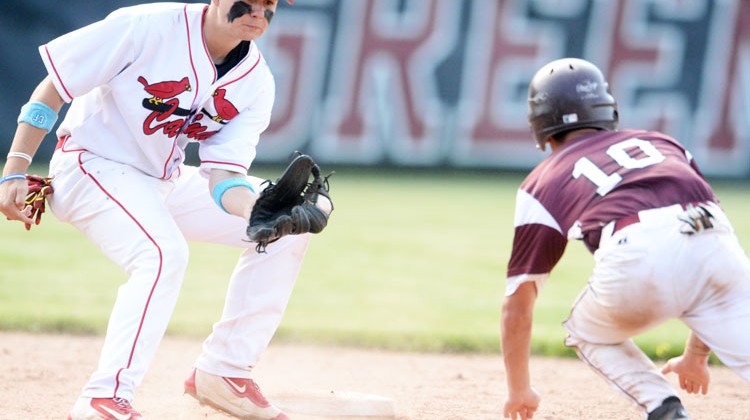 Despite only picking up one hit in its CIAC class LL opening round game against Bristol Central High School, the Greenwich High School baseball team had a plethora of opportunities to put some runs on the scoreboard.
However that wasn't meant to be, as Bristol Central traveled to Greenwich High and came away with the 3-0 victory to end Big Red's season Tuesday afternoon.
"We have to get a hit," Greenwich High School head coach Phil Tarantino said. "If you're going to win a tournament game, you have to get a hit there or at least execute to get the run in. We didn't. We gave ourselves a thousand chances and you have to capitalize. If you don't, you lose those 1-0, 2-0 games."
Entering the contest, the Cardinals came in as the No. 13 seed. On the other side of the coin, Bristol Central, who has been used to playing Greenwich in state tournament action in the past, was the No. 20 seed.
"I am proud of my kids," Bristol Central head coach Bunty Ray said. "Greenwich is a great program and we have played them a bunch of times in the tournament. This is our first time coming down here. Usually we are down at Muzzy. It was a long ride, but I was happy with the way we responded. We just have to keep on moving on now."
In the first two innings, Greenwich High was patient at the plate and drew six walks. With one out in the first inning, Anthony Ferraro walked and stole second. Colin Kelly was up next and also drew a walk. GHS had the double steal working when Erik Mini was up and with two outs the bases were loaded when Kevin Woodring drew a walk. However a grounder for the fielder's choice at second ended the threat.
"It's a baseball game," Woodring said. "I am still proud of my guys. Connor pitched a fantastic game. We had our opportunities but didn't get it done. I would go into battle with these guys and I am still proud of the effort that we put in throughout the season. It didn't end on a high note, but I love all these guys."
Big Red again had its chance to take the early lead in the second inning. Both Connor Langan and Combs drew walks and. With two outs, Ferraro joined the walking party to once again have the bases loaded with two outs. However just like the first frame, Bristol Central was able to get out of the inning with a clutch out, as starting pitcher Noah Cruz struck out the next GHS batter to end the inning.
"In our league tournament, we had the same situations," Tarantino said. "We were leaving guys on base and you have to get hits if you're going to advance. If you don't, in a seven inning high school game, that's what is going to happen. All game we had so many guys on you have to get a hit and execute."
While Greenwich had a bunch of runners on base, it took just one base runner to get the job done for Bristol Central in the third inning. Nicolas Sassu led off the inning with a walk and advanced to second on a wild pitch during Jalen Benoit's at bat. With one out, Noah Plantmuro connected on a single to center that plated Sassu for the 1-0 lead.
Greenwich's last chance for a run to tie the game came in the fifth inning. Ryan King came up with the walk and a sacrifice bunt by Ferraro advanced King to second. A grounder to second by Kelly moved King to third, but he wouldn't get any further as Bristol Central relief pitcher Bradley Bruney struck out the next batter to end the threat.
"Both my pitchers have been living on the edge all year," Ray said. "Today they were able to get big out when they needed to. I thought we played pretty good defense, but they got some big strikeouts in key situations there. They threw the pitches when they needed to and got outs."
Bristol Central extended the lead in the top of the seventh. With two runners on, Benoit unloaded a triple down the right field line that rolled to the wall and cleared the bases for the 3-0 advantage.
"We lost six one-run games this year and lost to four or five ranked teams during the year," Ray said. "Now in tournament time, you have to find ways to win. I thought that [triple] kind of elevated us a little bit. I think that just took the pressure off."
Langan was the hard luck pitcher for GHS. In seven innings of work he gave up three runs and six hits while striking out seven and walking only two batters.
"It could have gone either way," Langan said. "I am really happy that we stuck together today. We needed timely hits and we had a lot of people on base that we left on. We needed those hits and it's just a high school baseball game. I felt good on the mound and was confident. I knew everybody was behind me. It's hard to go out this way, but we are all going to miss the seniors. We have a good class coming back next year."
With the loss, Greenwich ended its season 13-9 overall.
"We finished second in our league," Tarantino said. "Obviously it's disappointed to lose in the first round of the playoffs, but the kids played hard and they were a good group of kids to coach. We rode pitching and defense the whole time. That was our key throughout the season."
Tags:
Bristol Central
,
Bunty Ray
,
CIAC
,
class LL
,
ctbase
,
FCIAC
,
greenwich
,
Greenwich baseball
,
Phil Tarantino