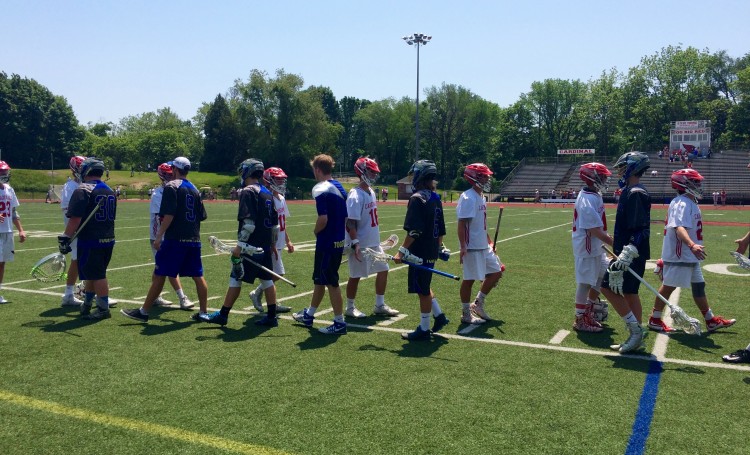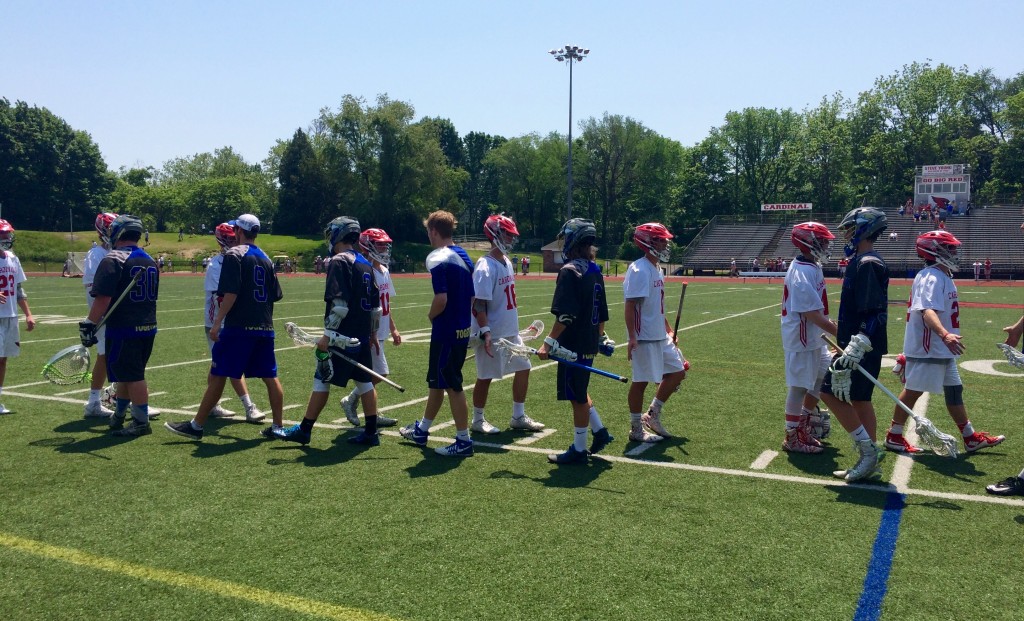 In the qualifying round of the CIAC Class L Tournament, the Greenwich High boys lacrosse team squared off against a familiar face in their former head coach Scott Bulkley, now with Newtown High.
In Saturday's qualifying round, No. 14 Greenwich took care of No. 19 Newtown 20-6 to advance to the quarterfinals, but not before a hard-fought and emotional game for some of the Cardinals.
"You couldn't have written it any better," said GHS head coach Bob Lutz. "It was pretty emotional for the kids and they were excited to see him. He was such an impactful coach for these guys, so it was kind of fitting they got to play a game against him."
The Cardinals jumped out to a quick 2-0 lead thanks to Bailey Savio's faceoff wins and his pair of assists to Michael Sands in the first minute of play.
Sands would get going again to make it 3-0, as William Baugher found Will Perry to increase the lead yet again.
It would turn into 6-0 before Newtown got on the board, with much credit due to the faceoff skills of Savio.
"It was another game that Bailey Savio controlled from the X," Lutz said. "If he can get the ball in quickly to the attack and run things through Michael Sands, a 4-on-3 makes for, statistically, more goals."
Perry added two assists to John Feda and Sands to build the lead to 8-1. Following a Jared Pearson score for the Nighthawks, Addison Muir would score unassisted to make it 9-2.
At the half, Bulkley attempted to pump some momentum into his team after the Cardinals increased the score to 10-4.
Matt Meyers would score his second goal of the game for Newtown right out of the half, but from there on Greenwich would record 10 straight goals as the final score read 20-6.
"I think we have one of the best faceoff guys in the state with Bailey [Savio]," said Will Perry following the win. "He comes in every single day and wins us a majority of face offs. Offensively, we executed our game plan. Our team has more depth than a lot of people give us credit for. We have a good freshman in Cooper Moore and a good sophomore in John Feda. It all gets started at the X, where Bailey Savio is tremendous."
For the Cardinals, Michael Sands scored five goals in the win while Will Perry added three assists and a pair of goals.
Bailey Savio notched two assists and a goal on a superb day at the X. John Feda scored three times and Addison Muir scored three times with two assists.
For Newtown's Bulkey, a post-game line of handshakes and hugs at his former stomping grounds of Cardinal Stadium proved to be emotional regardless of the final score.
"It was very odd," said NHS head coach Scott Bulkley, a former Greenwich High coach for six years." A lot of these kids I know really well and I obviously really care about my guys. There was no way for me to win anyway here. Somebody was going to lose and I would be upset about it. Hopefully Greenwich goes on to win everything, they are a great group of kids."
Coming off a triple-overtime thriller in the SWC title game Thursday, Newtown finished the year with the conference crown and a 8-8 regular season record.
"I'm proud my team didn't give up," Bulkley said. "From where we started to where we ended, I thought was a huge change."
For Perry, a senior on the Cardinal roster, seeing his former coach in the qualifying round of state Class L tournament proved to be a test on and off the field.
"It was pretty emotional," Perry said. "I haven't seen him since he left. It was nice to see him and how he brought his team to an SWC title. We were going to face him like he was anyone though, and try to get the W."