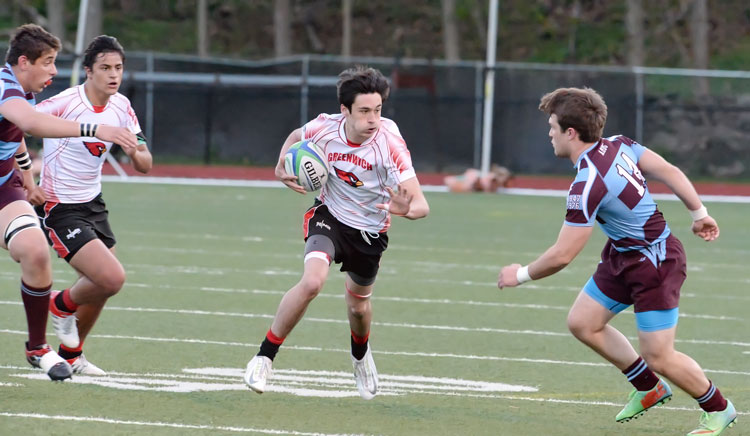 While it has been a yearly tradition as of late, the Greenwich High School rugby team certainly doesn't take its appearance in this week's Boys High School Rugby National Championships for granted.
This is really exciting," said head coach Joe Kelly. "Sure, we would like to go in there and win the damn thing, but doing what we do is significant enough. I sometimes think that I want to take a year or two off, so maybe those around us understand the significance of what we are accomplishing. We are growing quite comfortable being one of 1,500 rugby teams across the country and one that's being invited to play in a top 12 field for the national championship."
Going into the Boys High School Rugby National Championship, which is taking place at the Rugby Athletic Center in Charlotte, N.C., Greenwich High School is seeded sixth out of the eight teams fighting for the honor to be called national champs.
"You want to be the best in the country, so in order to be that, you have to play the best of the best," GHS senior Luke Bienstock said. "We dominate in Connecticut and any chance to get national recognition is what we want."
Xavier High School, a school that GHS beat in thrilling fashion at Cardinal Stadium earlier this season, is seeded fifth overall.
"This is a lot of fun and it's the time of year where we really gear up," senior Parker Kelly said. "We are more physically fit, mentally focused and gearing up for Nationals. Expectations here are obviously very high and we are hoping to build off the accomplishment of beating Xavier earlier this year."
For Greenwich senior Soh Nakayama, this national championship is quite special. While most athletes only dream of competing at a national event, this will be Nakayama's fourth time at the Boys High School Rugby National Championship.
"Every time it gets more exciting," Nakayama said. "Every year we try and win it and I think the last three years we could have done it. We really want to win it and I think this is a team that could do it."
Overall, Gonzaga is the top-seeded team in the championship, with Jesuit High School from Carmichael, Ca. seeded second overall. Penn High School is the third-ranked team, while St. Edward form Ohio is fourth.
After Xavier and Big Red is Notre Dame de la Salette from Georgetown, Ill. and they are ranked seventh in the championships. Rounding out the top eight is Mira Costa High School from Manhattan, Ca.
"The expectation is to win Nationals," Bienstock said. "We always issue a goal and that's what it has been every single year. Competing at this level is great, but it's something you can't take for granted. Greenwich has such a good tradition and that's only because of the work every team puts in every year. The hope is to do the best we can and win the national championship so that way the team next year can come back here."
From the moment Big Red gets to Charlotte, they will be put to the test.
On Thursday, Greenwich starts its tournament run against an absolute powerhouse, Penn High School. Penn, the top-ranked team in the country as of press time that is seeded third in the tourney and will battle Greenwich High at 7 p.m.
That first game against Penn will be the deciding factor whether Greenwich High School will be the top four or bottom four. They win against Penn and the dream of getting the ultimate goal of a national championship is still alive.
"It's an absolute gauntlet," Joe Kelly said. "All we are going to focus on is day one. We aren't going to worry about day two or day three until we play on those days. We will find out what we have in store for us after we play the game on that day. Either way we know it's going to be a highly-competitive team."
"There's nothing better than playing really good teams," Nakayama said. "We have played some upstate teams that aren't competitive and it's not that fun scoring 100 points on them. Nationals is fun because all the game will be competitive and against top teams. I am just going to try and have as much fun as I can."
Because of playing three consecutive days against the best competition in the country, Greenwich has plenty to prepare for. The games in the tournament are a little shorter and the head coach said his team will be hitting the ice baths at night to prepare for the next day's game.
In addition, he said that mentally his team needs to prepare, knowing that they will be playing three tough games in three days.
"I knew we would be in the bottom four seeds and knew we wouldn't be the absolute bottom," Joe Kelly said. "Going in sixth gives us a tremendous opportunity to play against a team that I have always wanted to play and never had the chance to play. We are excited to start things off by playing the No. 1 team in the country. We wanted to play them and the fact that they are No. 1 makes it that much more attractive."
While beating Penn will be a tall task, Big Red is certainly experienced this year on what it takes to get those big wins.
"The good thing is that we've experienced what it's going to take already this season," Joe Kelly said. "It was in the first half of the Xavier game. If we could maintain that style of play and that intensity for an entire game, we can beat any team in the country. It's all about tackling, supporting each other, confidence and leadership."
And Xavier has already beaten several teams that Greenwich might face during the championship.
"Since we beat Xavier, we are walking into the tournament with confidence, knowing that if we beat Xavier, logic tells us that we can beat the teams that Xavier beat," Joe Kelly said. "We are walking in knowing we can beat several team in this tourney."
Being prepared for competition is no concern for Kelly this season. Because of the warmer weather this late winter and early spring, as well as no snow to be seen throughout Greenwich, Big Red has been able to get out to the turf March 1 and consistently work on its game.
"We are well ahead of where we were last year," Kelly said. "We had a lot of returners from last year that have nationals experience and another plus was that we were able to get out early and train hard right from the start."
"This is so much fun," Parker Kelly said. "To be able to be at such a high level is something we don't take for granted at all."
The Greenwich High freshman rugby team competed in the first-ever Fairfield Prep tournament and they came home with the tournament trophy Saturday afternoon. Kelly, happy to see his program grab another championship, took a team photo behind the goal post.
"They were all smiley and happy,"Joe  Kelly said. "I said that I am going to compare this trophy to the picture we are going to take at Nationals four years from now as they are winning the trophy for the national championship. They made them very excited and it was fun to see. Upcoming freshmen expect to one day play at Nationals and that goes to show the high level of play expected at Greenwich High."
But with a national championship trophy at Hillside Ave. or not, Joe Kelly couldn't be more proud of this year's team. GHS started strong, but fell to Fairfield Rugby Club for the first loss in Connecticut in six years. Instead of the season spinning out of control, the loss to Fairfield helped focus the Cards and was a motivating factor in Greenwich's victory over rival Xavier.
"They are a great bunch," Joe Kelly said. "They are pulling for each other and are a tight group. They are very smart. At least two kids are heading to Ivy League schools and most of the senior class is going to be playing rugby at high-level college programs. This season has been all about the whole concept of bettering the young men through the sport of rugby."