May 13, 2016
Column: Sales a Little Slow, Contracts Good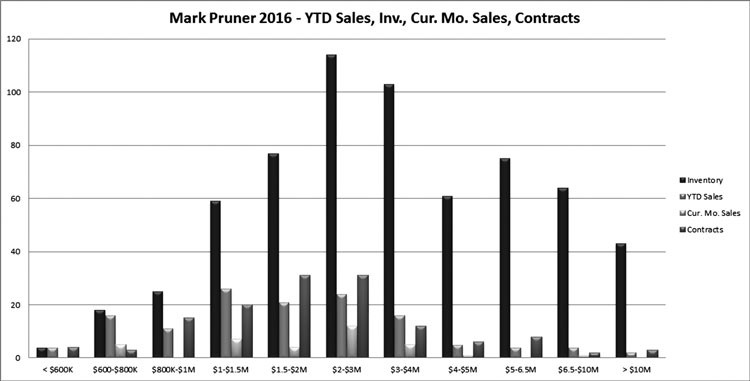 By Mark Pruner
Dashboard Editor
The GMLS reported 38 sales in Greenwich for April 2016 when we normally have 49 sales based on our 10 year average. Last year in April 2015 we did a little better than the average with 54 sales reported at the Greenwich Town Clerk's office. Now this includes private sales, but since most months we only have a handful of private sales we are not likely to match last year's numbers once all the sales are in for April 2016.
Contracts continued to be good in April with 135 single family homes contracts waiting to close. It's not clear why sales are taking longer to close this year, but one factor could be the new TRID mortgage regulations. These new regs require banks to issue new documents if closing costs change. Only time will tell if the period between signing a contract and closing is going to be extended as an unintended consequence of compliance with these new regulations.
One of the most surprising segments of the market so far this year is the strength of the $2 – 3 million market segment. So far this we year we have seen 24 sales in this segment and we have another 31 contracts pending. Our inventory of 114 listings in this price range is 18% of our inventory and our sales year to date is the same 18% showing an active market.
What really shows an active market is that the $2 – 3 million price segment is 23% of our outstanding contracts and this segment represents a whopping 32% of April house sales. This number of sales in this price range in any other town in Connecticut would be banner news.
Even though we have good sales numbers in the $2-3 price range our months of supply is just average due to the 114 listings that we have in this price range. Based on only the sales YTD we have 19 months of supply, but add in the contracts pending and we drop to 11 months of supply. If you annualize the 12 sale in March sales, you get 9.5 months of supply a very respectable number for a higher price range.
By Mark Pruner
Douglas Elliman – Greenwich
mark.pruner@elliman.com
203-969-7900
Tags:
greenwich
,
Real Estate