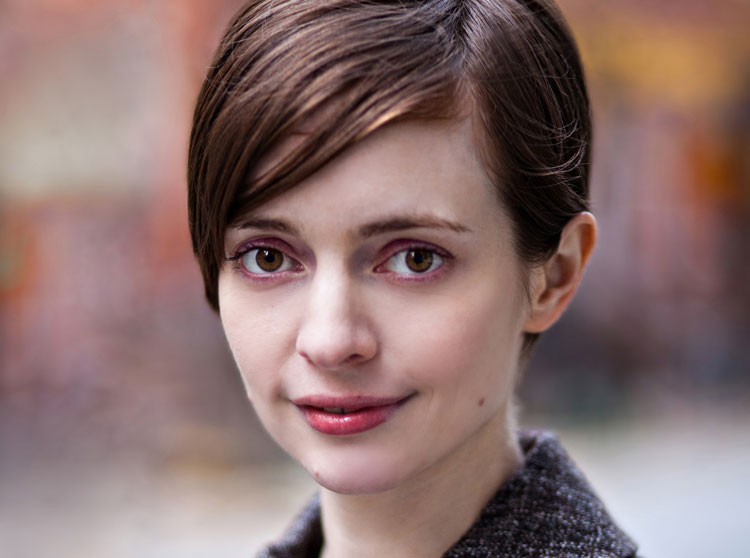 Station Eleven by Emily St. John Mandel has been chosen for Greenwich Reads Together 2016. The title was announced on Wednesday, May 4 at Greenwich Library in a ceremony attended by over 60 community members. The book was suggested by Greenwich High School English teacher Kyaiera Mistretta. 
Two thematically related companion books were announced for younger readers: The City of Ember (Book one of the Book of Ember series) by Jeanne DuPrau for middle school readers and Blackout by John Rocco for elementary school readers.
Station Eleven is an audacious, darkly glittering novel about art, fame, and ambition set in the eerie days of civilization's collapse.
Kirsten Raymonde will never forget the night Arthur Leander, the famous Hollywood actor, had a heart attack on stage during a production of King Lear. That was the night when a devastating flu pandemic arrived in the city, and within weeks, civilization as we know it came to an end.
Twenty years later, Kirsten moves between the settlements of the altered world with a small troupe of actors and musicians. They call themselves The Traveling Symphony, and they have dedicated themselves to keeping the remnants of art and humanity alive. But when they arrive in St. Deborah by the Water, they encounter a violent prophet who will threaten the tiny band's existence. And as the story takes off, moving back and forth in time, and vividly depicting life before and after the pandemic, the strange twist of fate that connects them all will be revealed.
"This is not a story of crisis and survival. It's one of art and family and memory and community and the awful courage it takes to look upon the world with fresh and hopeful eyes," said Karen Valby, Entertainment Weekly.
Greenwich Reads Together (GRT) is a community-wide reading experience which engages all of Greenwich in exploring a single book, culminating in a month-long series of special events and programs in the fall. This year's programming is generously underwritten by The Friends of Greenwich Library.
Emily St. John Mandel is the author of four novels, most recently Station Eleven, which was a finalist for a National Book Award and the PEN/Faulkner Award, and won the 2015 Arthur C. Clarke Award. A previous novel, The Singer's Gun, was the 2014 winner of the Prix Mystere de la Critique in France. Her short fiction and essays have been anthologized in numerous collections, including Best American Mystery Stories 2013. She is a staff writer for The Millions an online magazine covering books, arts, and culture.
Over 100 GRT suggestions were submitted by the community to the selection committee. In order to be selected, a book must be of high literary quality, reflective of universal issues and capable of generating thought-provoking discussions. It should also lend itself to engaging public programs and appeal to a diverse population. In addition, the book should be currently in print and available in large quantities and multiple formats. This year, a new criterion was added: the author must be living.   
The Selection Committee was led by Byram Shubert Library branch manager Miguel Garcia-Colon and included Moira Danehy, Manager of Lending Services; Amy Fleishman, Community Volunteer; Jeannie Gillespie, Diane's Books; Joanne Gaither, Librarian; Gene Hayes, Library Clerk; Eric McCarthy, Resources Management Manager; Alice Sherwood, former head of Children's Services; Carolyn Surgent, Friends of Greenwich Library; Renee Ketcham, Alliance Francaise and the Byram Shubert Library International Book Club; Richard Schroeder, Library Clerk; Siobhan Schugmann, Library Technical Assistant.  
 Previous Greenwich Reads Together selections include The Book Thief (2011), Zeitoun (2012), When the Emperor Was Divine (2013), The Boys in the Boat (2014), and Americanah (2015).
"Community support for and participation in Greenwich Reads Together continues to grow," said Barbara Ormerod-Glynn, Greenwich Library Director. "We're proud to facilitate a community conversation inspired by this common reading experience," said Ormerod-Glynn.
Greenwich Reads Together will take place in October 2016. Copies are available to borrow at Greenwich Library and may also be purchased at local bookstores including Diane's Books.
For more information, contact Kate Petrov at Greenwich Library at kpetrov@greenwichlibrary.org.