April 23, 2016
Greenwich Boys Lacrosse Takes Down Ludlowe 10-4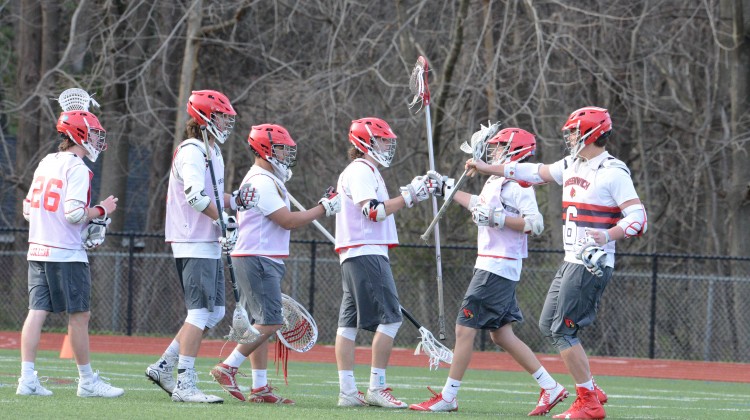 Behind lockdown defense, the Greenwich High boys lacrosse team held Fairfield Ludlowe to just two goals in each half as the Cardinals went on to beat the Falcons 10-4 Saturday at Cardinal Stadium.
Fueled by Bennett Cooper in goal and Will Perry, Michael Sands and Scooter Harrington on the offensive side, the Cardinals (3-4) got back in the win column with a five-goal second quarter, opening up a lead they wouldn't give up.
"Bennett Cooper had a good day," said GHS head coach Bob Lutz. "I feel like he's getting better every single week. He's a first-year starter, so to get some experience in some of the big games we've had, it's definitely starting to show."
Ludlowe and Greenwich traded a pair of goals each in the first quarter, as Perry and Sands both got on the board first for the Cardinals.
With a little over four minutes to go in the first period of play, Ludlowe's Riley Larson suffered an apparent collarbone injury and was forced to leave the game.
"Riley is a hell of a player," said Lutz of the Falcon midfielder. "To lose him was to lose a majority of their offense at times. It was a tough loss."
Greenwich came out hot to start the second quarter as Perry found an open Jack Feda to break the 2-2 tie. Harrington would then get involved with a pair of goals, increasing the Cardinal lead to 5-2. Matt Baugher was able to find the back of the net for Greenwich to cap off a 5-goal quarter, compared to Ludlowe's lone score in the quarter by Joseph Casucci.
Up 6-2 at the half, Jack O'Connor of Greenwich scored a pair of second half goals, including a bounce shot, to give the Cardinals some extra support. Harrington would complete his hat trick with his third goal on the day in the fourth quarter, while Perry got on the board for his second of the day.
As GHS looks towards a hopeful postseason, Lutz says a tough defensive match from Ludlowe will go a long way in preparing for another playoff run.
"Ludlowe's defense is one of the best in the state," said Lutz following the win. "They have some unbelievable talent. For us to play the way we did against that defense says a lot about our offense. Between their goaltender and their long poles, they are very solid and it is their strength. For us to be able to attack that defense, I'm proud of the way they played."
For Ludlowe, Matthew Cullinan recorded a goal and an assist. Tim MacDonald, Jake Tymon and Casucci were the other scorers for the Falcons.
"We had a mentality going in that we weren't going to lose on our home field," said GHS' Michael Sands. "Ludlowe has some big, tough defenders. We had a couple tough losses prior to this game, so today was a game changer for our season. We'll have momentum going forward. Everyone thinks our defense isn't ready to step up to the challenge this year, but our defense gets better and proves me wrong every single day. Today was a huge day for them."
Greenwich travels to play Fairfield Warde on Tuesday before taking on Stamford and Norwalk at home a week apart from each other. 
Tags:
CIAC
,
Fairfield Ludlowe Lacrosse
,
FCIAC
,
Greenwich High Lacrosse