April 18, 2016
Brunswick Baseball Keeps Winning Streak Alive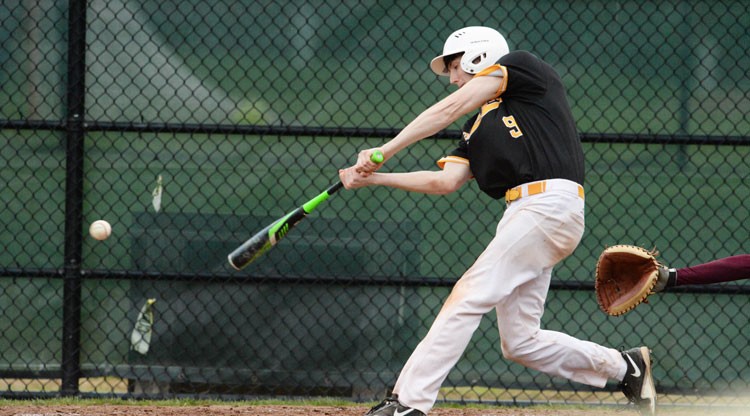 If it wasn't clear by the luggage tags still placed on the Brunswick baseball team's equipment bags, the well-tested and well-traveled Bruins kept it strictly business Monday afternoon as they took care of Greens Farms Academy 14-0, keeping their now eight-game win-streak in tact.
In their sixth game in eight days, the Brunswick baseball team battled through numerous injuries and slight fatigue to take down their FAA conference foe in GFA to improve to 8-1 overall and 5-0 in the conference.
"These guys love playing baseball. That's the easy part," said Brunswick head coach Johnny Montanez. "The more time we spend together, the more we love the game."
Led by sophomore pitcher Nick Mosher, who threw a shutout over five innings in his first career victory, the Bruins never trailed in the game as their bats came alive early and often throughout the day.
"Coach has been telling us to keep our foot on the gas," said Mosher. "We have a pretty deep pitching staff so that helps. I got a little too deep into a few counts, but for the first day coming back, I'll take it."
Mosher, who was tabbed as the game's starting pitcher earlier in the day, gave up only three hits (all singles) while striking out a pair in the shutout.
"[Nick] Mosher is such a hard worker," said Montanez. "These guys are ready to go whenever we call their number. Kudos to his preparation and to our pitching coach Tim Daly. In his first game coming back from sore ribs a couple weeks ago, he was extremely productive."
The Bruins got started with a single from Teddy Sabato and a ground-rule double by Trevor Johnson to bring in the first run of the game. An RBI-triple from the bat of Wilson Salomon and a passed ball that brought him in boosted 'Wick's lead to 3-0 after the first inning.
GFA had an early scoring opportunity in the bottom half of the first, but a quick relay from the catcher to Mosher who was covering home on the passed ball kept the Dragons off the scoreboard.
After Aaron Sabato reached base on a leadoff single, a bunt placed down by Charlie Sealy caught the Dragon defense off guard and forced a wild throw to first base. Aaron Sabato would come in to score on the play and Sealy would score later on a sac fly from Trystan Sacrone to make it 5-0 after two innings.
A ten-batter third inning would break open the game for the Bruins, as Michael Marzonie scored on a passed ball and Sacrone knocked in an RBI single to put the game out of reach. The Bruins also added two runs in the fourth inning with two outs against them. 
J.D. Sparks added a two-RBI single in the fifth inning to put Brunswick in front 14-0 for good.
"Our goal is to make other teams play at our pace," said Montanez. "When we can do that, nine out of ten times we are successful. We work at playing at a high level and at a fast level. If we can move the game at our speed, we're in good shape."
Now in the midst of a five-game road trip, the Bruins don't return home until Monday, April 25 when they host Fieldston School — nearly two weeks since their last home game.
However, fans will have plenty to welcome their team with if the Bruins complete their business trip with a win over Rye Country Day on Thursday, April 21 to keep their win streak alive.
Tags:
Brunswick Baseball
,
FAA baseball
,
Greens Farms Academy