April 13, 2016
Brunswick School Baseball Edges Avon Old Farms 3-1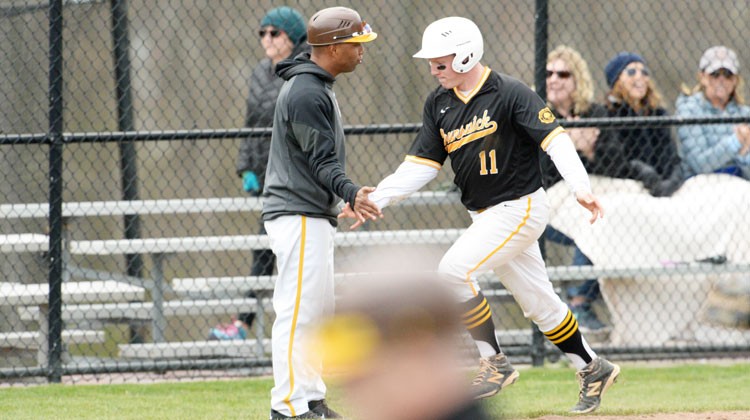 Sharp pitching combined with timely hitting gave the Brunswick School baseball team a 3-1 road win at previously unbeaten Avon Old Farms.
The Bruins have now won five straight games  (5-1), while the Winged Beavers fall to 3-1 on the season.
Starting pitcher Trystan Sarcone (1-0) shut down a potent Avon line-up that had averaged 14 runs a game. 
The lefty tossed six crisp innings, allowing one unearned run, while scattering four hits with two strikeouts. Trevor Johnson pitched a sterling seventh inning in relief, striking out three batters for his second save on the season.
Playing small ball, the Bruins took a 1-0 lead in the third inning. After Aaron Sabato drew a walk, a pair of sacrifice bunts pushed him to third base. 
With two outs, Aaron's brother Teddy Sabato, hit an infield single, scoring his brother from third.
After the Winged Beavers tied the game in the home half of the fourth, Brunswick struck for two runs in the top of the fifth during a two-out rally.
Charlie Sealy started the rally with a single to right. Sarcone followed with an RBI double off the left field fence, as Sealy scored from first base for a 2-1 lead.
Teddy Sabato stepped to the plate and laced an RBI double to left that scored Sarcone for the 3-1 advantage.
Sealy, Johnson and Michael Marzonie each had singles, while Sarcone added a double and an RBI. Aaron Sabato went 2-for-3 from the plate, with a double and two RBIs for the victors.
The Bruins stay on the road over the next several days, as they play non-league games at Cheshire on Friday and at Kent a day later before an FAA contest at Greens Farms on Monday.
Tags:
Avon Old Farms
,
Brunswick Baseball
,
Brunswick School
,
ctbase
,
FAA
,
greenwich
,
NEPSAC