April 12, 2016
Brunswick Baseball Beats Hamden Hall in Key FAA Battle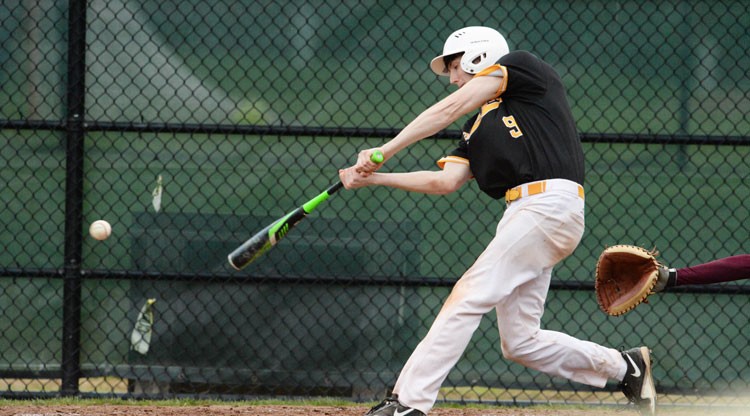 The Brunswick School baseball team beat Hamden Hall in a key early-season FAA contest, 6-2, as Michael Marzonie went the distance for the Bruins.
The senior co-captain struck out 10, allowing one earned run over his dominant seven-inning, complete game performance.
With the win, MSGVarsity's seventh-ranked team in the tri-state, improve to 4-1 overall and 4-0 in FAA play, knocking the Hornets (4-1, 2-1) from their unbeaten perch.
In the bottom of the first, a leadoff walk to Teddy Sabato came back to haunt the Hornets, as Sabato worked his way around the bases. After a single by Connor Redahan, Sabato reached third on a fielder's choice. Later, with two outs, Sabato scored on a wild pitch for a 1-0 lead.
Leading 2-0 in the third, the Bruins tacked on two more runs during a two-out rally. Following a Wilson Salomon walk and stolen base, Ryan Hanrahan plated Salomon on a single to left field.
After a single by Aaron Sabato, the Hornets changed pitchers. With runners on first and second, the Bruins put the pressure on, advancing on a double-steal as the new Hornet hurler faced his first batter.
The aggressive running paid off during Charlie Sealy's at-bat. The home plate umpire issued a balk on the pitcher, allowing Sabato to advance to third and Hanrahan to score for a 4-0 lead.
While Marzonie faced just two batters above the minimum over the first four innings, the Hornets sent seven batters to the plate in the fifth. The Brunswick ace allowed just three singles in the frame, but Hamden Hall found a way to scratch across a pair of runs to make it a 4-2 contest.
Brunswick added a pair of insurance runs in the sixth. After Teddy Sabato walked and Redahan singled, the pair advance to second and third, before Trevor Johnson smacked a two-RBI ground-rule double, scoring both runners for a 6-2 advantage.
With the added run support, Marzonie closed the door on Hamden Hall in the seventh and final inning, striking out his ninth and 10th for the final two outs of the game.
Marzonie earned the complete-game win, upping his record to 2-1 on the season. Redahan had a pair of singles and scored a run, while Hanrahan also had two singles and an RBI to lead the Bruins. Johnson had the lone extra-base hit in the game, as his double netted him two RBI.
Brunswick goes on the road for its next five games, before returning for a non-league contest at home against Fieldston on April 25.
Tags:
Brunswick Baseball
,
Brunswick School
,
ctbase
,
FAA
,
greenwich
,
Hamden Hall Country Day School
,
NEPSAC