April 8, 2016
Renovations, Leasing in Progress for 330 Railroad Avenue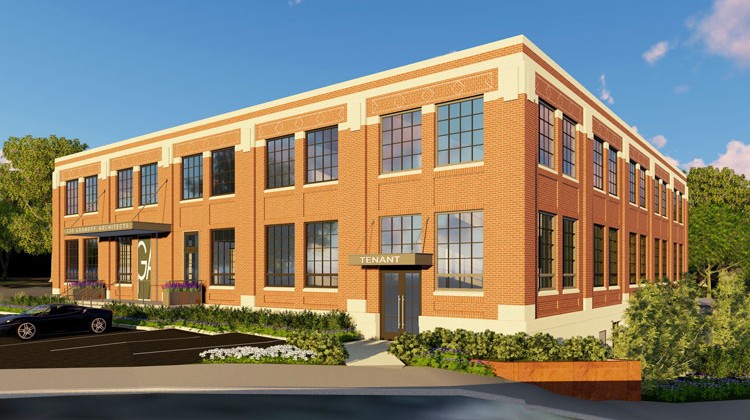 Newmark Grubb Knight Frank (NGKF) announced that it has been selected as the exclusive leasing agent at 330 Railroad Avenue. Richard Granoff of Granoff Architects and partner Jeffrey B. Mendell of Greenwich Development Partners acquired the building and have committed to extensive renovations to reposition the property as a 3-story, 25,000-square-foot, Class A office building.
The iconic building at 330 Railroad Avenue was built in 1928, just two blocks from the Greenwich train station, a short walk to retail and dining on Greenwich Avenue and one block from an I-95 entrance ramp. Prior to the building's purchase, Connecticut Light & Power, now Eversource, utilized the property as a maintenance and repair facility. "Granoff Architects has been looking for a building to call its own for over a decade," said company president, Rich Granoff. "The right opportunity finally presented itself here in downtown Greenwich."
The renovation will produce a state-of-the-art Class A office building with a contemporary style that merges with its industrial roots. The industrial "bones" of the building will be retained to keep the character and charm of exposed brick and 12-14 foot ceilings, but in most other respects the building will be completely reimagined. There will be new windows, restrooms, elevator, HVAC, electrical service, plumbing, fiber-optic wiring, LED lighting, 24/7 security, landscaping, indoor garage spaces and even a rooftop solar installation. With LEED gold certification pending, 330 Railroad Avenue aims to be the most environmentally friendly office building in Greenwich upon its completion.
"With its new distinct and contemporary loft-style office space, 330 Railroad Avenue will be unique in the Greenwich market and have a look and feel similar to high-tech conversions that are occurring in Soho, Tribeca, and Brooklyn," commented Murphy.
Granoff Architects expects to occupy most of the first floor as its headquarters beginning in January 2017, leaving 17,000 square feet of space available for lease, including the entire top floor of over 12,000 square feet. NGKF's Executive Vice President and Managing Director James Ritman and Managing Director Allan Murphy will manage leasing for the property. More information on the property and leasing is available at 330Railroad.com.
Tags:
330 Railroad Avenue
,
greenwich
,
Greenwich Avenue
,
train station