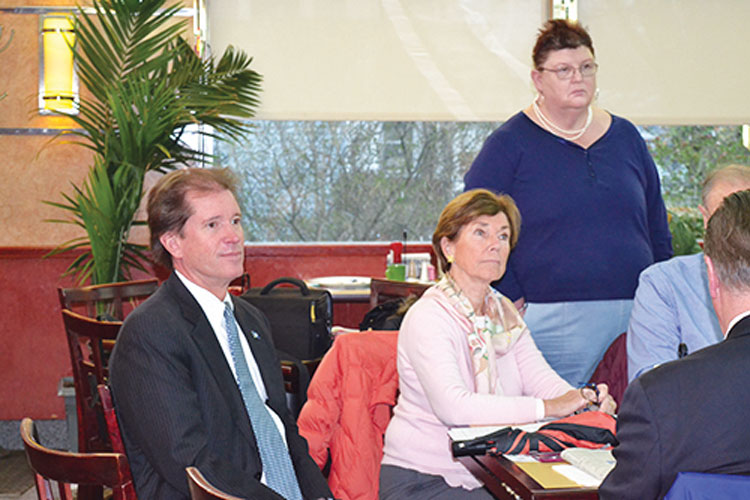 By Bill Slocum
Contributing Editor
Greenwich's legislative delegation noted that while a late-session budget crisis was averted last week thanks to bipartisan collaboration and the support of Gov. Dannel Malloy, a more serious fiscal reckoning still looms.
The four Republicans, state Sen. Scott Frantz and Representatives Livvy Floren, Fred Camillo, and Mike Bocchino, met with a packed crowd at Glory Days diner in central Greenwich Monday morning to discuss state politics and a shifting economy.
"We are looking at a $5½-6 billion deficit over the next three-and-a-half fiscal years, which is not insurmountable but is going to involve a lot of fiscal challenge," Frantz said.
An intrinsic problem, he went on to argue, is that the state's "tax base," in the form of high-net-worth individuals and large businesses, is disappearing. He estimated that $21.5 billion in net worth, "positively identified," has left for the relative tax shelter of Florida in just the past seven months. Meanwhile, costs connected to the state's defined-benefit pension and health-care plans continue to rise.
In response, they said, state lawmakers have considered everything from taxing endowments to mansions (in addition to the local property taxes already paid) to land owned by Yale University.
"There are so many schemes going on," Floren said. "It's called greed and avarice and desperation."
All the legislators pointed to the recent exodus of the state's largest private-sector employer, General Electric, as an especially worrying sign of things to come. While Democrats have argued the move has more to do with the high-tech attraction of Massachusetts, a liberal bastion where GE settled, the Greenwich Republicans said the problem lies more with what Floren called a "disdain" for high earners among many in Democratic leadership.
Bocchino also decried the secondary impact of GE's departure on Fairfield, Connecticut, its corporate home for decades.
"The negative effect it had on all those small businesses surrounding GE is immeasurable," he said. "You have people who depended on that income, whether it be the gas stations or the delicatessens. You can't measure it."
The legislators' breakfast talk is an informal, roughly quarterly practice drawing larger audiences of late. This time, the forum spilled over to fully half of the diner, with diners drawn into the discussion at a level roughly equal to that of forum participants ordering food. Questions were constant throughout the discussion, and the tenor often charged.
Many, like resident Virginia Genereux, expressed both agreement and concern.
"There are 1.6 million taxpayers [in Connecticut], and 28,000 of them make over $500,000 a year," Genereux noted. "They pay 40 percent of the state's income tax… The tax returns with $2 million over, there are 4,600 of them, they pay 26 percent of the state's tax. Everyone I know here is going to move as soon as they can."
Residents also urged attention and action from the state legislators on other matters.
A pair of proposed large-scale developments in central Greenwich, both currently before the town Inland Wetlands and Watercourses Agency, drew comment from a pair of Georgetowne North condominium complex residents. They said the projects are much too big for the neighborhood but could be built anyway because of a state statute, 8-30g, which allows developers to bypass zoning laws if at least 30 percent of the housing units built are offered at an "affordable" rate. In both cases, that is what is being presented with the developments before the wetlands agency.
"We are under siege," said one of the residents, Marianne Gattinella. She urged the legislators to do something about the law.
The legislators said that while they don't like 8-30g, there is little that can be done about it now. "The only way it's going to change is with a change in the legislature," Camillo said.
Floren urged residents with concerns to reach out to state legislators, both their own as well as others, suggesting that the more emails they get, the stronger the impression. "If there's one thing a politician can do, it's count," she said.