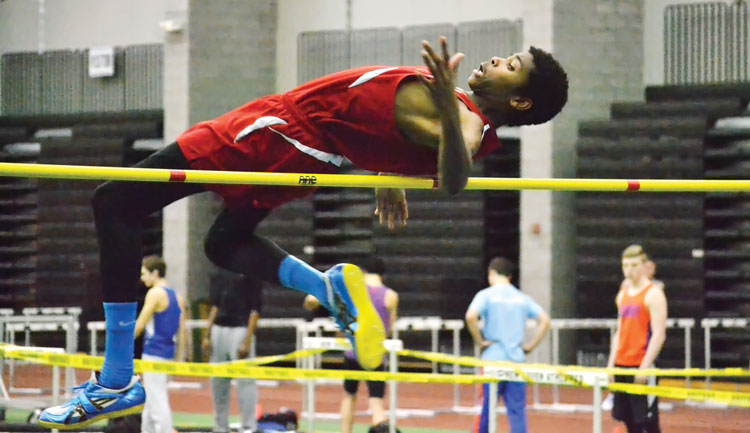 Countless teams throughout Greenwich High School this winter had standout seasons.
Whether it was winning Fairfield County Interscholastic Athletic Conference or state gold, achieving firsts for the program or having outstanding individual accomplishments, the athletic department at GHS has plenty to be proud of.
GHS Boys' Swim/Dive Team Dominates the Pool
The Greenwich High School boys swimming and diving team once again dominated the competition from start to finish this winter season. They capped off their undefeated regular season by bringing home the "triple crown" during the postseason, winning the FCIAC, CIAC class LL and State Open titles.
At the FCIAC championship meet, Big Red cruised to a victory, grabbing its 45th conference crown in 46 seasons and scoring 457 points. Only Darien High was close, taking second with 397 points. Two weeks later, Greenwich took to the waters at Wesleyan University and left no doubt who was the class LL champ. In commanding fashion, GHS posted 787 points. Cheshire High took the silver, scoring 600 points. During the CIAC State Opens, Big Red captured its third trophy of the postseason and netted 575.5 points. The next closest team was Pomperaug with 371.5.
During the playoff run, Big Red had some outstanding performances. Senior Jack Montesi captured the Opens record in the 100-yard butterfly with a time of 48.32 seconds. He also took home the class LL record in the 100-yard backstroke with a time of 48.44.
"I felt really good out there and I've been training hard all season," Montesi said. "Thanks to my teammates, my parents and my coaches who helped me succeed today and have a great meet. It was great breaking my own record, but this was a great team effort and that's important."
Fellow senior Alex Jahan also grabbed a record in the 100-yard breaststroke. His time of 55.14 during the class LL championships set a state record.
"What a job these guys have done all year," said head coach Terry Lowe after a State Opens victory. "They really wrapped it up in style. Taking all three relays, you knew there would be some ups and downs, but for the most part we were up. Whenever the match-ups were critical, the kids really came through."
Ice Hockey Program Back on Top with FCIAC Title
Another program that took home some hardware at GHS was the boys ice hockey team. After coming up inches away from a state championship and an FCIAC title last year, both to Darien, the Cardinals were on a mission this season.
The Cardinals started the season a blistering 8-0, crushing teams like Xavier, West Haven, New Canaan and Notre Dame of Fairfield in the process. On Feb. 17, Greenwich beat Darien 2-1 and secured the No. 1 seed in the FCIAC tournament.
After a first round bye, Big Red easily took care of Ridgefield, blanking the Tigers 3-0. In that game, Mike Mozian tallied two goals and Colin Kelly added a goal to help GHS advance to the FCIAC title game against St. Joseph.
With revenge on their minds after falling to the Cadets 3-0 in the regular season, Greenwich used a dominating second period to shut out St. Joe's 5-0 in the FCIAC title game, leaving no doubt who the champs were this season. In the finals, Mike Mozian once again tallied two goals, while Owen Johnson, Alex Mozian and KC Cunningham each pitched in with a goal.
"This feels amazing," Greenwich's Cunningham said after the game. "The feeling is so hard to describe winning a championship, but most of these guys are so happy that this finally happened to us. So many of us were here last year standing on this very rink and had to feel defeat."
Although Greenwich was stunned by Hamden during the Division I quarterfinals 3-2 at Webster Bank Arena, they finished with a stellar 19-5 record.
"When the seniors are able sit back and have a couple of days to reflect, they will remember that they had an outstanding season," GHS head coach Bob Russel said. "They will certainly cherish an FCIAC title, which is really important when you're in lower Fairfield County. They'll remember last year's run right to the finals. All in all for them, it's been an outstanding couple of years. It ended way too fast, but that's the nature of the game."
While it was the first time since the 2009 season that the boys ice hockey team won an FCIAC championship, another team at Greenwich High School broke a title drought much longer than that.
GHS Gymnasts Score FCIAC, Class L Titles
For the first time since 1982, the Greenwich High School gymnastics team claimed FCIAC gold this winter. The Lady Cardinals backed up its FCIAC win by winning a state title for the first time in school history two weeks later.
During the FCIAC championship meet, held at Jonathan Law High School, Big Red took home the title with a score of 143.00. Darien was second with 135.00.
"This is just an amazing feeling for us," freshman Kelsey Fedorko said. "I am so proud of my whole team and it's awesome to win FCIACs. I am really proud of myself coming this far along in gymnastics and being on that podium is a feeling that I can't describe. We needed to work really hard during practice and try our hardest every single meet that we competed in until FCIACs."
At the class L meet, Big Red was lights out again, posting a score of 140.425. Southington High School took home the silver with 134.450 points.
"We had depth today and we used it," said GHS head coach Sue Knight after the class L finals. "I think we did really well on the beam today. They stuck their routines and the pressure of a big time meet didn't bother them. Actually, every one looked great today. They put in a lot of effort and stayed focus. I am just so happy for the girls. They are the ones that put in the hard work for years."
Leading the way for the Lady Cardinals during the FCIAC and class L championships was Adnerys DeJesus, as no one had a better day than the GHS junior.
The GHS standout not only finished first in every event during the FCIAC finals, but she was the lone athlete to score and all-around total of 38 or higher and took the gold medal with a 38.500.
On floor, DeJesus was stellar, posting a score of 9.650 and dominated the field. During the vault event, DeJesus crushed the competition and landed a score of 9.700. The next closest was Darien's Samantha Aparicio, who finished with a score of 9.300.
In the other two events, DeJesus was also golden, placing tops on beam with a score of 9.550 and on bars with a score of 9.600. Again, DeJesus cruised to the title on bars, as Aparicio was second overall with a score of 9.050
During the class L finals, DeJesus was just as strong. On vault, she grabbed a score of 9.700 and backed that up with a 9.600 on bars. During the beam, DeJesus netted a total of 9.550 and she saved her best for the floor exercise, grabbing a top score of 9.725. All her scores were the tops in every event.
Girls Basketball Runs to the Sun for First Time
Although they didn't win a championship this season, no one can doubt that the Greenwich High girls basketball team had a season to remember, appearing in the state title game for the first time in school history two weeks ago.
"I am very proud of them," GHS head coach Chrys Hernandez said. "I just told them when we came in that there's no reason to hang your heads. What they have accomplished in such a short period of time is nothing to be ashamed of. It would have been really nice to win it, but I am very proud of them for all the effort they put in."
Greenwich High, which entered the CIAC class LL tournament as the No. 10 seed, thumped No. 23 Avon High School 74-55 in the opening round. Traveling up to Southington High, Big Red built an early 28-8 lead and beat the No. 7 seeded Knights 56-52.
Four days later, Greenwich went up to No. 2 seeded Fairfield Warde High School, a team undefeated at home, and controlled the game en route to a 64-46 victory. Against third-seed E.O. Smith, Big Red once again built a 20-point lead and advanced to the CIAC class L finals with a 69-60 victory.
"This was incredible and definitely memories that will last a lifetime," GHS senior co-captain Caroline Beneville said. "Coming here and walking through the doors and seeing the big arena and playing here has kind of been a dream since my freshman year. I couldn't have asked for a better team to play on in my senior year."
Greenwich High School also had some pretty solid individuals performances this past winter.
Indoor Tracksters Make Their Mark at FCIAC, States
Both GHS boys and girls indoor tracksters had some pretty impressive performances this postseason.
Leading the way was Emily Philippides, who took the state by storm. In her first season competing in the 600-meter run, Philippides took home FCIAC gold, posting a time of 1:38.02. She backed that up at the CIAC State Open meet, grabbed top honors and quickest 600-meter runner in the state, netting a time of 1:35.72.
Sandwiched in the middle was her time of 1:37.08 in the CIAC class LL tourney, which was good enough for the silver medal.
"I can't believe that I placed so well in my events," Philippides said. "When I got the gold medal I was so happy at that point that I was satisfied with my day. Then I got two other medals and it made me even happier. I was really nervous going into this because I knew the other girls and raced them last Saturday. I knew it would be a close race, but I'm happy now."
In addition to Philippides, Safir Scott, Issac Floyd and Lia Zavattari had a postseason to remember.
Competing in the pole vault at FCIACs, Zavattari took home a height of 9-06, which was good enough for top honors. Also at FCIACs, Scott was lights out at the high jump, posting a height of 6-04 that was good enough for first and was two inches higher than his second place competitor. Scott's teammate Floyd grabbed the gold in the long jump, posting a distance of 22-06.
The duo of Scott and Floyd each finished with the silver in their events at the class LL finals. Floyd took home a distance of 21-07 ¾ in the long jump, while Scott's height in the high jump was 6-02. Not to be outdone was Zavattaro, as she took the bronze in the pole vault with a height of 9-06.
At Opens, both Floyd and Scott took third in their respective events. In the long jump, Floyd netted a distance of 21-09, while Scott posted a height of 6-02 in the high jump. In the pole vault, Zavattaro was ninth with a height of 9-06.
"It's fantastic," said Greenwich head coach Evan Dubin, prior to the team competing at the New England championships. "To really, truly be one of the best in the entire state of Connecticut is a testament to the hard work that they've put in as athletes. Hopefully, they'll enjoy this moment. It's something they can tell their kids and grandkids about, and more importantly, hopefully they have success at the meet."
Ceci, Menchaca Pace GHS Wrestling Team
On the wrestling mat, Greenwich High School finished seventh overall at the FCIAC finals, but two standout athletes really set the tone throughout the season and in the postseason as well.
Mike Ceci and Erik Menchaca were a force to be reckoned with during FCIACs, which took place at New Canaan High School. Both athletes ended the tournament at silver medalists in their respective weight class.
Ceci pinned Westhill's Jordan Goins in 3:23 to earn a semifinal match against Stamford's Jake Heerman. A 13-7 decision over Heerman set up the top two seeds in the weight class final, where Ceci would fall to Fairfield Ludlowe's Chase Lind by a 7-1 score.
"Mike was very good when the season started and we've continued to see him progress," said GHS head coach Greg Domestico during the FCIAC finals. "A lot of it is through his hard work and determination. He's put it into his mind that he wants to be a very good wrestler, and he doesn't stop until he accomplishes that."
Menchaca started the finals with a pin over Darien's Jack Thatcher before falling to the top seed, Ludlowe's Lee Steinildjoh. Not to be discouraged, Menchaca fought back in wrestle backs to win the consolation bracket and claim third place.
At the highly-competitive class LL meet, held at Trumbull High School, both Ceci and Menchaca each placed second yet again.
In the 160-pound weight class, Ceci, seeded third, took a first round bye and started the day by pinning Matthew Parker 1:50 into the match. He kept the good times rolling in the quarters by pinning Manchester's Rafiq Conway 2:41 into the match and did the same to Fairfield Warde's Joseph Gjinaj in the semis, scoring the pin 2:37 into the match. However Ceci's day ended with a 5-3 decision defeat to Trumbull's Joseph Ryan.
Menchaca, seeded third in the 195-pound weight class, started the day with a first round bye and upended Xavier's Christian Fragoso 9-1 in the quarters. During semis, Menchaca beat his competitor from Shelton, Ray Weiner, 3-1 before falling in the championship match to Danbury's Andrew Marquis 4-2.
"When I had to go back and get our kids' records, I was reminded that Erik went 0-2 at our first tournament in Danbury," Domestico recalled. "To watch him come back and make adjustments and still be able to wrestle his style has been tremendous for us. He's been such a big asset in our lineup because we always start at the lighter weight and work our way up. There's been several times this year when we needed him to pin his opponent to ice the match for us, and he's come through and done it."
Greenwich Sentinel sports reporter Evan Triantafilidis contributed to this wrap-up.