March 30, 2016
ASOG Spring Art Show Begins April 1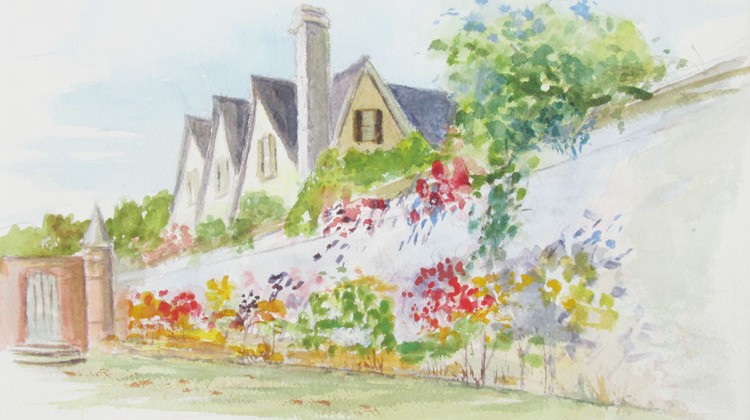 Florals, landscapes, abstracts, still lifes, and more, in colors both vibrant and subtle, will be on exhibit in the 2016 Spring Art Show, sponsored by the Art Society of Old Greenwich, April 1 to 29. The show will be located at the Garden Education Center, 130 Bible Street in Cos Cob. This show also features the award-winning artwork of Greenwich High School students who have been selected to receive ASOG's annual scholarship awards.
Evoking the delights of spring, ASOG members will exhibit artworks in oil, acrylics, watercolor, photography, graphics, pastel, sculpture and mixed media. Cash awards to members will be presented: first place: $50, second place: $25, and third place: ribbons. In addition, student scholarship awards will be presented to GHS students who demonstrate talent and a commitment to the arts. One student artwork will be named "Grand Prize" and the artist will receive $500, and two additional student artworks will be named "Runners-Up" at $250 each. Artists Frank Smurlo, Jr., Carol Nipomnich Dixon and Libby Collins will be the student award jurors.
An artists' reception, free to the public, will be held on Friday, April 8, from 6 to 8 p.m. Refreshments will be served. The Garden Education Center (GEC) is open Monday to Friday, 9 a.m. to 4 p.m. Parking is available on the premises.
Exhibitors in the show must be ASOG member artists; however, anyone can join the society ($40 membership fee) and submit artworks on April 1, 10 a.m. to 12 p.m., at GEC. Interested artists, please call 203-637-5845 for submission details.
Tags:
Art Society of Old Greenwich
,
ASOG
,
greenwich
,
Spring Art Show