March 26, 2016
Trinity Church Thrives at Eastertide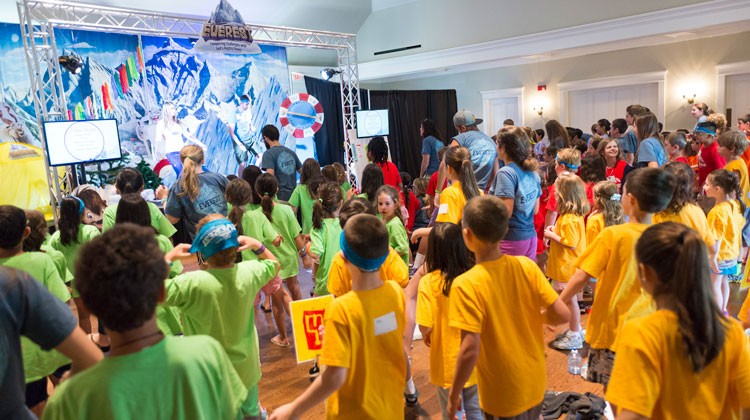 By Anne W. Semmes
Sentinel Features Reporter
There is a church in Greenwich with no walls, with a missing senior pastor, that nevertheless on Easter Sunday morning is expected to fill the 750-capacity Ballroom of the Hyatt Regency twice over in its 9:15 and 11 am services. It's called Trinity Church, without a building since its inception 17 years ago.
Trinity has long held its Sunday services in the auditorium of Central Middle School in Cos Cob throughout the academic year, then moves to Christ Church's Parish Hall during the summer. It formerly held its Easter and Christmas services in the Greenwich High School auditorium but has outgrown that space.
Trinity's Senior Pastor Drew Williams is not AWOL. He is recharging after an extraordinary siege of surgeries and due to return center stage soon after Easter. Williams is macro-managing from his home in Old Greenwich and reports that in his absence, "Not only has the church taken extraordinarily good care of me and my family – they have thrived and grown in my absence."  Williams attributes that thriving to his "staff team" of 25 and governing Council members, and surely to his "caring of each other" congregation.
Andy Harball, Trinity's executive pastor, was found tweaking his Easter morning sermon in Trinity's offices on Sherwood Place. He's full of energy at 29, a Brit like Williams, who served years back in Williams' parish in Devon, then came to Trinity Church five years ago, promptly finding there a wife.
Trinity's Good Friday observance, another British import, is an international program called 24/7 Prayer where Trinity congregants can book a prayer room in Trinity's office a  person at a time, from Thursday at 4 to Saturday till 4. "Trinity now has the 24/7 prayer time once a month," said Harball.
Expect a musical explosion at the Hyatt Regency for the Easter morning services. "There will be a full band and a choir – 20 strong," says Harball. Music, the likes of Rob Mathes with gospel singers is the Trinity brand of worship music from its start with Trinity founder Ian Cron.
Trinity worship is heavy on the visual arts and getting more so. A pair of flat screens feature images to fit the sermon. Congregants have no need for prayer books or hymnals as the prayers and verses appear on the screen. Electronic bibles, hymnals and the Book of Common Prayer are accessible on iPhones.
"It is unlikely that anyone has evolved a church like this in the Northeast," said Harball, confirming, "We are a contemporary church. We really welcome people to come and explore. Our style is informal, lively, and passionate, with a focus on Jesus. We're offering a lot of access and participation."
Merrill Squires from Old Greenwich left behind an "amazing" church in Dallas, Texas, but moving here he assumed he wouldn't find one similar in "such a conservative environment" as Greenwich. But he and his young family found at Trinity, "The service was amazing," he said, "The spirit was so much a part of the environment. The music was both moving and inspirational. The worship team was young, energetic and committed." And Senior Pastor Drew Williams "was simply an inspiration."
Squires described the congregation as "a great cross section of people from all over the area. Some people drive for an hour to come."
In this day of shrinking churches since Williams' arrival in 2009 the church has more than doubled. "We've grown at least 600 more to make it now in the 1000-1200 range," said Harball. "We have a large population of younger families, people with kids through high school."
A draw for the kids seems to be the Trinity brand of Bible study groups – Trinity Kids and the Student Ministry group for high schoolers. "We have over 200 volunteers leading the Bible studies with kids and youth," said Harball. "We really believe that kids can engage with faith at any age. There could be very young children through high school who have a formed complete faith in Jesus. We really want to help them explore and come to faith."
"Anxiety among middle and high schoolers is prevalent in our local community," said Jill Conway Marchak of Greenwich, "and this is something that Trinity excels at ministering to." With two sons having attended Trinity's Student Ministry program Marchak has witnessed, she said, "profound changes in young people who have been nurtured and had confidence restored through God's healing love."
With kids even at church more reachable through social media, Trinity is heavily invested in that conduit. Greenwich native and longtime Trinity member Julian Jarry serves as Storyteller and Videographer. His Easter egg hunt promo video uploaded to social media brought record responses. His Trinity summer camp images – the 200 best of "thousands" put on Facebook allowed "families and friends to really flip through them," he said, adding, "Everything needs to connect on social media – there's nothing more perfect than this."
In Drew William's absence there's an educator on staff often giving homilies, Hillary Bercovici, with impressive degrees in philosophy and divinity, and a Ph.D. in psychology and theology. His duty as Trinity Senior Fellow is "helping people grapple with real questions" and "building biblical literacy." Bercovici holds onto a vision traceable to Trinity's 1999 origin, "We want you to belong before you believe."
Drew Williams would agree. "As we grow in number," he shared, "our vision is that we also grow in generosity. Trinity has a remarkable history of coming alongside the poor and marginalized locally and further afield and this remains a key part of who we are called to be."
And what of that wall-less, building-less church? "We absolutely remain open to the possibility of a building that has a Sunday worship space," said Williams, "but we also see our mobility as a strength because it allows us greater flexibility."
Williams gets an affirmation here from congregant Jodie Emery. "Trinity is unique from the start because we don't have a brick and mortar church – our church is wherever we are! The expenses associated with the upkeep of a facility instead are given away to programs we believe in."
Postcript: Last week Senior Pastor Drew Williams provided his church community with a positive update of what has been his three-year saga to escape from pain from a malady described as "severe genitourinary inflammatory syndrome" that he first experienced in his twenties. It returned in 2012 and after three years of treatment and four surgeries Williams' pain had increased! Cutting edge medicine has finally brought relief with the extraordinary implanting in Williams' spinal cord of a permanent pain controlling device called a Spinal Cord Stimulator that "applies a low voltage pulse to the spinal nerves to break the pain syndrome." "They also put inside of me a battery," reported Williams, "with a twelve-year life cycle!"
Thus, Trinity literally has a recharged pastor on his way back after he regains his strength. "I am under strict doctor's orders to take things slowly," he stated, so if Williams is spotted out for a spring walk in his neighborhood a congratulatory wave is in order.
Williams has also shared with his church community his journey through "a place of desperation" to "an increased intensity, honesty and a deeper intimacy" in his relationship with Jesus Christ. He wishes to now share that "deeper intimacy" of faith in a series of devotional writings commencing today, at left. Look for them weekly in the Greenwich Sentinel.
Tags:
Easter
,
greenwich
,
Trinity Church