March 22, 2016
Experts Discuss 'Positively More' Impact on Middle School Girls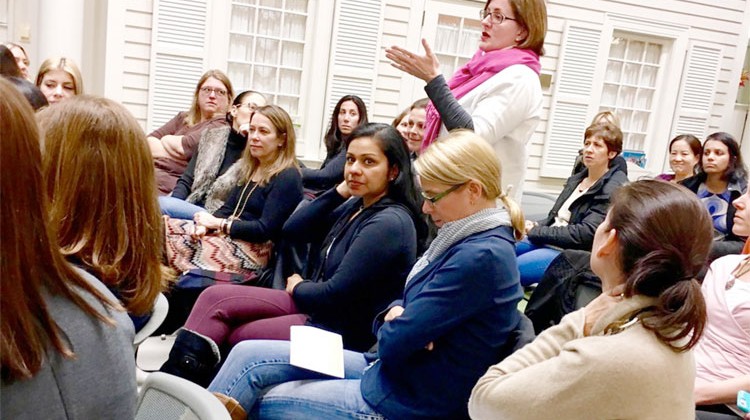 STANDING ROOM ONLY! Parents from Greenwich flooded the Perrot Memorial Library to hear from experts in the fields of counseling and social media who taught over 350 sixth grade girls over the past two years at the Junior League of Greenwich's Positively More program. Local professionals held sessions for middle school girls concerning friendship, self-esteem, morality, decision-making and social media. Professionals included Sara Rawson, OTR/L, IMC, Occupational Therapist, Beth O'Malley, LCSW, ACSW, Psychotherapist, Meredith Gold, Director of Domestic Abuse Services of the YWCA Greenwich, and Jenny Byxbee, Greenwich Youth Services Director. Acting as Teen Ambassadors in the Positively More program are forty high school young ladies from six different schools who act as role models for the middle school girls.
The panel discussion provided tips to parents concerning how to manage a middle school girl. The panelists explained how there is a need in society to assist the development of future female leaders. The Junior League of Greenwich is on the pulse of positively impacting middle school girls, guiding them to make mindful choices. Joining the local team of professionals on the panel was a middle school girl from Eagle Hill School who spoke about her experience at Positively More. Teen Ambassadors joined the panel as well, providing reflections of what it was like for them to travel through middle school in Greenwich.
The Junior League's program is achieving its mission of creating strong women in our community. Evidence of this came from all the middle school and high school participants who after completing the program exhibited strength, poise, confidence, and became amazing advocates for themselves.
Tags:
greenwich
,
Junior League of Greenwich
,
Middle School Girls
,
Positively More