February 24, 2016
Greenwich Boys Hoops Win on Senior Night; Just Miss FCIAC's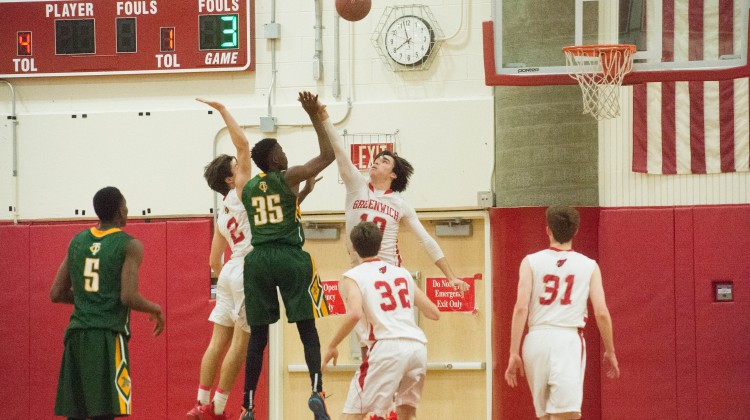 The anticipation for Wednesday's final regular season game couldn't have been higher, as the Greenwich High boys basketball team both honored their seniors before the game and did all they could to try and qualify for the FCIAC postseason tournament.
A 57-44 victory over New Canaan High gave the Cardinals something to cheer about, but fate wasn't in their hands as Ridgefield High beat Stamford High just across the way to solidify the playoff teams in the conference tournament. Greenwich was the odd man out in a nine-team race for eight seeds.
For Greenwich, Seniors Mike "The Greek Freak" Gianopoulos and Kieran Carroll both scored 16 points, with half of Carroll's scoring coming in the final quarter of play. Conor Harkins added 11 points, including three shots from beyond the arc to help the Cardinals get ready for an extended break before the State Tournament.
"It's going to take finishing out games like we did tonight," said GHS head coach Pat Heaton.  "Some of the top seeds in the State Tournament are from our conference. Trumbull is the number three seed in FCIAC's and we beat them. Danbury is the top seed and we had them beat too. We believe we have the talent to play with a lot of teams."
Honored before the game was Gianopoulos, Harkins, Quinlan and Kieran Carroll, Victor Simonte, Joseph Lanni, Kevin Woodring, Ryan Harford and Henry Golden.
"Every single one of our seniors worked hard at practice everyday and did everything they were asked. I couldn't be more proud. They are all standouts in the classroom and outstanding student-athletes."
For the Rams, Tyler Sweeny scored 21 points while going 4-for-4 from the free throw line and adding three three-pointers.
Even though an FCIAC Tournament appearance is out of the picture for the Cardinals, Greenwich still will play in the LL State Tournament which begins Friday, March 4.
Tags:
CIAC
,
ctbb
,
FCIAC
,
Greenwich High
,
New Canaan High