February 23, 2016
Greenwich High Wrestling Places a Pair of Finalists in LL Championships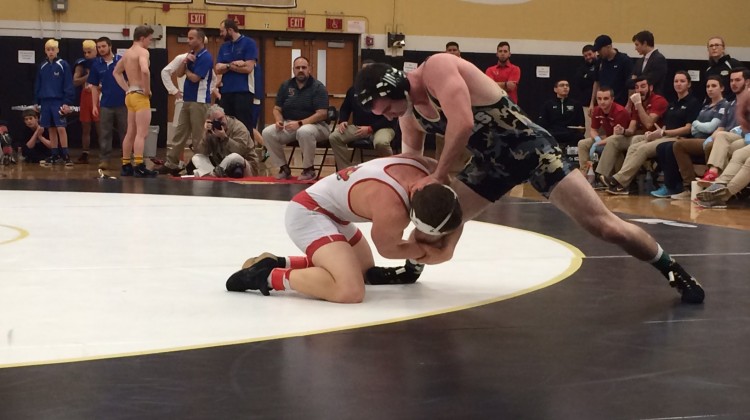 The Greenwich High wrestling team brought home two silver medals from Saturday's Class LL State Tournament after Mike Ceci and Erik Menchaca made the finals of their respective weight classes.
Under first-year head coach Greg Domestico, the Cardinals placed 11th out of 25 Class LL Schools and put on two of the most exciting final matches as both Ceci and Menchaca took their opponents to overtime.
"It's an exciting time of year," Domestico said. "The kids have worked hard and competed. We lost a lot of one-point matches today. It's bittersweet because what we did with our scheduling and it's a tough time of year because losses are final and careers are over."
"The toughest part of our schedule was the final two weeks where we had the Town Crown and FCIAC's. I commend the kids for trying to say as healthy as they can and pushing through mentally."
Wrestling in the 160-pound weight class, Ceci fought his way into the finals and forced overtime against Trumbull's Joey Ryan, where Ceci would fall in the final seconds of the extra period.
"It was a pretty successful year, but to come up just short in FCIAC's and State's kind of stings. Joey wrestled a great match," Ceci said.
"Coach came in at the beginning and we went right to work. I got to give credit to coach and our former coach Albano from last year for sending us off the right way."
After a first-round bye, Ceci secured his finals appearance with pins over Simsbury, Manchester and Fairfield Warde, only giving up three escapes in the process.
In the 195-pound weight division, Menchaca won his way into the finals with 9-1 and 3-1 decisions over Xavier and Shelton opponents.
It would eventually be Andrew Marquis of Danbury who executed a reversal on Menchaca for the win, but not before forcing two overtimes against the champion Hatters. 
"I think it evolved us," Menchaka said of the team's schedule. "It made everyone tougher. It showed us that you shouldn't quit on yourselves right away. We can hang with the big boys out here."
Domestico praised his senior for the work he's put in on a back loaded schedule and for the silver medal performance at LL's.
"Our biggest thing with Erik is to make him work for six minutes," Domestico said. "He's very athletic and he can beat anybody. I think the loss at the Town Crown stung and helped propel him. He did a great job today."
Fighting in the 152-pound weight class, Ethan Ross received a first-round bye as a five-seed and came back to win an overtime match against Fairfield Warde's Kris Gjinaj to make the quarterfinals. His day would be done after that, however, as an injured elbow continued to hold him out from further competition.
Greenwich's Brian Harvey (120) and Mitchell Grimes (106) both made quarterfinal appearances as Dylan Ehret (113) finished with a sixth place finish with a strong performance in wrestlebacks.
With their performances, Ceci, Menchaca and Ehret all qualified for the State Open that will be held later this week at the Floyd Little Athletic Center in New Haven. Domestico is looking for his team to keep improving heading into the offseason, with preparations for another, possibly tougher, schedule set for next season.
"We have a lot more work to do to get to the upper echelon," Domestico said. "I think we're on our way and a lot of it is going to come down to the time the kids are going to put in during the offseason. Every great wrestler puts a lot of offseason time into the sport by lifting, conditioning and wrestling. I think the base and the talent is all there. Now we just have to put it all together."
Tags:
CIAC
,
connecticut wrestling
,
ctwr
,
Greenwich High
,
Greenwich Wrestling