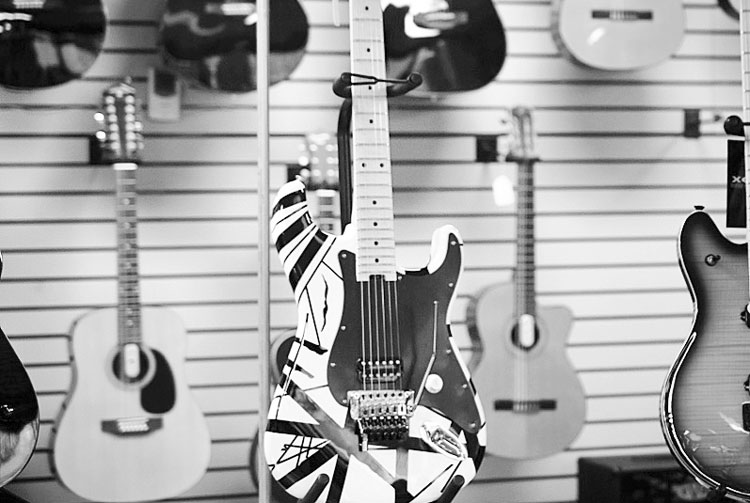 By Sara Poirier Correa
Sentinel Business Reporter
In an era where music stores are closing left and right, Greenwich Music has stayed the course, and after nearly 50 years in business, the Riverside-based shop continues to do it all, focusing its efforts on what works.
"Music has changed a lot over the last few years and we're doing what we can to change with the times," said storeowner Joe Summa. "Paying attention to what's going around in our industry [has helped business]."
"We're kind of one of the last men standing," he added. "It's just paying attention to what people are buying, what people are not buying, and really trying to grow parts of the business that work."
He continued, "The Internet has either killed or significantly dwindled retail sales for businesses. You combat that with building the part of the business you can't get through your phone or computer screen."
Even with the changing market, the retail store is still a big part of Greenwich Music, with offerings from electric and acoustic guitars, to drums, keyboards, sheet music and much more. However, Greenwich Music also offers music lessons, as well as instrument rental and repair. Last fall, Summa said, more than 2,000 band instruments were rented to area students.
Greenwich Music began in Port Chester, N.Y., in the 1960s, and was then known as Fraioli Music. According to Summa, a semi-professional guitarist and former executive recruiter who purchased the business in 2008, Fraioli moved to Greenwich in the late 1970s. It underwent a name change to Greenwich Music in the 1980s, he said, and moved to its current home in Riverside in 2006.
"It was just a timing thing," Summa said of how he came to be the latest owner, adding that he was looking for a business to buy and the old owners just happened to be looking to sell.
With 10 soundproofed lesson rooms throughout the store's 5,200 square feet, Greenwich Music professionals teach everything from voice to drums, guitar to piano, trumpet to flute, violin to French horn and more. All the teachers, Summa said, are professional working musicians themselves with a background in teaching. Many even have degrees in music education specifically.
"They're patient and they make it fun," Summa said of the teachers at the music school, which for years has been known as the Fraioli School of Music. "We try to make [the lesson experience] different than what their school [band or orchestra] experience is."
Greenwich Music has also recently become the first music school in the area to be licensed to use the Musical Ladder system, Summa said. Similar to the belt system in Karate, whereby you earn different colored belts based on your progress in learning the martial art, Musical Ladder provides colored bracelets to students based on their achievements in music. Each bracelet has a music-related word on it to inspire the students, such as "maestro," "prima," "allegro" or "superstar."
There are also certificates and trophies awarded as each student completes different stages of his or her music education, Summa said.
In recent years, he said, especially with TV shows such as "The Voice" and "American Idol," voice lessons have become increasingly popular. But old standbys such as guitar and piano also top the list of requested lessons.
And while the majority of the lessons are given to kids, Summa said, there have been a number of adult students as well. The age range of students, he said, is from five years old to about 70.
To showcase the talents of the Greenwich Music community, Summa and his staff instituted in-store open mic nights and student showcases a few years ago. The community at large is invited to these performances, the dates for which are posted on the store's Facebook page, facebook.com/greenwichmusicstore.
Summa is slated to showcase his own talents with his band Unchained on April 9 at Seaside Tavern in Stamford, when they will participate along with the band Kings Highway in a fund-raiser for Kids In Crisis. The Cos Cob-based organization provides free, round-the-clock crisis counseling, shelter and community educational programs for children of all ages and their families dealing with a range of crises, including domestic violence, mental health issues, substance abuse, economic difficulties and more.
For more about Greenwich Music, visit greenwichmusic.com, stop by 1200 East Putnam Ave. in Riverside, or call 637-1119.