February 13, 2016
Brunswick Wrestling Captures WNEISWA Championship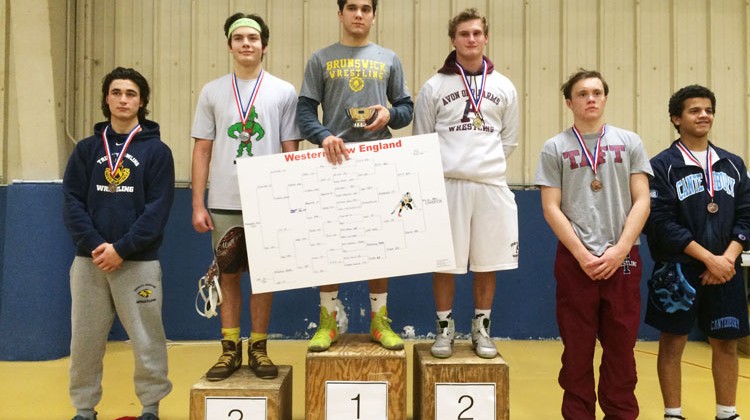 It's hard to argue that the Brunswick School wrestling team is having one of its best seasons to date.
On Saturday during the 59th annual Western New England Independent School Wrestling Association Championships, the Bruins added to its resume a championship trophy and did so in grand fashion, scoring the most total points in the championship history.
Brunswick, which scored 286 points en route to Saturday's championship, broke the previous record of 278 points.
For the first time in Brunswick wrestling history, all 14 wrestlers placed in the top six at the tourney and helped head coach Tim Ostrye pick up his 12th WNEISWA championship.
Grabbing top honors for Brunswick was the foursome of Andrew Hennessey, Jon Errico, Lucas Bell and Joe Fervil, as they each won their respective weight classes. For Errico in the championship match, he upended Avon Old Farm's Stephen Thibault, a two-time All-American.
Brooks Hennessey, John DeLucia and Alex Burdick each grabbed the silver. A plethora of grapplers, Lachlan Rosato, Alex Russell, Aiden Reynolds and Alex Tucker, took home third. Emmett Bell and Sandro Mariani finished fourth, while Rishi Das ended the day sixth.
In addition to grabbing medals, Errico took home the Ray Sparks Trophy for the tournament's most outstanding wrestler as voted on by the coaches, as well as the Peraino Trophy for the most pins in the least aggregate time in the final three rounds of the championship bracket.
Tags:
Brunswick
,
Brunswick School
,
Brunswick Wrestling
,
ctwr
,
ctwrestling
,
FAA
,
greenwich
,
NEPSAC
,
WNEISWA