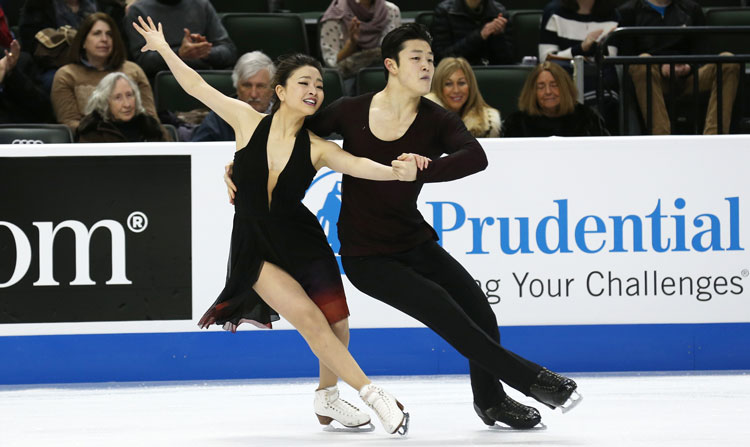 By Liz Leamy
Sentinel Correspondent
Two weeks ago, Greenwich natives Alex and Maia Shibutani, one of the world's top ice dance teams, scored their biggest victory to date, a national senior title, at the 2016 U.S. Championships in Saint Paul, Minn., edging out Madison Chock and Evan Bates, the reigning U.S. champions and 2015 World silver medalists.
Maia, 21, a former Greenwich Academy student, and Alex, 24, who attended Brunswick School, overcame Chock and Bates, leaders in the short dance, with their spellbinding free performance to "Fix You" by Coldplay, for which they racked up a 190.14 total score, putting them nearly four points ahead of the competition.
"It's an absolute dream come true for us," Maia told Andrea Joyce, NBC Sports commentator after learning she and her brother had been crowned U.S. champions. "We've had an extraordinary journey."
On finishing their program, the duo, who trains in Canton, Michigan with their longtime coach, Marina Zoueva, mentor of Meryl Davis and Charlie White, the 2014 Olympic champions, tearfully hugged each other as they graciously bowed to the thunderously applauding crowd, most of whom were on their feet, at the packed Xcel Energy Center, home of the Minnesota Wild National Hockey League team.
"We love doing what we're doing and to get an audience reaction like that, we're really grateful," Alex said to Joyce.
A golden program
The Shibutanis, who represent the Skating Club of New York in Manhattan, hit it out of the park with this superb free dance, for which they were awarded a plethora of high scores from the nine-member U.S. Figure Skating official panel.
Described by Tanith (Belbin) White, the 2006 U.S. Olympic silver dance medalist with Ben Agosto, as "an incredible vehicle" for this team, the program featured an array of fantastic lifts and spins along with powerful and quick steps, edges and turns, including a perfectly synchronized twizzle sequence.
Crafted by the talented Peter Tchernyshev, a five-time U.S. dance champion and former Olympic contender with partner Naomi Lang, this program has helped the Shibutanis find a new artistic dimension.
"It shows their strengths so well and people are seeing them in a new light this season," said White, a NBC television sports commentator at this year's U.S. Championships.
American skating luminaries agreed, including longtime Greenwich resident, Slavka Kohout-Button, a U.S. Figure Skating and Professional Skaters Association Hall of Fame member who taught Janet Lynn, the 1972 Olympic bronze medalist and five-time U.S. champion.
"It was technically outstanding, interesting, and stylish," said Kohout-Button, who taught the Shibutanis when they were growing up. "They showed such an exuberance in their performance."
For Maia and Alex, both of who had spent time training at local arenas as young skaters, including the Dorothy Hamill Skating Rink in Greenwich, it's now all about showing who and what they are out on the ice.
"I think our performances are really coming from an honest place," said Maia, a past recipient of the Alis W. McCurdy Cup (given to a skater who shows talent and promise) at the annual Town of Greenwich figure skating competition. "We're performing and enjoying every moment."
Family dynamic
The Shibutanis, one of the few dance teams to have ever achieved the rare feat of attaining consecutive U.S. National podium status at every qualifying level, from the juvenile through the championship rungs, have had a startling competitive run up to this career-changing point.
Along with scoring gold at this year's Nationals, they clinched bronze at the 2011 World Championships, three silver and two bronze U.S. National senior medals, ninth at the 2014 Sochi Olympics and fourth at the 2015/16 International Skating Union Grand Prix Finals last December, among other things.
It seems for Alex and Maia, however, their experience at the senior (championship) level has inarguably been the most important growth period in their career so far; it has been during this time that they have evolved into a highly sophisticated dance team known for its distinctive and innovative artistic style.
"Our experiences over the last several years have [helped us] create a really strong impression out on the ice," said Alex. "The plan always was to continue to improve and challenge ourselves so we could be the best team we possibly could be."
His sister agreed.
"I feel like it's always been our plan and philosophy to plan ahead," said Maia. "We want to continue to tap into our potential."
Invariably, much of the reason this duo, known as much for their steely, smart and determined resolve as their superior skating skills, has always done so well is largely due to their terrific family dynamic, as they are known to communicate well together and both possess a strong work ethic and drive.
The Shibutanis' dynamic is much of the reason they have come to be known as one of the most interesting and influential dance teams on the world-level circuit, as many of their program themes have addressed such human themes as humor, courage, beauty, pain and joy.
"They are bright, talented and bring a fresh and interesting twist to the sport," said Kohout-Button, who also applauded the work of their renowned coach, Zoueva, the 2014 Professional Skaters Association Coach and Choreographer of the Year. "I'm so happy for them, they've been working so hard for many years."
These days, it seems as though the two ultimately view success as something much more than just a means to achieve high marks in competition.
Instead, their focus is also to affect and inspire people through their skating and performances, as they did in Saint Paul.
"[The response from the crowds] has inspired us to work even harder so we can be the best we possibly can be," said Alex.
A bright season ahead
Not ones to rest on their laurels, the Shibutanis, returned to the Arctic Edge Ice Arena in Canton shortly after Nationals to resume their training and prepare for the Four Continents Championships, slated to be held in Taipei, Taiwan, in mid-February.
In March, the team will head to Boston, where they will represent the U.S. at the World Championships, which will be held at the TD Garden.
Worlds ought to be an exciting event for those here in town, since so many have been and continue to follow these talented Greenwich natives through the years, as they should do everyone proud as the number-one U.S. dance contenders at this premiere international sports event.
"I think they have a good chance to do very well at Worlds," said Kohout-Button, who plans to attend. "It is very exciting to watch them at this juncture, and I get such joy from seeing people I've worked with achieve this type of success."