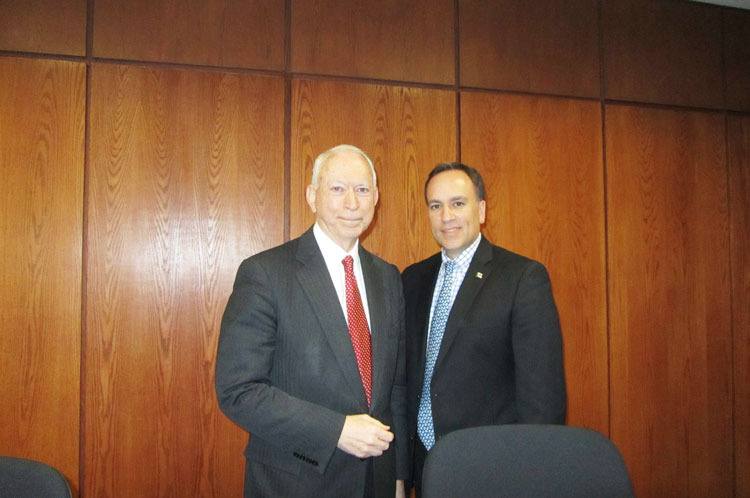 By Bill Slocum
Contributing Editor
The town government and the Board of Education presented next year's budgets Monday, asking a key Board of Estimate and Taxation subcommittee to approve a 4.1 percent increase in overall spending.
Peter Tesei, presenting his recommended budget for the ninth straight year as Greenwich's first selectman, said the town's recommended budget maintains the existing level of service while providing some needed upgrades, in particular planning for a new fire and ambulance station in Northwest Greenwich as well as renovating Eastern Greenwich Civic Center and New Lebanon Elementary School.
"This budget comes to you within your guideline," Tesei told the BET Budget Committee. "It meets all the thresholds established by the BET as they relate to dollar increase percentages year-to-year." The total recommended increase in Tesei's budget, which incorporates all town services except schools, amounts to 1.88 percent.
Tesei noted pressure on town finances has been particularly strong from fixed healthcare charges, which alone require a $5.2 million increase in the budget. Under those circumstances, he said the budget "remarkably" manages to hold costs down to a predetermined reasonable level while providing critical service enhancements.
Tesei added his budget is in compliance with both the BET's debt policy and its fund-balance policy, which Budget Committee Chairman Jim Lash affirmed. "It is, to be candid, unusual to have a budget at this stage of the game which conforms to all the guidelines," Lash said.
Echoing Tesei's cost-holding line, Board of Education Chair Laura Erickson noted that over 90 percent of the school's 2016-17 budget is due to contractual salary obligations. "Coming in at 2.2 percent took a lot of work," she told the Budget Committee. "This is a level services budget, and importantly it does align with our strategic plan."
Projected enrollment is expected to increase slightly next year, by 81 students, to a total of 8,902. Both Erickson and Schools Superintendent William McKersie said the new budget continues their department's focus on "personalized learning."
"We try to anchor all of our work in this very high performing district in personalizing instruction and everything else for our students," McKersie said.
He pointed to a number of "high-level outcomes" in the public schools, including, for the first time, over 2,000 Advanced Placement tests administered in 2015 to Greenwich High School students. He also noted a marked increase of late in minority student and at-need populations in town.
In addition to hearing from town leaders, the four-member Budget Committee also heard from residents who urged action on particular budget items.
Allen Williams, president of the Northwest Greenwich Association, urged support for the combination firehouse and ambulance station, which is slated to cost $500,000 in the current budget to plan and $5 million to build in 2017-18. "We need to reduce the amount of time it takes to get firefighters to the scene," he said. "We are having a tough time getting fire insurance."
Peter Quigley, a Representative Town Meeting member from north-central Greenwich, was one of several to speak in favor of infrastructure improvements. "The storm drains in this town have not been attended to for 50 years, perhaps 100 years," he said. "I would ask you to take a real good look at how to plan out for the next 10-15 years."
The total increase in the town and schools budget would amount to a $16.81 million increase over the 2015-16 budget, and a mill rate hike of 2.7 percent, from 11.2 to 11.5.