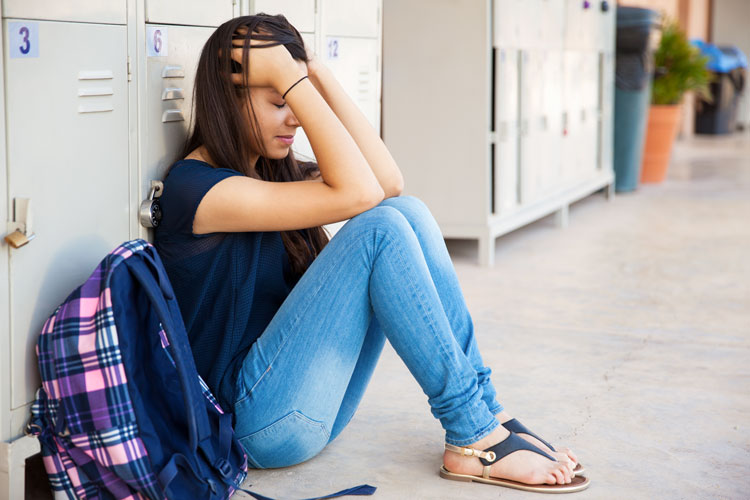 By Bill Slocum
Contributing Editor
Is student stress out of control at Greenwich High School, and if so, what can be done about it? Students, teachers, parents, and administrators met at the school Media Center last week to kick off a months-long series of deliberations.
The Jan. 14 inaugural meeting of the Greenwich High Student Stress Committee was chaired by Greenwich High Headmaster Christopher Winters, who noted first a need to quantify the level of stress students feel at Greenwich High, and then determine if action is warranted.
"I hear it is a stressful environment," Winters said in an interview earlier that day. "I hear it is an engaging, exciting, challenging environment as well. The committee will look at what are all these factors leading to a feeling of excess for some students."
A strong message came from students at the committee. "The amount seniors and juniors have, it's honestly too much," said GHS senior Kayla Kerendian, one of the student members of the committee.
Another senior, Kate Meurer, noted how loss of sleep from stress has become an issue for students she knows. She also noted a burdensome increase in homework.
"There are times I'd rather be at school than at home," she said. "It's sad, but true."
Winters cautioned against using individual experiences as a basis for enacting wholesale changes at a school he said is appreciated by parents and colleges alike for producing high-performing graduates.
Yet teachers and administrators in the room indicated they felt something was amiss. Several noted how pressure becomes particularly severe for college-bound youngsters seeking admission to top schools.
"I would say the college application process drives the majority of this stress," agreed Joe Magliocco, the junior-class president.
Other teachers noted a potentially false correlation between the quantity and the quality of homework, which was said to stretch the totality of an average week's schoolwork into 50-60 hours.
"What is realistically something we should expect from you guys?" asked Brian Walach, a Greenwich High math teacher who runs an Innovation Lab program for sophomores.
Lorraine Termini, Greenwich High's dean of student life, reviewed several articles exploring how different schools tackled the issue of student stress, including community pushback in one case when the response was seen as creating too soft a learning environment.
Termini pointed out a common theme across school districts that dealt with the issue was how worried students were more prone to losing sleep, and how that lost sleep translated into more stress later on, creating a vicious cycle.
The Greenwich public school system is currently considering pushing back start times, a matter Winters said will not be part of this committee's deliberations. Instead, he said he wants to focus on identifying stress causers, and alleviating them where it makes sense and is doable, either by changes to school policy or creating actionable guidelines for parents.
"This is a problem that a school that is well-functioning has," said Winters before the meeting. A 1981 Greenwich High graduate, Winters said he does not want to shortchange the positives of a strong learning environment, but rather find ways of making that environment more pleasurable and manageable for all: "We need to find that balance."
Magliocco and Kerendian described what they said is a common problem of taking harder classes to impress a college admissions board. Students often seek out advanced placement courses for this reason, they noted. At the same time, they said there are other times a student will avoid a more challenging class he or she might otherwise be interested in to avoid negatively impacting their grade-point average. The result is an unsatisfactory one focused less on individual growth and personal investment than on tailoring one's courseload toward another's exacting standards.
Winters noted that before any action can be taken, the question of actual stress levels among students must be precisely measured. To that end, he suggested a student survey be undertaken, as framed by the committee, to measure the extent of the problem in general and identify exactly where unhealthy levels of stress are produced.
"Surveys don't answer questions, they raise them," Winters told the committee.
This is not the first time Greenwich High has studied the issue. Two years ago, Winters formed a similar committee on the matter and came up with recommendations which included a soft cap on AP classes, to a maximum of two for sophomores, three for juniors, and four for seniors.
Enacting a hard cap could be one decision made by this committee, Winters said. During last year's Board of Education race, then-Chair Barbara O'Neill spoke out favorably about the idea.
Winters called this committee an "evolution" of a process: "We are looking for small, common-sense steps that keep kids in an advantageous situation for learning, character development, and ultimately future choices, but at the same time realize these are 14-18 year olds that are just trying to do the best that they can in a challenging environment."
For the next meeting, on Jan. 28, Winters said the committee will look to devise a survey to measure stress among Greenwich High students, and form subcommittees to deal with specific areas of concern, including homework, college admissions, and other topics.