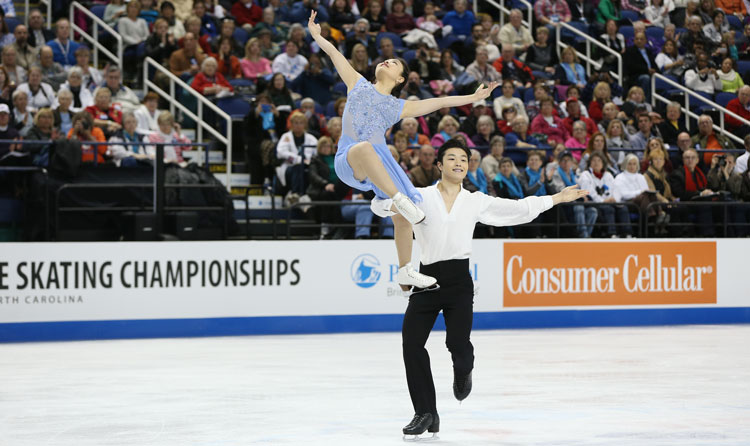 By: Liz Leamy
Sentinel Correspondent
Two weeks ago, Maia and Alex Shibutani, the world-class brother and sister ice dance skating duo that grew up in Greenwich, once again proved why they are top international contenders, finishing fourth at the International Skating Union Grand Prix Finals in Barcelona.
In typical fashion, Maia, 21, and Alex, 24, who are the 2011 World bronze medalists, 2014 U.S. Olympic team members and five-time United States championship podium finishers, brought their best to this prestigious event, which featured the top-six international contenders in the singles, pairs and dance disciplines based upon point accumulation from various Grand Prix Events held around the globe this past fall.
The Shibutanis, who were second at Skate Canada and first at the NHK Trophy in Japan, racked up a 174.92 total score at the International Skating Union Grand Prix Finals, trailing Kaitlyn Weaver and Andrew Poje of Canada, Madison Chock and Evan Bates of the U.S., and Anna Cappellini and Luca Lanotte of Italy, who were first, second and third, respectively.
In the free dance, Maia, a former Greenwich Academy student, and Alex, a Brunswick School attendee, wowed the Barcelona crowd with their performance to Coldplay's "Fix You," in which they knocked out a series of stunning lifts, footwork sequences, steps and spins with the ease and confidence of premiere world contenders.
Throughout this program, described by Chris Howarth, the BBC EuroSport announcer, as "the best piece of work" the team has ever done, the duo showed great emotion and spirit and was a big hit with the audience, who gave them a standing ovation.
Although the Shibutanis didn't wind up on the podium, they seemed to be delighted that they had put on a top-grade performance.
"The potential of this program is so great," said Alex Shibutani during a pre-competition conference call. "Things are working well right now and there are no guarantees in this sport, except with the material you produce."
Eyes On The Prize
Following the 2014 Sochi Olympics, where they had placed ninth, the Shibutanis have taken serious measures to raise their game.
On any given day, the two arrive at the Arctic Edge Arena, in Canton, Mich., in the morning and stay through late afternoon, working on their speed and power as well as technical elements and their programs.
Based upon the quality and impact of their most recent performance in Barcelona, this formula seems to be working.
"Our plan with [Coach] Marina has been very consistent," said Alex Shibutani. "I think now we're reaching a point in our maturity as people and as athletes where things are starting to click and we're starting to reach our full potential."
U.S. coaching luminaries agree.
"Maia and Alex have been around the sport now for awhile now and their experience shows," said Slavka Kohout-Button, a U.S. Figure Skating and Professional Skaters Association Hall of Fame member. "They seem to be reaching a whole new level in regard to their skating and overall performance aptitude."
This season, the team also had a new artistic injection, bringing in Peter Tchernyshev, a five-time U.S. dance titlist with Naomi Lang, as a choreographer for their free dance, a decision that seems to be working effectively.
Certainly, it seems that now, more than ever, all the right things are lining up for this dynamic dance duo so that they do, indeed, eventually manage to achieve their Olympic dream.
"Alex and I are growing up, we have a sense of who we are as a team and as individuals," said Maia. "I think that is showing through in our skating."
Alex agreed.
"We've had a unique career," said Alex. "Maybe some of those experiences are creating the moment we're at now."
So far, So Good
No doubt the Shibutanis know how to make magic happen in this sport.
Ever since they first learned to skate at the Stamford Twin Rinks in a group lesson program back in the late 1990s, the two seemed to have a natural feel for the ice.
They each had started competing as single skaters, but within a few years, they decided to pursue ice dancing, a decision that turned out to be life altering in every respect.
Almost instantly, the two clicked, and within a short period of time, they started winning medals at prestigious U.S. Figure Skating competitions all over the East Coast.
By 2005, the Shibutanis had scored silver at the U.S. Junior Championships in the juvenile division. This was a period during which they worked with such notable coaches as Kohout-Button (a longtime Greenwich resident whose charge Janet Lynn was a 1972 Olympic bronze medalist and a five-time U.S. champion); Susie Kelley and Andrew Stroukoff, former U.S. dance medalists; Josh Babb, director of the nationally ranked Skyliners synchronized organization; and Kathy Bird.
According to these coaches, their initial success was anything but a surprise.
"Alex and Maia were talented and driven," said Kohout-Button, who coaches at rinks in the Greenwich area. "They are focused and know how to get things done."
The following season, they decided to up their training ante and moved to Colorado Springs to work with Patti Gottwein, a prominent U.S. dance coach who was based at the Broadmoor World Arena.
Although they had a successful two-year run with Gottwein, clinching the U.S. intermediate and novice titles, the Shibutanis wound up relocating to Michigan in 2007 so they could work with Igor Shpilband and Marina Zoueva, the renowned coaching team who established the U.S. as an international ice dance powerhouse and helped guide Tanith Belbin and Ben Agosto to silver at the 2006 Olympics in Torino, Italy, and Meryl Davis and Charlie White to silver at the 2010 Olympics in Vancouver. (Davis and White went on to win gold at the 2014 Olympics in Sochi.)
"We feel we've taken all the steps necessary over the past few years and that every decision, the programs and people we work with [has been] about reaching our long-term goal of being the best skaters we possibly can be," said Alex, who helped out with the Special Olympics program at the Dorothy Hamill Rink when he and his family lived in town.
In 2012, when Shpilband and Zoueva decided to part ways, the Shibutanis, along with Davis and White, chose to remain with the latter coach in Canton.
During this period, the Shibutanis became good friends with Davis and White, who have since become trusted advisors in regard to their technique, skills and artistry.
Hoping to follow in their famous footsteps, this team has spent the past few seasons working harder than ever in order to reach their full competitive potential.
"Looking at the 2018 Olympics," Alex said, "we would love to be there and in medal contention."