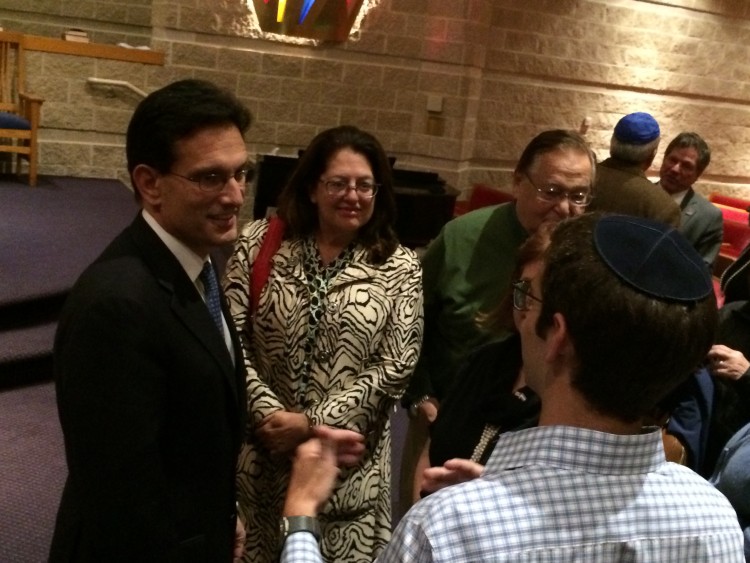 Eric Cantor, the former U.S. House of Representatives majority leader, was in Greenwich last week as Temple Sholom continued its series of special speakers to mark its centennial.
After serving as a member of the House for 13 years, Cantor stepped down as majority leader last year; at the time, he was the only non-Christian Republican in either house.
Cantor shared his thoughts on many pressing issues in a moderated discussion with a question and answer session afterward. Topics included Israeli-U.S. relations, the upcoming presidential election, and how his Jewish values influenced his work in Congress. 
"I think the fact that there is 100 years of tradition at this Temple is a huge accomplishment," Cantor said following the event. "Clearly, I think the community engagement that is going on here at Temple Sholom is something that reflects why they've been able to sustain a congregation as long as they have."
"When one is born a religious minority, we are taught and charged by our creator to live our life up to the expectations that came down through the Bible. It's almost like living a life of deeds. You can't just sit there and think that you've made it. You have to keep doing the good imparted through the Bible."
He loosely compared his religious upbringing to our representative government.
"Our democratic system is similar. If you don't speak up and if you don't engage in our system of democracy, then you can't expect to get much back."
Cantor, now the vice chairman of investment bank Moelis & Company, also talked about the threat posed by ISIS.
"Radical Islamic terrorists are responsible for the killings that we continue to see unfold in Paris, San Bernardino, and on 9/11. This is an ideology that is based on religion, but it's a twisted ideology. If we don't do something to get it at its roots, it's going to continue to spread, as we've seen."
When asked about gun control and the Second Amendment, Cantor spoke about his time representing his home state in Congress during the Virginia Tech shootings in 2007.
"You have a lot of guns in this country. Like it or not, you do. The government is not going to come take them all away."
He called for greater compliance among gun merchants with the existing background check database.
"We can do something that addresses a commonality in all the shootings. We can try and identify and do a better job as communities in saying that mentally ill people should not have access to guns."
On the topic of the upcoming presidential election, Cantor described the current status of the political scene as "Reality TV show mode," but showed support for Gov. Jeb Bush.
"This is still early," Cantor said. "Even after all we've been through, it's still so early in the process. It's almost like a reality TV show that he [Donald Trump] has. There's an entertainment piece to it."
The program, sponsored by Amy Lipton z'l Israel Action Fund, gave time for a few questions from the crowd of 50 people. Temple Sholom will also host reggae artist Matisyahu as part of their centennial celebration.