December 7, 2015
Wyndygoul Plaque Installed In Pomerance Park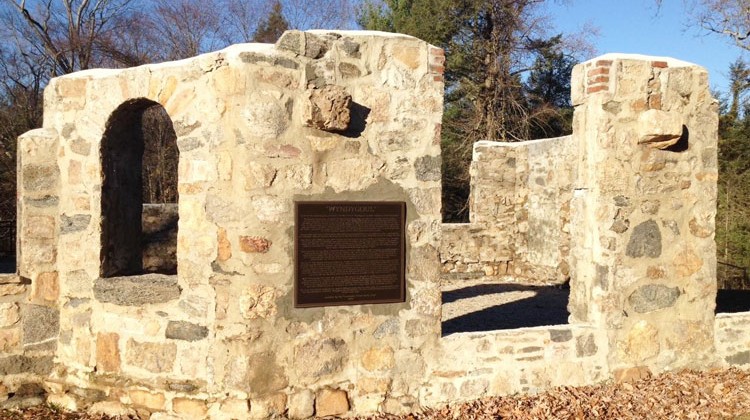 The Greenwich Preservation Trust announces the placement of Wyndygoul on the Connecticut State Register of Historic Places with a commemorative plaque.
Last week, Alan Monelli, Superintendent Department of Public Works, installed a plaque that summarizes the lives of the former occupants of Wyndygoul, the home of Ernest Thompson Seton and the Maurice Wertheim family. Many people may not be aware, but earlier this year, the Town of Greenwich razed the property but did so by having it historically dismantled – preserving the original stone foundation that Seton used when he constructed his home m the early 1900s. What had grown recently into a troublesome eyesore with wired fencing, graffiti and burnt areas is today an unusual space that people can walk through and imagine life from another age.
Jo Conboy, Chairman of the Greenwich Preservation Trust whose organization placed the site of the Connecticut State Register of Historic Places as well as underwrote the plaque, said "We were delighted to work alongside the Board of Estimate and Taxation when they asked that the site be honored in a way that afforded learning and beauty. The plaque informs us of Seton's involvement with early environmental history and the beginnings of the Boy Scouts and also includes some of the many accomplishments of the Wertheim family members including Josephine Pomerance and Barbara Tuchman."
Seton built Wyndygoul between 1901 and 1904 and gave it its name after one of the Seton estates in Scotland. In 1931, the site's second owner, Maurice Wertheim, constructed a wood-framed, stucco-veneered second story but in that same year, a devastating fire occurred with damages totaling over $100,000 that nearly destroyed the entire house. In the subsequent reconstruction, the entire third floor story was eliminated as were the west half of the west wing and the arcaded porch. Only the stonewalled first story was retained.
Wyndygoul was one of the many estates that were featured by the Junior League in their book, The Great Estates. Ms. Conboy further added, "Our built history is vanishing each day. We were delighted to partner with the town to preserve some of its history and commemorate some of its past citizens with this plaque. We hope many people will stop by to see the beauty of this site and read about its former residents."
Tags:
greenwich
,
Greenwich Preservation Trust
,
Historic Place
,
Wyndygoul Plaque