December 4, 2015
Fire Dept. Prepares for Emergencies with Pre Fire Plans
[jwplatform qINj94Ve]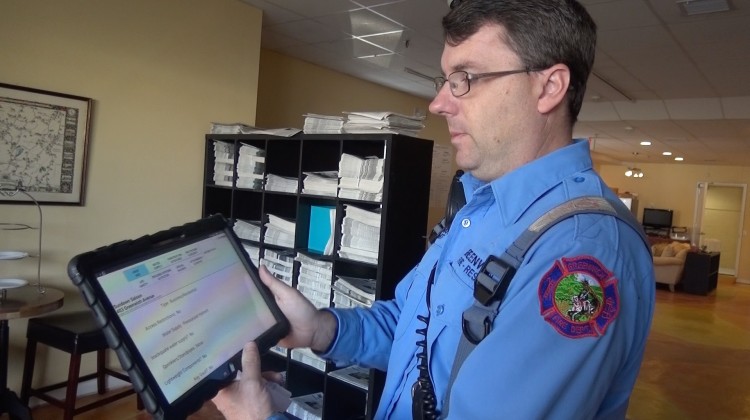 If you go out to eat at a Greenwich restaurant, or work in a Greenwich office building, there's a very good chance that the fire department already has a plan on how it would fight a fire in that exact location. I'm going to see first hand how the department does one of these pre fire plans here at the Greenwich Sentinel office.
"It's a great opportunity for our personnel to get into these buildings and take a look round under normal conditions," said Asst. Chief Bob Kick.
During the pre-plan, fire fighters answer over 100 questions about the property and look for things like emergency exits, and controls for gas, electric and water.
All of the information is stored in this tablet that can perform many tasks such as GPS tracking, internet searches and locating fire hydrants.
"When they're en route here, they can tell where the hydrants are so they can plan their routes coming in to be able to establish a water supply," said Kick.
The tablets make information easily accessible to fire fighters during an emergency situation.
"It pulls up all the information that we just typed in. We have tabs here I can hit to move through the program to get the info I need," said Lt. Tom Lenart.
Pre-plans not only help fire fighters prepare for emergencies, they allow them to become familiar with the Greenwich community.
"We want our people out interacting with business owners and building relationships. The fire fighters have embraced it and I hope the population at large will embrace it also," said Kick.
And officials want to stress that these pre-plans are different than fire marshal inspections.
"These people aren't there to do a n inspection for code compliance. They are there to learn about he building and any issues in the building that may prevent us from rescuing you or putting the fire out," said Kick.
If you would like to request a pre plan, you can contact the fire department directly.
Tags:
emergency
,
fire
,
fire department
,
greenwich fire department
,
greenwich sentinel
,
pre fire plan