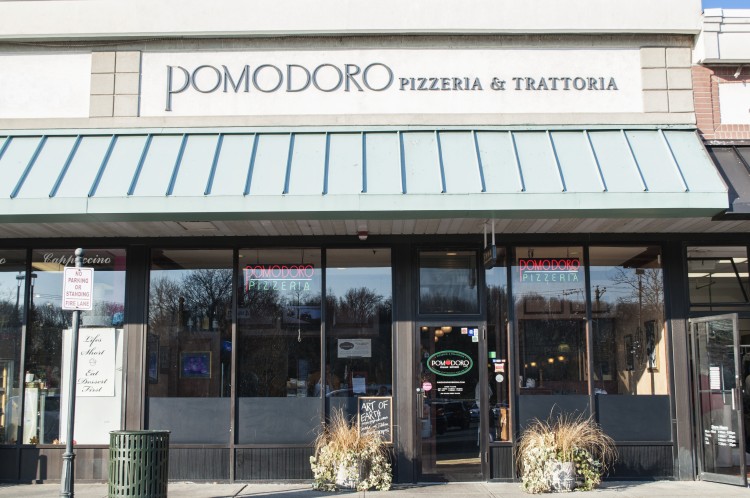 By Sara Poirier Correa
Sentinel Reporter
Mark Mazzotta and his brother Joseph know Italian food. The brothers grew up in the restaurant business, working with their uncles at their eateries in New York, and have owned seven of their own over a 20-year span, including Riverside's Pomodoro Italian Kitchen.
In an era where pizzerias appear on seemingly every corner, the Mazzottas strive to outshine the competition, keeping it simple with "quality of service, reliability and value."
"People don't get tired of us because the menu is extensive and the specials are innovative and creative, and we really focus on ingredients peaking in season," Mark Mazzotta said of Pomodoro, which opened in the Riverside Shopping Center in 2003.
"We try to really focus on what vegetables and fruits are peaking in flavor and highlight it in the food," he added.
Calling the food at Pomodoro real "boot Italian"—authentic and pure—Mazzotta and his team, which includes longtime friend, manager and partner Vincent Delgado, pump out a variety of dishes seven days a week. And with the holidays upon us, the catering division is equally hard at work, preparing trays of food for before and after Thanksgiving and Christmas.
"We're always concentrating on catering during the holidays," said Mazzotta, who added that corporate orders, as well as regular orders for large trays of food are popular before the actual holidays when groups of people are getting together. He said the catering division comprises nearly 20 percent of the overall business at Pomodoro.
"Our objectives are simple," Mazzotta wrote in a business mantra provided to the Sentinel, "1) To infuse every one of the best elements derived from authentic homemade antipasto, pizzeria, trattoria, osteria, ristorante, cafe and enoteca into your casual, relaxed dining experience; 2) To use superior and pure ingredients sourced locally, whenever possible, combined sensibly and with innovation; and 3) To offer interpretations which deliver the principles of traditional and homemade Italian cooking in an imaginative, distinct style."
It's this philosophy that has helped Pomodoro stand apart, Mazzotta said, adding that he's seen about 10 pizzerias, Italian restaurants, regional and national chains pop up in the restaurant's vicinity in the last decade.
"We continue to survive and thrive because the trend is to open up with very small menus," he said, adding that that method helps lessen labor and food costs. "We haven't subscribed to that trend."
Offerings at Pomodoro—whose sister location is Amore Italian Kitchen in Armonk, N.Y.—range from brick oven regular and artisanal pizza to signature salads, to burgers and sandwiches, to traditional Italian pasta dishes, along with an extensive wine list and craft beer selection. Mark Mazzotta handles the Riverside operation, while Joseph Mazzotta handles Armonk.
"Pomodoro's unmasked comfort food is truly palate pleasing… a simple joy," Mark Mazzotta wrote in the mantra.
Weekly specials showcase the chef's creativity, Mazzotta said, as well as the ingredients of the season. One of this week's specials, for example, is Cinghiale Ragu, a slowly braised wild boar ragu, simmered in Sangiovese wine and paired with wide ribbons of pasta papparadelle, and topped with fresh ricotta cheese.
"Owners embrace the Old World cooking methods with cues to present and future; pushing the envelope to culinary savoriness and adventurism," the mantra said. "The primary goal is exceeding guest satisfaction and over-delivering on atmosphere, food and service."
"It's so super competitive and there are so many choices in Greenwich and Stamford to eat out at," Mazzotta said.
But at Pomodoro, he added: "The portions are generous, there's fun, friendly service and we're economically friendly."
"People want a fair shake, and people want their money's worth," he said.
With recent changes to the shopping center—including the addition of Chipotle Mexican Grill and Chop't Creative Salad Company—Mazzotta said a "whole new demographic" has been exposed to Pomodoro's cuisine.
With a combined 75 years experience, the Mazzotta brothers have been in the Italian food business since the mid-1970s, when they were put to work after the death of their father. Their mother was thrust into the workforce, helping her own brothers at their eateries. Her sons soon followed, doing everything from washing dishes to peeling potatoes and garlic.
"What we might have thought back then in the mid- to late-70s as tough love and very hard work, inevitably gave the foundation for our work ethic and shaped how we became as young men in terms of learning to earn money and knowing the value of a dollar," Mark Mazzotta said. "We might not have appreciated it then but it was the best thing."
Pomodoro is closed only three days out of the year—Easter, Thanksgiving and Christmas. Offering take-out and delivery service to individuals and local businesses, in addition to its large catering business, the restaurant has found its place in the Greenwich scene.
"It's the best community by far that I've ever had to deal with in terms of the public," Mazzotta said, adding that even with celebrities and professional athletes among his customers, they are all "so down to earth."
"What I do is a labor of love and I love what I do," he said.
For more learn more about the Mazzotta brothers' story and about Pomodoro, visit www.pomodororiverside.com, visit 1247 E. Putnam Avenue or call 203-698-7779.