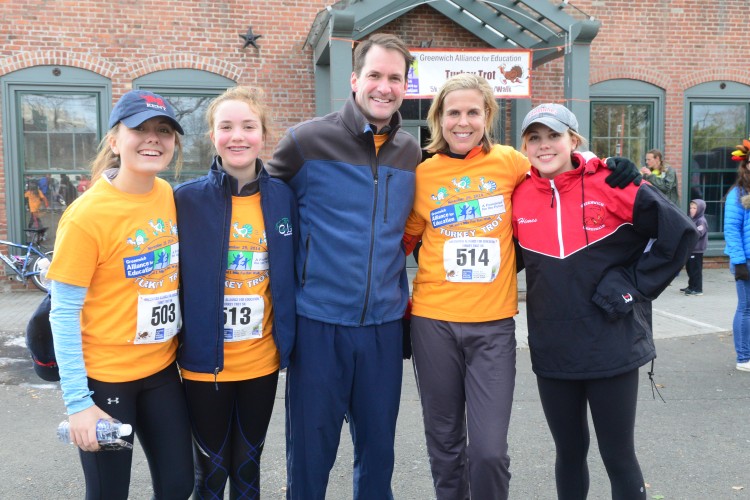 The Greenwich Alliance for Education will hold its fifth annual Turkey Trot on Saturday, Nov. 28 at Bruce Park.
Runners and walkers can register for the 5K race, which begins at 10 a.m., or the one-mile course, which begins at 9:30 a.m. sharp. Running through a scenic flat loop in Bruce Park, both races will begin and end at the Arch Street Teen Center.
All proceeds from the Turkey Trot will directly benefit the Greenwich Alliance for Education's programs, which aim to foster educational success for Greenwich Public School students.
Race sponsors include The Hospital for Special Surgery and Cadillac of Greenwich. 
Runners are encouraged to register online prior to race day, but registration will be available on-site before the race between 8 a.m. and 9 a.m. The 5K race is limited to 700 participants and the Taconic Road Runners Club will a bib tag system for the race.
Race officials say that over 430 runners have registered as of last Wednesday, including First Selectman Peter Tesei and the principals of Julian Curtiss School and Cos Cob Elementary School.
Awards will be presented to the top three overall male and female 5K winners and to the top three male and female finishers in 8 age categories, from 14-and-under to 70-plus. All 16-and-under one-mile finishers will receive medals.
Refreshments will be provided by Kings Food Markets, the Upper Crust Bagel Company, and Coca-Cola.
Group warm-up and stretching, beginning at 9 a.m., will be led by the Greenwich Track Club.
Students taking part will also be allowed to represent their schools in the fun run. The Greenwich school with the greatest participation will be awarded a $500 gift card for physical education equipment. Be sure to indicate your school when you register. The school competition will officially close at 5 on Friday, Nov. 27.
Race officials recommend arriving before 9:15 a.m to avoid delays.
The Alliance is excited to build on the past success of this annual event and hopes to add more sponsors and donations for runner amenities this year. Interested local businesses are encouraged to contact Julie Faryniarz at 203-340-2323, or at julie@greenwichalliance.org.