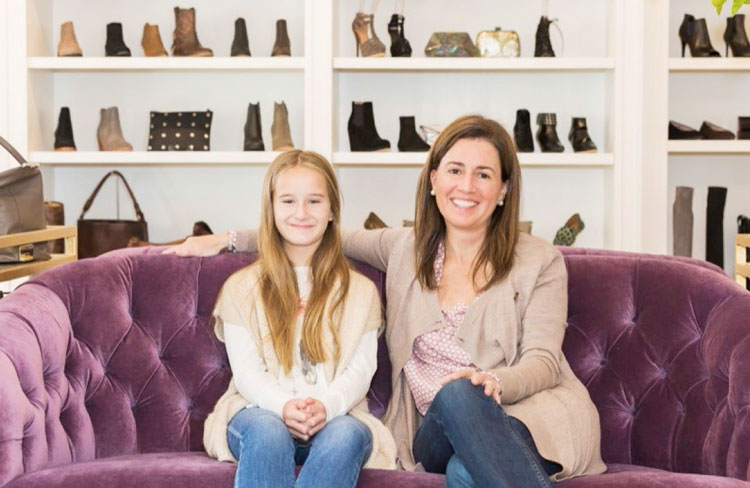 By Michelle Moskowitz
Sentinel Correspondent

There's a new store in town… Just in time for holiday shopping. New to Old Greenwich is the ever stylish 'Lily Shoes' located at 250 Sound Beach Avenue. The women's only shoe boutique feels like it belongs in Notting Hill, quaint, cozy and lined with luxurious finds from all over the world.   Chic everyday flats, elegant heels, and essential, yet sophisticated winter boots alike are perfectly dispersed among the glistening shelves, ranging in price from $60-$600.
Over a cappuccino in her Riverside home, Proprietor and accessories buyer, Audrey Aguilar, a long-time resident of Riverside, shared her passion for fashion. "Like many women, I love a beautiful pair of shoes, and felt that I either had to shop in NYC or elsewhere to find something special. I really wanted to create a local spot where I could marry both comfort and style."
While perusing the hand-picked selection of shoes, handbags, and select eye-wear, one would assume Ms. Augilar has an extensive retail background. But that is not the case. She has a degree in economics from Stanford University and holds a graduate degree in accounting from NYU Business School. She worked as a lead auditor at Pete Marwick and as a product manager at Bankers Trust. "The financial experience I had was invaluable, but I was always searching for something more creative in my work."
After 10 years in the financial sector, Ms. Aguilar married and started a family who then moved from Manhattan to Riverside. Her son Fred, now 19 attends Elon University and her daughter Lily, 11, (whom the store is named after) attends Greenwich Country Day School.  She attributes a lot of support from her family for being able to make this dream happen. "It's not as a glamourous as people think. It's a lot of sacrifice (especially getting the store up and running) but nothing makes me happier than seeing customers excited to be in the store and moreover to be so satisfied with their new purchase!"
While committing the majority of her time to raising her family for well over a decade, Ms. Aguilar did a brief stint in interior design where she worked as a personal shopper. She also took classes at NCC thinking she might want to become a nurse after having such admiration for the nurses who cared for her son who was born prematurely.  But while she found the coursework challenging at best, that creative tugging was gnawing at her again. Essentially she attributes her family's relocation to Kensington, England for three and a half years along with their extensive travels during their time abroad which inherently fueled her love and knowledge of fashion and design.
Years later, Ms. Aguilar recognized the underserved niche market and decided to take the plunge. Once she committed to her vision, it took about one year of learning the retail business by attending trade shoes and doing research as well as working alongside her dear friend and mentor, Kelly Fray who owns the nearby clothing boutique "Fred's."   "She really showed me the ropes of the business which helped me to better understand the customer and learn what people in our area were looking for."
The store which officially opened its doors in September has garnered steady foot traffic and already good sales. When asked what kind of advice she could offer to other women who have start-up ideas for businesses in the area, she responded "There is no rule book. You just have to jump in, sign the lease and make a prototype. By taking small steps, the picture in your mind becomes clearer and clearer."
Her marketing thus far been word of mouth. In the future, Ms. Aguilar plans to expand her outreach by partnering with non-profits that will benefit both women and the community overall. Today she already employs four part-time saleswomen.
"The skills that we learn from raising kids are so undervalued, but when we go back to work, we have so much more to offer. At 50 I feel like my life is just starting and its better than it was 20 years ago."
It looks like she finally found the creative endeavor she has been looking for, utilizing all of her skill sets. Lucky for Greenwich women who will look all the more stylish while keeping the up the pace of their busy lifestyles.
Holiday gift ideas include exclusive high-end French perfume, leather gloves, handbags and gift cards.
Hours are Monday through Saturday 10 a.m. to 5 p.m. and Sunday by appointment only. Visit lilyoldgreenwich.com