November 19, 2015
Round Hill Offers "A Celebration of American Life" Concert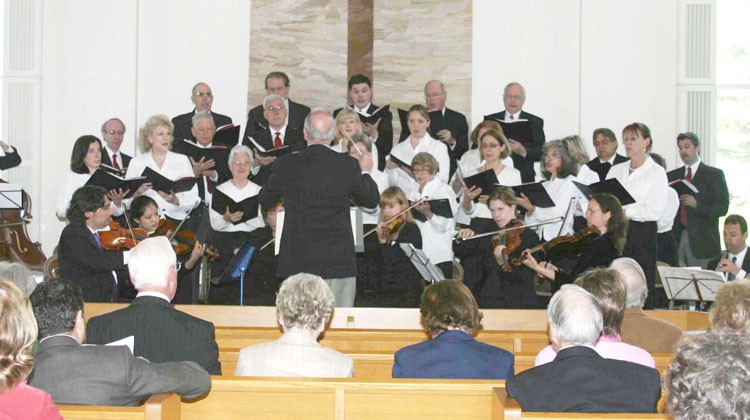 Round Hill Community Church invites all to "A Celebration of American Life" on Sunday, Nov. 22, at the 10 a.m. worship service. The Round Hill Choir, Solo Quartet and Chamber Orchestra, under the direction of Christopher Kabala, will present a program of anthems and readings celebrating American life. Anthems from Colonial America, the Civil War Period, and the 20th Century will be presented along with readings of Robert Frost, ee Cummings and James Agee. The composers will include Stephen Paulus, John Rutter, Randall Thompson, Aaron Copland, and Morten Lauridsen. The program will be divided into three sections with each section celebrating a different aspect of American life.
The harvest section will include John Rutter's "We Plough the Fields and Scatter," as well as Stephen Paulus' "Pilgrim Hymn." The section, America Dreams, will include James Agee's poem "Sure on This Shining Night" as set by the west coast composer Morten Lauridsen. Robert Frost's poem "Choose Something Like a Star" was set to music by Harvard's Randall Thompson to commemorate the bicentennial of the town of Amherst, Massachusetts.
The final section, America at Play, will present readings by Walt Whitman and Alexis de Tocqueville as well as two choruses from Copland's opera The Tender Land – "Stomp Your Foot" and "The Promise of Living."
Round Hill Community Church is located at 395 Round Hill Road. Church School is available for children and childcare will be provided for infants and toddlers. There is no admission charge, but a free will offering will be taken.
Tags:
concert
,
greenwich
,
Round Hill Community Church