November 17, 2015
Editorial: Light It Up!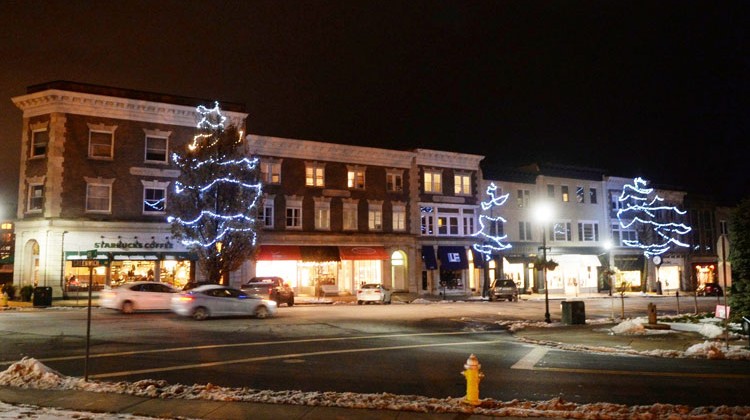 If you have been down Greenwich Avenue recently, you may have noticed elves are at work. Okay, not actual elves, but something pretty close. Electricians and tree crews are busy putting the finishing touches on lights that will grace the Avenue during the holiday season. That's right, the lights are back.  Beginning November 19 and continuing through the New Year, festive new LED lights will help illuminate the Avenue as we go about our holiday shopping and dining.
It will be nice, during some of the shortest and darkest days of the year, to illuminate a major shopping and dining destination in town.  The merchants in Old Greenwich have their First Light Festival, which kicks off on December 5 at 6 p.m. They come together every year to offer extended shopping hours and horse-drawn carriage rides. There is pride and excitement and the spirit of the holidays in in the air.
For some reason, Greenwich Avenue has stumbled around a bit in celebrating the holidays. One year just the trunks of the tress were wrapped in lights, giving one the sense of driving through a colonnade.  Last year there were no lights at all, except in front of the Senior Center. It was dark and depressing and certainly not helpful to the merchants, who want happy shoppers visiting their stores. Some mistakenly blamed the town for lack of holiday lights. It is not their responsibility to decorate the town for the holidays. It is ours.
Thankfully, several organizations and people have stepped forward to lead the effort to light up Greenwich Avenue, not just for this year, but for future years as well. Spearheading this effort are Greenwich Clean & Green's Mary Hull and Richards' Scott Mitchell. Both are quick to say it's a group effort with many merchants, residents and building owners leading the charge, and when you look at their website (www.lightupgreenwich.org) it is an impressive list. But even in a brief conversation with Mary or Scott, you feel their passion for this project is (dare we say) electrifying and contagious.
Light Up Greenwich is accepting donations to purchase durable and reusable LED lights and have them installed on approximately 100 trees that line Greenwich Avenue. The cost is $100,000, which is not inexpensive. Linda Sigler, who works for Greenwich Clean & Green (and who is perhaps the head elf), has done a remarkable job not only of purchasing the lights, but of finding the electricians and tree crews willing to donate a portion of their time and effort to ensure the project gets done as cost efficiently as possible. Indeed, everyone is coming together as a community to support this effort.
And that's where we come in. We, as residents and businesses, should support Light Up Greenwich. Efforts such as this, and the First Light Festival in Old Greenwich, are good for our community. They showcase our merchants at the time of year they should be at their busiest. They give us a sense of pride and lift us up.
Lighting Greenwich Avenue was a tradition we took for granted. Perhaps the best way to shine light on holiday light challenge was to turn the lights off last year. It certainly got our attention. Thank you, Mary Hull, Scott Mitchell, and the many others who are leading the effort to ensure the tradition of holiday lights on the Avenue burns brightly into the future. We hope others will join us in supporting Light Up Greenwich. The more the merrier.
Tags:
greenwich
,
Greenwich Avenue
,
holiday lights