[jwplatform YjhQ5a4k]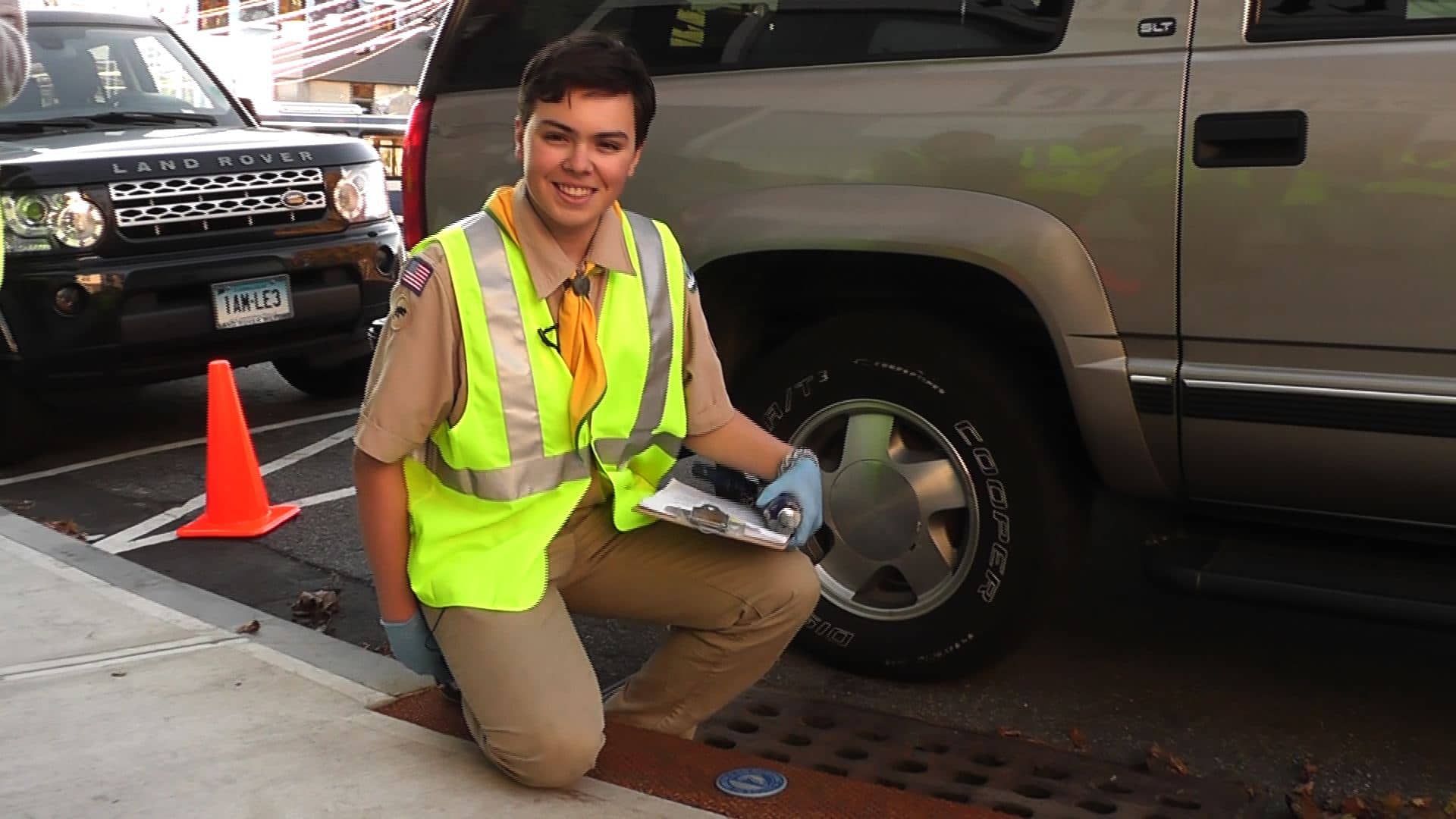 One Greenwich Boy Scout is doing his part to address the water quality of the Long Island Sound.
"The medallions says, "No Dumping, Drains to Sound," said 14 year old Bennett Hawley. "It acts as a last minute reminder for those who may consider pouring their garbage down the storm drain or leaves, oil or other types of chemicals. A lot of people think they get filtered before they enter the Sound but that is not true.
Bennett Hawley, a Life Scout & freshmen at Greenwich High School, along with his fellow scouts spent two weekends affixing 100 blue and silver medallions to catch basins throughout town as part of his Boy Scout Eagle Project.
"The Eagle Scout is the principally the highest rank for a Boy Scout," said Dev Hawley, Troop Leader of BSA Greenwich Troop 9 and Bennett's father. "One of the primary requirements is an Eagle Scout Project and it requires initiative and leadership in organizing the Boy Scouts to work on a major community service project."
"The Sound is Greenwich's backyard. Everyone spends their summers there, sailing, swimming and it is really fun," said Bennett. "But a lot of people don't know that we're polluting the Sound and I wanted to stop this."
According to a Long Island Sound study in 2013, 35% of the Sound's wetlands have been destroyed due to pollution, and they are still shrinking.
Bennett further explains, "Hypoxia is a condition in which oxygen levels decrease to the point where organisms cannot survive, essentially creating dead spots in the Long Island Sound. Greenwich and Westchester, NY are in the orange-red zone because the Sound narrows at a very urban area within its proximity to New York City.
"I love science so I was really interested in the scientific part of this project. Focusing on what causes the pollution, how that effects the water and our ecosystem and the environment," added Bennett.
Peter Kurpeaswki, Greenwich's Highway Planning and Program Manager said, "Storm water pollution is becoming very important issue for the environment. Storm water management starts with even the smallest improvements and will have a positive impact for everyone. Actions such as the Eagle project can make the difference in improving the overall storm water management and awareness within our community."
Michael McNulty, one of the scouts in Bennett's troop said, "It was different that the other Eagle Scout Projects we have helped with in the past. A lot of them have been a lot of manual labor like building something or trying to fix something and I thought this was different. We were gluing the medallions to the storm drains and it is more of an awareness project and it is a nice change."
Hawley also created an online quiz where the community can test their knowledge of stormwater runoff into the Sound. You can take the quiz
here
.