November 6, 2015
CCI of Greenwich Pulls Out The Magic And More For Its 60th Birthday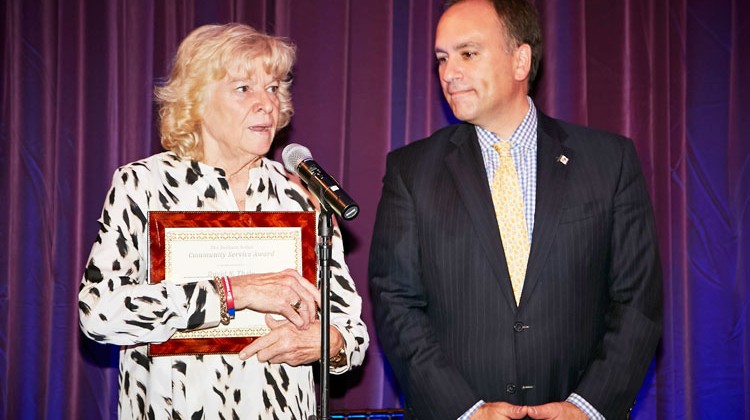 By Anne W. Semmes
Sentinel Features & Travel
There was an evening of entertainment, magic, and celebration last Thursday at the Belle Haven Club for the 60th birthday of the Community Centers Inc. (CCI) of Greenwich. Guests arrived to jugglers, balloon wizards, psychics ready to tell fortunes, and artists to sketch portraits while that young magician about town, Ben Zabin threaded his way through the crowd startling attendees with his playing cards that mysteriously danced on your palm.
Carol Memeshian, board president of CCI, totaled 110 supporters as attending. She was having her portrait being done by sketch artist Cesar S. while First Selectman Peter Tesei was happily mingling with the guests. Tesei would have two roles in the evening, to hand out the sixth annual Barbara Nolan Community Award, and play good sport as enlisted participant in magic tricks performed by Greenwich's famed magician/entertainer Bill Herz.
Standing by a magnificent groaning board of buffet offerings were two CCI board supporters and friends Joy Patafio and Cheryl Simon, Esq. "CCI is a hidden gem that tugs at your heart," said Patafio, "When you visit CCI you can't help to want to be a part of it." Both Patafio and Simon have helped with CCI's children's programs. "Cheryl and I did a fashion show charity event together. They can't get rid
of us!"
"CCI is a safety net for the underserved in the community," said Simon. "With the support of the CCI staff those clients who come, quickly identify CCI as their home. It's a can do charity that is purposefully under the radar for who it serves – but it needs more visibility. People in this community don't recognize
the need." 
First Selectman Peter Tesei explained more about the role of CCI in our town when he stepped on stage to present the Barbara Nolan Community Award posthumously to his former colleague, Selectman David Theis.
"CCI has a rich tradition for taking care of those families arriving in a town noted for its wealth," said Tesei, "For helping those who are living in public housing to get them acclimated to their community. It's an organization that
mentors people."
Tesei recalled "one of the most powerful times" he has witnessed at CCI that is located at 61 East Putnam, "It was seeing the graduation of citizens, listening to the stories of those who had earned their citizenship through the support of CCI's Citizen Program."
Tesei shared his heartfelt remarks on Theis's lifelong devotion to CCI. "Dave Theis was very patriotic. He came from a family of three generations of support for CCI. His support started in high school – he was there for the Foster Family Picnic." 
Theis's sister Ginny Theis, a longtime Greenwich schoolteacher, was called up to receive the Award. "Dave was a part of CCI," she said. "Community service was Dave's middle name."
Also called up was Theis's longtime companion Kerrin Coyle. "I shared 33 years with Dave," she said, "Dave was always connecting people
to others."
Not present for the award ceremony and celebration was CCI's founding executive director Barbara Nolan who was recuperating in Nathaniel Witherell.  Nolan, who retired six years ago had over her 52 years as executive director developed CCI's programs for children, families, developmentally disabled adults, seniors and
citizenship seekers.
She sees no slackening in the needs that CCI addresses. "Many of the CCI clients today don't know how to assimilate into the community," she said. "These are the people who CCI really serves. CCI helps these clients take advantage of all that the town offers. CCI helps them become part of
their community."
Nolan was sorry to have missed such a "magical" birthday celebration being enjoyed by so many CCI supporters like Miriam and Donald Landsman. "It was a beautiful magical evening for a cause that can magically change lives," was Donald Landsman's tribute.
Magician/entertainer Bill Herz was of like mind. After parading his partners in magic crime on stage including First Selectman Peter Tesei, and after dissolving many of the attendees into paroxysms of laughter with the tricks of his trade he added his tribute, "I'm always glad to perform for CCI as they are the true magicians – they bring magic to so many people's lives!"
For more information about Community Centers, Inc. of Greenwich visit www.ccigreenwichct.com.
Tags:
60th anniversary
,
CCI
,
Community Centers
,
greenwich