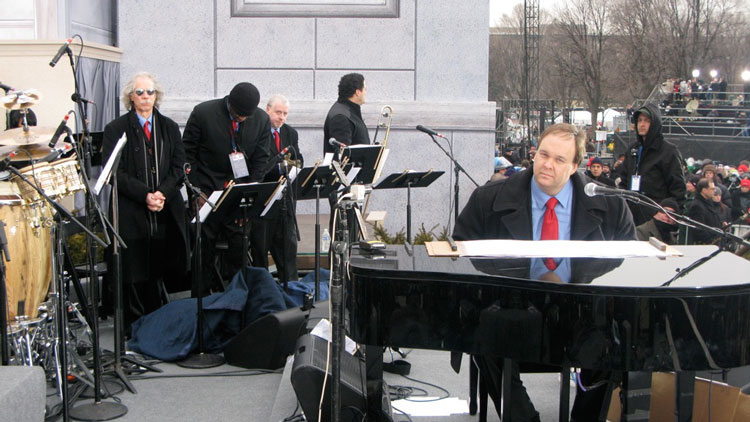 By Sara Poirier Correa
Sentinel Reporter
Rob Mathes has worked with some of the most famous names in music — Rod Stewart, Bruce Springsteen and Carly Simon, for starters. And he counts Sting among his closest musical allies, even referring to him as his "admiral."
As a music arranger, composer, producer, director and performer, the longtime town resident has seen it all, including working on Broadway, and his most recent achievements have taken him to new heights.
But it's his family that keeps him grounded.
"They're the anchor of everything," Mathes said his wife of 25 years, Tammy, and their three daughters, Emma, Sarah and Lily. "Without [family] I think I'd be a much more hollow individual. They've been extremely supportive."
While often away from home, working with the likes of Tony Bennett, The Three Tenors and Celine Dion, Mathes said that when he's home, he takes advantage of every minute, whether scheduling meetings so he can be sure to see his daughter play soccer, or grabbing a coffee at his beloved Starbucks.
"There are some parents who get to be home all the time," Mathes said. "But at the same time [my family] knows how passionate I am about my work—and that when I'm home, I'm there. When I'm home, I've very available."
New beginnings
In fact it was his children's involvement in music that led Mathes to one of his most recent projects, of which he said he is quite proud.
He wrote a song called "Can You Hear Me?" for the opening of the new Music Instructional Space and Auditorium (MISA) at Greenwich High School. More than 300 choir, orchestra and wind band students introduced the piece at the performance center's opening concert on Oct. 7.
"I was very moved listening to it," Mathes said. "There's nothing like hearing young voices."
This wasn't the first foray into high school music for Mathes. When his daughter Emma (now a student at Vassar, studying theater) was a senior, GHS Director of Choirs Patrick Taylor tapped him to prepare a song for her singing group. He had also previously composed a piece for the band soon after his band instructor father's retirement.
"I've been a part of the extended family of MISA for a long time," Mathes said, adding that for 15-plus years he has been talking with town officials and helping spread the word that Greenwich needed this new space.
"The facilities at GHS, while the old auditorium wasn't a complete disaster, it sounded horrible," he said. "This is Greenwich, Connecticut, for God's sake. If Greenwich, Connecticut, can't build a first-class artists' program for its students, who can?
"We thought, 'Let's build our kids a real auditorium.'"
Mathes credited former Board of Education Chairman Genny Krob, who spearheaded the fund-raising committee for the project, and her cohorts for getting what he now calls a "world-class concert hall" to GHS. He added that he recently did an arrangement for acclaimed classical cellist Yo-Yo Ma, and the quality of MISA is so good that even he could play there.
When he was approached to prepare a piece for the choir to sing at the opening ceremony of the new space, Mathes said he was all for it. However, it was a "tricky commission to fill," he said. With the whole orchestra and wind band playing, the singers would have to be loud to be heard.
On top of that, he said, the lyrics would have to "inspire" the parents.
"It was pretty damn great," Mathes said looking back at the performance. "Those are really gifted kids.
In September, when Pope Francis visited the United States and New York City specifically, to the delight of millions, Mathes took on another sort of gig.
Previously nominated for an Emmy for musically directing the Kennedy Center Honors, Mathes was asked to direct the inspirational concert known as "A Journey In Faith" at Madison Square Garden prior to the Papal Mass. The show, which featured performances by Jennifer Hudson, Harry Connick, Jr., Broadway star Kelli O'Hara, and the group Broadway Inspirational Voices, among others, was produced by Dan Perise of Diversified Production Services, whom Mathes said remembered his work from Sting's 60th birthday celebration.
Growing up Greenwich
Born in Boston, Mathes lived in East Providence, R.I., before moving to town in 1969 when his father became a band instructor at local schools, including the International School at Dundee and North Mianus School. Mathes himself went to Dundee, then Eastern Middle School and finally Greenwich High School, graduating in 1981.
His family's musical background and influence helped guide Mathes toward a similar life. In addition to his father's band instruction, his mother and aunt taught piano—one student was Tammy—and his uncle was a jazz musician.
"I was like an iPod kid before the iPod was invented," Mathes said, referring to his eclectic musical tastes as a result of his influences.
"Even though my dad was teaching Brahms on the clarinet, he was into [Bob] Dylan and The Beatles," he said.
On a path seemingly destined by the stars, young Mathes attended Berklee College of Music in Boston, the one and only college he applied to.
"That was the only school I was interested in," Mathes said. He would jokingly tell family friends who questioned his not giving himself more options, "It's music or death."
And his strategy has paid off.
"While I didn't become Billy Joel, which was my plan, I do live a life full of music 24 hours a day," Mathes said, adding that he now works with the singer-songwriter on occasion.
A storied career
One look at the "Projects" section of his website, www.robmathes.com, and it's easy to tell that Mathes has had an extraordinarily varied career, from arranging pieces and conducting musicians for the band The Academy Is, to arranging, composing and playing in President Barack Obama's inauguration concert at Lincoln Memorial.
The variety of artists he's been able to work with, Mathes said, owes much to his manager, Jonathan Daniel. Daniel is founder of Crush Management, which looks after the careers of artists such as Sia, Matt Nathanson, Fall Out Boy, Train, Travie McCoy and Gym Class Heroes, as well as Panic! At The Disco and many more.
"Because of Jonathan, I've been able to have my cake and eat it too," Mathes said.
As an arranger, he said, he works with a lot of mature artists. "You would not normally get the chance to work with young artists," he said, because an orchestra might not be in the budget for up and coming acts. "It's a much leaner music industry than it used to be."
Most recently, he worked with a duo called The Wind and the Wave, and he continues to work regularly with Sting, who refers to Mathes as his "lieutenant."
"The juxtaposition of [working with more seasoned artists and with new ones] is the best part of my job," Mathes said.
Broadway bound
Part of that job in the past year included getting "The Last Ship" off the ground on Broadway. The story of English ship builder Gideon Fletcher, his search for a life beyond the shipyard and his eventual return, was brought to the masses in late 2014, and garnered Mathes a Tony nomination for orchestration.
"It was not meant to be," Mathes said of the show's brief run despite great reviews. It ended in January.
However, he said, working with the producers and his friend Sting, who conceived and composed the score for the show, was "the perfect experience."
"'The Last Ship' will be a part of my life until I'm six feet under," Mathes said, alluding to the possibility of a run elsewhere, perhaps in London.
Looking ahead
As 2015 nears its end, Mathes appears to have plenty to keep himself busy.
On Tuesday he played with Sting and operatic baritone Bryn Terfel at Terfel's 50th birthday concert at the Royal Albert Hall in London.
On Nov. 4, Mathes will musically direct "Change Begins Within," a benefit concert for the David Lynch Foundation at Carnegie Hall in New York City. The foundation aims to ensure that every child who wants to learn and practice transcendental meditation can do so. Mathes will work with Katy Perry, Sting, Angélique Kidjo, Sharon Isbin and Jim James from the band My Morning Jacket.
Mathes' annual Christmas concert, which he referred to as "our big festival of love every year," will take place at the PepsiCo Theater at SUNY Purchase in New York on December 18 and 19.
As for his own tastes in music, the entertainer admitted to being "a little bit geeky. It's all about the sound. At the end of the day, I'm still a musician and I love music.
"There's nothing more thrilling than listening to the first 20 measures of Stravinsky's 'The Rite of Spring.' That's basically ecstasy."