October 16, 2015
Two Greenwich Locals To Be Honored at FCSC Sports Night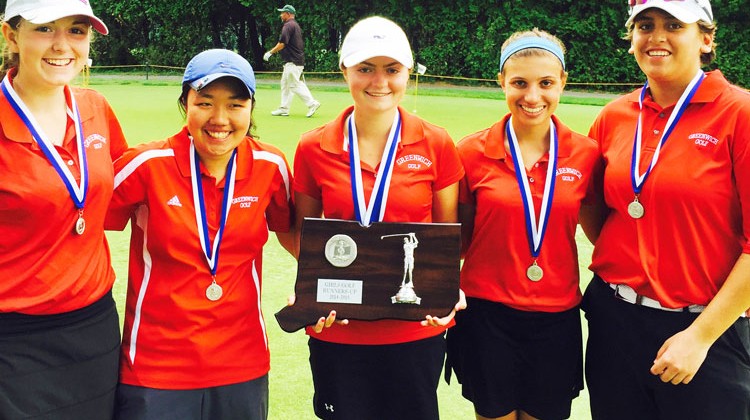 The Fairfield County Sports Commission will be hosting its 11th annual Sports Night, and the town of Greenwich has two females who are quite deserving of their recognition.
The event, hosted by the Hyatt Regency Greenwich, celebrates sports throughout Fairfield County and will get underway Monday at 6, with legendary Greenwich Academy coach and athletic director Angela Tammaro, as well as Greenwich High School girls golf standout Catherine McEvoy, being honored.
"We have been very fortunate that our Sports Night event has been so well received by all of our communities over the past 10 years," said Fairfield County Sports Commission executive director Tom Chiappetta. "We start our second decade Monday night and keeping the tradition of celebrating sports in Fairfield County each year at the dinner is extremely gratifying. We have recognized more than 150 local sports persons in the 16 towns we recognize and that honor has become very special to the annual recipient. And our Fairfield County Sports Hall of Fame will now number 71 after the inductions of the Class of 2015, with the honorees representing a total of 15 different communities."
Tammaro's nomination to the J. Walter Kennedy Community Service Wing is a testament to the over 40 years of hard work and dedication she gave to Greenwich Academy.
"This is terrific," Tammaro said. "It's quite an honor. To be honored locally, I'm really touched by it. It was entirely unexpected and it was really quite exciting. It's a very nice feeling to be recognized for everything that I've done over the years."
To say that Tammaro is a legend when it comes to both field hockey and lacrosse is an understatement. While at Greenwich Academy, Tammaro coached the lacrosse program for 49 years and was in charge of the field hockey 48 years.
During her tenure with the Gators, Tammaro's teams have been dominant. Her field hockey resume is a prime example on how to run a program. During her tenure at the helm, the Gators amassed a record of 747-77-50. The team won 30 consecutive Fairchester Athletic Association championships and was crowned New England champs five times.
As a head coach with the lacrosse team, GA went 700-75-11, and won 28 FAA titles in 30 years.
"Tammy built the foundation of Greenwich Academy's athletic program," said Martha Brousseau, athletic director at Greenwich Academy. "Certainly her success as a field hockey and lacrosse coach is unparalleled and her impact, leadership and legacy reaches well beyond GA's campus. She is an ideal selection for the Sports Commission's Hall of Fame."
And Coach T, as players and fellow coaches called her, also was around several other sports while at Greenwich Academy. She started the GA ice hockey, volleyball, sailing and golf programs, among others. In addition, she won 200 games as the basketball head coach and was an assistant for the squash team for seven seasons.
"It's great that I am being recognized by the Fairfield County Sports Commission," Tammaro said. "There are still a number of girls playing in college that I coach and three of the past four weekends I got to see them all play. It was very exciting. I was thrilled to see them play and they were very excited to see me."
Tammaro has racked up several huge honors during her time at GA. She's a member of the Connecticut Field Hockey Hall of Fame, Connecticut Lacrosse Hall of Fame, United States Lacrosse Hall of Fame, National Field Hockey Coaches Association Hall of Fame, and she was named the National Field Hockey Coach of the Year.
As if coaching three programs at Greenwich Academy to over 200 wins weren't enough, Tammaro was also athletic director of the Gators for over 40 years and ended her run when Martha Brousseau took over the position in 2012.
In addition to her time coaching and as athletic director, Tammaro gave a lot of what little free time she had to put on clinics and also was instrumental on working with officials.
"I was trying to grow the base of officials, because we can't play the game unless have officials," Tammaro said. "For years we would run practice sessions at GA during our field hockey and lacrosse practices, so that a variety of people could work on getting their officials ready and then get on the field and do the job. That's always been rewarding."
While Greenwich Academy will be cheering on one of its greats, Greenwich High School has plenty to cheer about as well, as senior Catherine McEvoy was named to the Fairfield County Sports Commission's Sportsperson of the Year for the town of Greenwich.
"This feels great and I am really excited and appreciated for being honored and selected as the one sports person from the town of Greenwich," McEvoy said. "I know they select either a team or person for each community, so I am really honored to be selected from Greenwich."
During Monday's Sports Night, the 16 communities that make up the Sports Commission will honor its local top athlete of team. After a dominating year last season, McEvoy became the clear choice for Greenwich.
"It was great feeling when I found out I was chosen because it made all my hard work, both on and off the golf course, worth it," McEvoy said. "It's amazing to represent Greenwich. The best part is having my family, friends and coaches that supported me at this event. It means a lot to me."
Last season, McEvoy was a medalist in 12 of the 14 matches she competed in with Greenwich High in the spring season. During this year's FCIAC championship, McEvoy shot a course-record 71 to help Big Red capture the conference crown.
She was also named to the All-FCIAC Team, All-State Team and was the Connecticut High School Coaches Association's Player of the Year.
"High school season is a great time of the year for me to knock some rust off and get ready for the summer," McEvoy said. "I think it's a great thing to play and meet new people. I have been able to play really well in FCIACs and states and that has helped overall."
During the summer, McEvoy captured the 50th annual Connecticut State Women's Amateur Championship, held at Indian Hill Country Club, netting an even 73 on her final round for total score of 227, one stroke better than Branford's Jen Holland.
At the 17th Annual Connecticut Women's Open, held at the Golf Club of Avon, McEvoy was tied for 17th overall and was one of the top five amateur finishers from the event.
"I didn't get off to a great start this summer, but I hung in there, really grinded it out and worked out some things," McEvoy said. "I knew it was going to take time, but at the end of the summer I played really well. I won the Connecticut Amateur Championship and tied for 17th with pros and amateurs at the Connecticut Open. That was a great finish for me."
One of the coaches that couldn't be happier for McEvoy is Greenwich High School girls golf team head coach Marie Shimchick.
"She was very humbled by getting this award and everything else that she's achieved," Shimchick said. "She goes out there to just play the best golf that she can and it results in all the recognition. She doesn't go out and seek that recognition and that's one of the remarkable things about her. She's very grounded."
Shimchick said that whether McEvoy's trying to or not, she's raising the level of competition, not just with her competition, but with all the players on the GHS team. And the proof is in the pudding, as GHS has been named FCIAC champs all three years McEvoy has been on the team.
"The team wants to do as well as they possibly can, but she tends to raise the level of play on our team," Shimchick said. "For those playing against her, or in a group with her, they tend to end of playing really well. Her consistency has improved so much year over year and I am really looking forward to see how that turns out this year as well."
While the individual honors are great for McEvoy, it's the trophies that she helps the Greenwich High School girls golf team bring home that she cherishes.
"I think it's everybody's goal to win states and FCIACs as a team," McEvoy said. "It's obviously very competitive, but it means a lot to all the girls on the team to win and contribute to a winning team. It gives everybody a lot of confidence going into the next event or wherever they are playing next."
Tags:
Anegal Tammaro
,
Catherine McEvoy
,
ctfh
,
ctglax
,
ctgolf
,
Fairfield County Sports Commission
,
FCSC
,
field hockey
,
Golf
,
greenwich
,
Greenwich Academy
,
Greenwich High School
,
lacrosse
,
Sports Night