October 4, 2015
55 Open Houses Sunday 10/4/15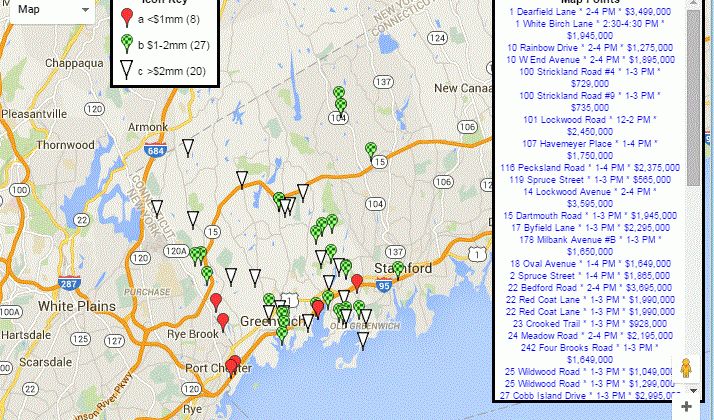 [Please note this is the correct open house list for this Sunday 10/4/15. The list published in this week's Greenwich Sentinel was unfortunately a repeat of last week's list. We apologize for the mistake. Editor]
Neither rain nor hurricanes stop the momentum in Greenwich's Real Estate Market.
There are 55 Open Houses with staggered times starting at 12:00 p.m. and ending at 4>30 p.m. The price range of $1,000,000 to $2,000,000 has the most Open Houses with 27 Homes.
With so many Open Houses, you have to be strategic in your planning. After you review the homes available in your price range, you can use the interactive map to plan your route.
The number of homes in each price range is as follows:
Under $1,000,000: 8 Homes
From $1,000,000 to $2,000,000: 27 Homes
From $2,000,000 to $3,000,000: 10 Homes
$3,000,000 and above:10 Homes
Please click here for the interactive map. The static map is below.
| | | | |
| --- | --- | --- | --- |
| Address | Town | Price | Time |
| 29 Division Street West  #3 | Greenwich | $449,000 | 1-4 PM |
| 119 Spruce Street | Greenwich | $565,000 | 1-3 PM |
| 302 River Run  #302 | Greenwich | $648,000 | 2-4 PM |
| 35 Rockmere Avenue | Old Greenwich | $685,000 | 1-4 PM |
| 30 Nicholas Avenue | Greenwich | $689,000 | 1-3 PM |
| 100 Strickland Road  #4 | Cos Cob | $729,000 | 1-3 PM |
| 100 Strickland Road  #9 | Cos Cob | $735,000 | 1-3 PM |
| 23 Crooked Trail | Stamford | $928,000 | 1-3 PM |
| 25 Wildwood Road | Greenwich | $1,049,000 | 1-3 PM |
| 71 Bowman Drive | Greenwich | $1,150,000 | 1-3 PM |
| 32 Maplewood Drive | Cos Cob | $1,195,000 | 1-3 PM |
| 36 Sherwood Avenue | Greenwich | $1,199,000 | 1-4 PM |
| 30 Buxton Landing | Riverside | $1,199,000 | 2-4 PM |
| 7 Alec Templeton Lane | Greenwich | $1,250,000 | 2-4 PM |
| 10 Rainbow Drive | Riverside | $1,275,000 | 2-4 PM |
| 25 Wildwood Road | Stamford | $1,299,000 | 1-3 PM |
| 53 Glen Road | Greenwich | $1,325,000 | 12-4 PM |
| 48 Davenport Avenue | Greenwich | $1,500,000 | 1-3 PM |
| 6 Carriage Road | Cos Cob | $1,525,000 | 2-4 PM |
| 506 Hunting Ridge Road | Stamford | $1,535,000 | 1-3 PM |
| 29 Indian Mill Road | Cos Cob | $1,595,000 | 1-3 PM |
| 242 Four Brooks Road | Stamford | $1,649,000 | 1-3 PM |
| 18 Oval Avenue | Riverside | $1,649,000 | 1-4 PM |
| 178 Milbank Avenue  #B | Stamford | $1,650,000 | 1-3 PM |
| 4 Rainbow Drive | Riverside | $1,750,000 | 1-4 PM |
| 107 Havemeyer Place | Greenwich | $1,750,000 | 1-4 PM |
| 55 Summit Road | Riverside | $1,850,000 | 1-4 PM |
| 2 Spruce Street | Riverside | $1,865,000 | 1-4 PM |
| 10 W End Avenue | Old Greenwich | $1,895,000 | 2-4 PM |
| 34 Walmsley | Stamford | $1,899,999 | 1-3 PM |
| 1 White Birch Lane | Cos Cob | $1,945,000 | 2:30-4:30 PM |
| 15 Dartmouth Road | Cos Cob | $1,945,000 | 1-3 PM |
| 22 Red Coat Lane | Greenwich | $1,990,000 | 1-3 PM |
| 22 Red Coat Lane | Greenwich | $1,990,000 | 1-3 PM |
| 79 Connecticut Avenue | Greenwich | $1,995,000 | 1-4 PM |
| 24 Meadow Road | Riverside | $2,195,000 | 2-4 PM |
| 17 Byfield Lane | Greenwich | $2,295,000 | 1-3 PM |
| 116 Pecksland Road | Greenwich | $2,375,000 | 1-4 PM |
| 101 Lockwood Road | Riverside | $2,450,000 | 12-2 PM |
| 37 Byfield Lane | Greenwich | $2,525,000 | 1-4 PM |
| 28 Loading Rock Road | Riverside | $2,550,000 | 2-4 PM |
| 58 Connecticut Avenue | Greenwich | $2,750,000 | 1-4 PM |
| 95 Valley Road # B | Cos Cob | $2,900,000 | 2-4 PM |
| 8 Patricia Lane | Greenwich | $2,975,000 | 1-4 PM |
| 27 Cobb Island Drive | Greenwich | $2,995,000 | 1-3 PM |
| 1 Dearfield Lane | Greenwich | $3,499,000 | 2-4 PM |
| 14 Lockwood Avenue | Old Greenwich | $3,595,000 | 2-4 PM |
| 22 Bedford Road | Greenwich | $3,695,000 | 2-4 PM |
| 34 Lenox Drive | Greenwich | $3,900,000 | 1-3 PM |
| 73 Sterling Road | Greenwich | $4,250,000 | 1-4 PM |
| 477 Riversville Road | Greenwich | $4,825,000 | 1-3 PM |
| 851 Lake Avenue | Greenwich | $4,850,000 | 1:30-4 PM |
| 37 Londonderry Drive | Greenwich | $4,999,995 | 1-3 PM |
| 5 N Crossway | Old Greenwich | $5,400,000 | 1-3 PM |
| 35 Winding Lane | Greenwich | $6,995,000 | 2-4 PM |
Static Map: