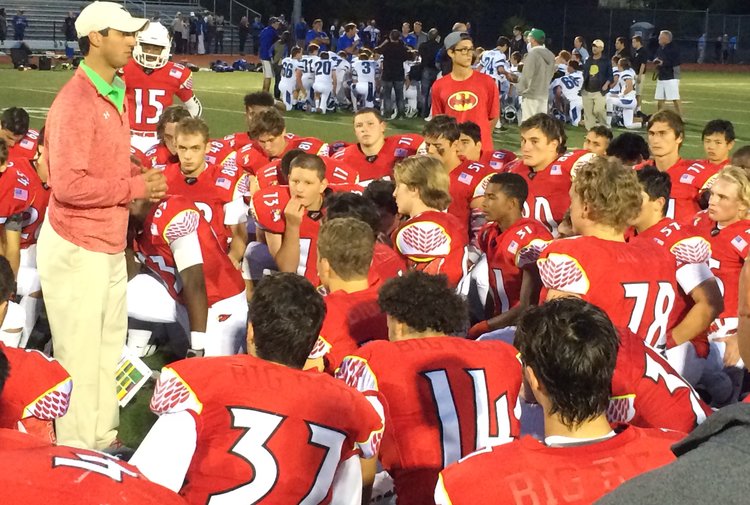 It didn't take long for John Marinelli to secure his first win as Greenwich hung on in week one against Trinity Catholic last week.
Now, the same can be said for a loss, as the Cardinal head coach got his first taste of defeat Saturday night against FCIAC opponent Darien by a score of 51-28.
The Blue Wave got out to a fast and efficient start as their first three drives of the game resulted in three touchdowns — all scored by running back Shelby Grant. The senior would end the day with six total touchdowns, (four in the first half) finding the end zone on the ground five times while adding a receiving touchdown.
Marinelli, now 1-1 in his first season at Greenwich, says that the loss can be turned into a positive knowing his team is better than what he saw in week two.
"Sometimes it's good because we can come back and really see what we're made of," Marinelli said after the loss. "We're not as bad as we played, we're a young team and we just got to come back and work on our craft and get better and better."
"We knew they were good coming in. I thought a couple missed tackles here and there and maybe we go into halftime down three, but we just shot ourselves in the foot too many times to overcome it. You can't do that against the No. 3 team in the state. You just can't."
The Cardinals first possession of the day resulted in a turnover after quarterback Frank Alfano fumbled and gave Darien and senior quarterback Tim Graham excellent field position to start their first drive.
Graham connected with Grant for a 18-yard touchdown pass to start what would be a 21-point first quarter for the Blue Wave.
The second score of the game would come as Graham completed six of seven passes on the drive before handing it off to Grant inside the five-yard line for his second score.
The Cardinals offense was led by running back Luke Bienstock, who added Big Red's first score of the game to make it 14-7 and would follow it up with an impressive 66-yard run in the second quarter.
Grant would add a pair of touchdown runs and Riley Kelly would connect on a 26-yard field goal to build a halftime lead of 31-14.
"We were in it for the first half and it was stupid mistakes that came back to bite us and it led to a couple scores for them," Marinelli said following the game. "There was a little momentum change, but we came out [the second half] and they scored twice right off the bat. The interception really stopped all momentum on offense."
Coming out of the half, the Cardinals gave up the only Darien touchdown of the game to someone other than Grant. Christian Trifone would take a handoff from the 16-yard line and raced into the end zone to make it 38-14.
Marinelli tried to get senior tight end Scooter Harrington more involved on their first drive of the second half, with Alfano looking his way twice on the drive before giving up an interception to Darien's Bobby Trifone. Harrington finished with four receptions and 26 yards after being double teamed for most of week one.
Alfano went 6-for-12 for 78 yards with a pair of turnovers.
The Blue Wave would then proceed to go on a 10-play 92-yard drive, ending with Grant's fifth score of the day from three yards out. It didn't help that Greenwich's junior wide receiver and kick returner Anthony Ferraro left the game with an apparent left wrist injury on the following kickoff.
On the defensive side, Darien's Mark Evanchik created problems for Greenwich's front five, collecting three sacks and forcing Marinelli to go to his backup quarterback in Nic Smoller in the third quarter. Smoller ended the day going 5-for-11 for 42 yards and a touchdown.
Darien's starters would come out shortly after, but Grant tallied his sixth score of the game before his day was done.
"We knew that they [Greenwich] played a five-box and we knew that they kind of played man defense against our pass game," Grant said after the game.
Grant recalled last year's meeting when the Blue Wave fumbled the ball five times, but somehow managed to win 33-26.
"Coming into this game I knew I needed to calm down and just control my nerves."
Kevin Iobbi and Rock Stewart would add touchdowns for Greenwich before the final whistle, but Marinelli let his team know they are better than how they played Saturday.
Marinelli told his players to take a long look at the scoreboard that read 51-28 when the dust settled.
On the other side, Darien moves to 2-0 and head coach Rob Trifone is glad to have an early heavyweight test out of the way.
"When you get your schedule in the off-season there's those games that you circle and this obviously was one of them," Trifone said. "We came here last year and we also knew that John Marinelli was going to do a great job. He just needs a little more time I think."
Greenwich will travel to Bridgeport to take on Central next week before a bye week and eventually returning home to play Trumbull on October 16.