September 19, 2015
White Birch closes out sensational season with 12-5 victory over KIG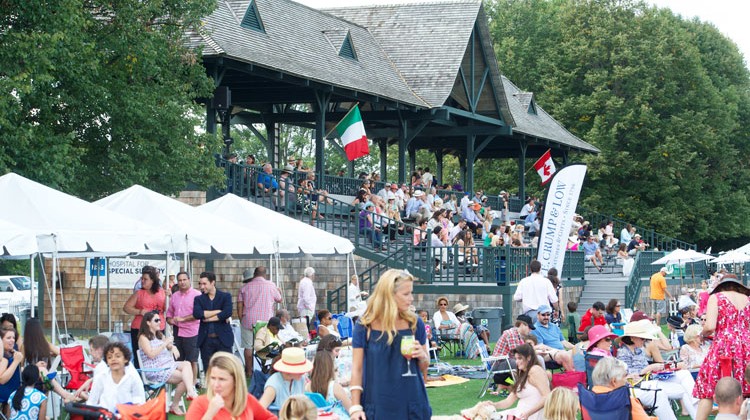 By Liz Leamy
Sports Correspondent
The Greenwich Polo Club wrapped a memorable high-goal season last Sunday as White Birch, the powerhouse Conyers Farm home team, which scored a solid second in the prestigious 2015 East Coast Open tournament, turned on the turbo switches and trounced the formidable Kazi Investment Group (KIG), 12-5, to claim the Fall Cup.
This match, like so many showdowns at Conyers Farm this summer, was fast-paced and exciting. The White Birch brigade, lead by Peter Brant, the team patron and Greenwich Polo Club founder, fielded a different lineup from usual, since Mariano Aguerre and Hilario Ulloa, its Argentine nine-goalers, had flown back home to South America after participating in the East Coast Open finals last week.
This week's White Birch lineup, captained by Brant, featured Mattias Magrini, the remarkable Argentinian eight-goaler who helped Airstream finish third (out of six entries) at the East Coast Open, and Peter Busch Orthwein, the Airstream patron and longtime Conyers Farm veteran, which made for a dramatic match, to say the least.
"It was good to be out there and everyone played very well," said Orthwein, who scored more than half of White Birch's 12 goals and was named most valuable player at the match's conclusion. "I think as the summer progresses, everyone's playing gets stronger."
Orthwein, who, in tandem with Brant, has helped to make the Greenwich Polo Club one of the most prominent high-goal destinations in the U.S., also credited Magrini with raising his game.
"He was great and passed the ball to me a great deal," said Orthwein, who had a playing field at Conyers Farm named in his honor several weeks ago by Brant. Brant's mare, Machitos Provo, was named the best playing pony at the end of the match.
Meanwhile, Magrini, an affable man who, after the awards ceremony, had given his silver victory cup to an admiring young fan in a goodwill gesture, said Orthwein and the other players all performed exceptionally well.
"It was amazing to be out there today, we had a lot of fun," said Magrini, who remarked on how much he had enjoyed playing at the Greenwich Polo Club this past summer. "It's incredible to play here, everyone is fantastic and it's a phenomenal place."
Other players agreed.
"This is one of the most beautiful high-goal polo clubs around and it is exceptional in every respect," said Nick Manifold, the KIG five-goaler who has also played an integral role over the years in helping establish the Greenwich Polo Club a force in American high-goal polo. "Everyone here is fantastic, particularly the spectators, who have always been very loyal and supportive."
Cheetah visits club
During this match, spectators were invited to observe Adaeze, a spectacular female cheetah appearing on behalf of the LEO Zoological Conservation Center, a town-based breeding reserve for rare and endangered animals.
During the meet and greet, dozens of spectators visited the enclosed tent next to the grandstand to watch Adaeze and her companion, Odie, an Australian shepherd, interact with their trainer, who explained that Adaeze can go from zero to 50 miles in speed in about three seconds.
"She is amazing," said Sable Roesch of Darien, a loyal and longtime Greenwich Polo Club attendee and supporter. "It's incredible to have the opportunity to see and learn about such a gorgeous [animal] and also watch high-goal polo. We're so fortunate to have all of this."
Bidding adieu to the season
As Roesch exited the tent and headed back to watch the second half of the match, she lamented the fact that the 2015 high-goal season was ending.
"It's a wonderful experience to be here, you get to watch some of the best players and horses in the sport and it's something I always look forward to," said Roesch. "I also like the fact that people dress up and show such respect to be at the matches here, which is another big part of why it's all so special."
The fashions, along with the players, horses, announcers, fans, tailgaters, vendors and dogs who show up at matches every Sunday are all much of the reason why Conyers Farm has come to be regarded as a one-of-a-kind summer destination and earned the reputation as one of the finest high-goal clubs in the U.S.
"[During the East Coast Open], so many people remarked on how warm and welcoming the people were here," said Christine Vermes, chief marketing officer of the U.S. Polo Association, who along with the Greenwich Polo Club, helped sponsor the 2015 East Coast Open tournament. "There is a refined casualness about this club that is just so incredible and unique."
Last week, Vermes' sentiments were strongly echoed when NBC Sports broadcast the 2015 East Coast Open final match, won by the powerful Wellington, Fla.-based Audi USA team, to a national audience.
Throughout the broadcast, NBC showed footage depicting the stunning beauty and greenery of Conyers Farm, which served as a perfect pastoral backdrop for this famous annual high-goal event.
"There is such splendor here," said Vermes.
Tags:
greenwich
,
Greenwich Polo
,
Greenwich Polo Club
,
Kazi Investment Group
,
KIG
,
St. Regis Cup
,
White Birch