September 18, 2015
Greenwich High Water Polo Goes 3-1 in Battle of the Beltways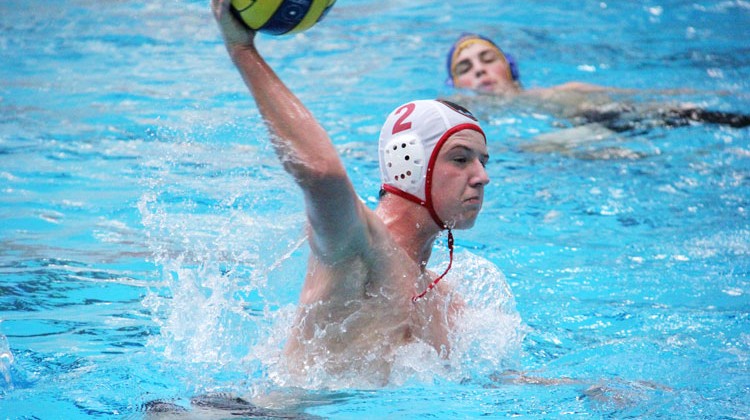 The Greenwich High School water polo team started the year by going 3-1 at the Battle of the Beltways this past weekend in Annapolis, Mary.
In their opening contest, Big Red faced the Gilman School of Baltimore. Despite missing several key contributors due to the ACTS, Greenwich was able to pull away in the second half and win 11-5.
After a slow 1-1 first quarter, Greenwich exploded for six goals in the second quarter on its way to a 7-3 halftime lead. Junior Kevin Downey led the attack, registering a hat trick along with three steals, while freshmen Tegan D'Agostino and senior Matt Hall contributed two goals apiece.
Junior Spencer Baxter filled in for captain Matt Ambrose and finished with eight saves in three quarters, while junior Grayson McSwain had four saves in the final quarter.
In the second game of the day, GHS came out fast and defeated Mount St. Joseph's of Baltimore, 15-5.
Downey continued where he left off, finishing with four goals. Not to be outdone was sophomore Brian O'Leary, as he was able to match Downey with four goals of his own. Senior Ryan Oleson added two goals and two assists, while juniors Andrew Triscari, Jared Livingston and Conrad Moss scored one goal each, as did Hall and D'Agostino.
Baxter had seven saves in three quarters and McSwain added three in the fourth.
On Sunday, the first match was against a big and fast Loyola Blakefield team from Baltimore. Greenwich came out strong going up 4-1 in the first quarter, but Loyola was determined and claimed a 5-4 halftime lead.
It was back-and-forth throughout the remainder of the game, as neither team was able to pull away with the score tied 7-7 at the end of regulation.
The game went into sudden death overtime. Loyola won the sprint and took advantage of a Greenwich defensive miscue and scored almost immediately.
Despite the excruciating 8-7 defeat, Greenwich High head coach Chris Vidale came away with some positives.
"The Loyola game came down to who wanted it more," said Vidale. "We were frustrated with our play and couldn't shake it off. But it's all about growing from game to game and learning from our mistakes."
Downey and O'Leary each scored twice, while senior Bennett Cooper, junior Cameron Liflander and Oleson scored once each.
Moss had two field blocks and drew three ejections. Ambrose started in net and had nine saves.
Greenwich didn't have to wait long to get a chance at redemption, as they faced off against long-time rival Navy Aquatics.
In a similarly low-scoring affair, where Greenwich missed many important scoring opportunities, it seemed another heartbreak was looming. That was until senior captain Nick Hyden came out of his shooting slump to score a huge goal with just 15 seconds left to tie it up.
For the second time on the day Greenwich found itself in sudden death. Things were different this time and after both teams missed several chances Moss scored the game-winning goal on an extra-man opportunity from a nice feed from senior captain Brad Paradise.
Greenwich beat Navy 8-7 and hopes to build off the weekend going forward.
"Our bench really stepped it up to help us win," Vidale said, praising his team's depth. "When your best player is having a bad shooting day it's great to see other members of the team step up."
Senior Jack Capossela scored a big goal in the third quarter as did Paradise. Oleson also chipped in one and Hyden finished with two goals. Ambrose tallied nine saves in the win.
The Cardinal's next big tournament is the Beast of the East in Reading, Pa., as they look to win back the title after a strong showing last year.
Tags:
Chris Vidale
,
GHS
,
greenwich
,
Greenwich water polo
,
water polo