September 9, 2015
Audi Edges White Birch in OT to Clinch East Coast Open Polo Title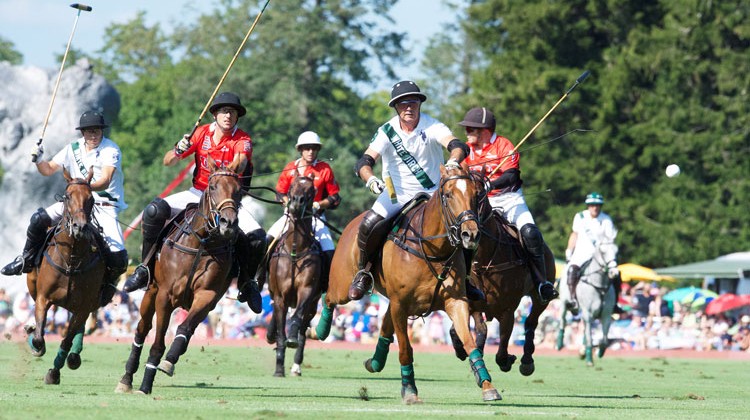 By Liz Leamy
Sports Correspondent
Polo, like any competitive sport, is all about performance in that on any given day, those athletes and teams who play the best usually wind up a victor.
Last Sunday, Audi USA, the Wellington, Fla.-based high-goal polo team known for its intelligent and aggressive playing, proved this notion to be true when they edged out the venerable Greenwich-based White Birch club in a gripping 14-13 sudden-death overtime victory to clinch the coveted 2015 East Coast Open Perry Cup Trophy.
"It was a team effort," said Nic Roldan, the electric American eight-goaler (out of 10) who scored Audi USA's match-winning point. "White Birch is a great team and we went out there and just tried to play our best."
On this spectacular late-summer afternoon, Roldan, along with all the players, threw down their A game, which generated a huge response from the 3,000-plus crowd of spectators who were on hand at the Conyers Farm polo grounds to watch this important final match that was televised by NBC Sports Television and scheduled to be broadcast Sunday at 8 p.m.
An extraordinary showdown
Right from the outset, both teams seemed to be firing at full throttle as White Birch, helmed by Peter Brant, its famous patron and the Greenwich Polo Club founder, along with Mariano Aguerre and Hilario Ulloa, both of whom are internationally ranked Argentinian nine-goalers, dominated the leaderboard through the beginning of the second half.
Ulloa, in fact, was one of the day's highest scorers, as he drove in 10 of his team's 13 goals, most of which were passed to him by Aguerre, a top-ten world-ranked veteran player who has helped establish White Birch as a premiere domestic high-goal polo force over the past two decades.
"Hilario is on fire," said Mercedes Bassani of Greenwich during the match, whose father played polo for Uruguay for many years. "He and Mariano (Aguerre) connect."
During the fourth and fifth chukkers, Audi USA shot back with a solid series of superb plays, scoring several goals that helped tie the score back and forth with their formidable opponent.
In the last few minutes of the sixth (final) chukker, Audi USA turned the game toward their favor when Miguel Novilla Astrada, the Argentine nine-goaler who won the Most Valuable Player award, scored a critical penalty shot evening up the match to 13-13 and causing an unexpected sudden-death overtime seventh period.
Then, in the first few minutes of this dramatic tie-breaking chukker, Roldan took a pass from Marc Ganzi, the lightning-quick and high-energy Audi USA patron to score the game's all-important winning point.
"In the end, I think we all really came together," said Ganzi, the Audi USA team patron who also played in the much-celebrated Sentebale Royal Salute Polo Cup at Conyers Farm with HRH Prince Harry back in 2013, a worldwide high-goal media event that was hosted by Brant and the Greenwich Polo Club. "I think you have to come prepared to play a team like White Birch, they are great and I have so much respect for Peter Brant, who I've known for many years through my family and playing polo."
Meanwhile, other high-goalers who participated in this tournament felt this match was nothing short of extraordinary.
"This final was fantastic," said Joseph Meyer of Turkish Airlines, which was one of six high-goal polo teams that participated in this year's East Coast Open tournament. "These guys are warriors, they play to win and this was a hard-won game."
U.S. Polo Association officials and organizers agreed.
"This was a great game and both teams were amazing," said Christine Vermes, chief marketing officer for the U.S. Polo Association, host of this year's East Coast Open, along with the Greenwich Polo Club, Town and Country and Lancome. "The players and ponies defined impeccable perfection and that, I think, resonated strongly with everyone here."
Hard-core training secret to success
In preparation for this important tournament, players on both the Audi USA and White Birch teams had spent much of their time this past summer training and working out intensively.
No doubt, this an was effective move, as both these contingents played well and dominated the leaderboard in the preliminary and semi-final round matches in the weeks leading up to the final showdown. (Up until this game, White Birch had gone undefeated 4-0, while Audi USA had won three matches, dropping one game to White Birch, 13-9, in the preliminary rounds.)
Notably, the Audi USA team spent a great deal of their time this past summer training in Aspen, Colorado, a high-altitude environment known to be effective for aerobic and physical strengthening.
There, the players spent countless hours daily working together on their different skills and playing strategies. (The U.S. Olympic Training Center, based several hours away in Colorado Springs, is a home training base for many elite American athletes who reside there year-round for this very reason.)
"We played all summer in high altitude and I think that was really important," said Ganzi, who seems to inherently know how to commandeer and communicate with his close-knit team. "We knew we had to work hard in order to do our best against a team like White Birch."
Players on White Birch, meanwhile, spent most of this past summer working out with Beto Imas, a well-known Argentinian physical trainer, who helped them develop their strength and skills in preparation for this tournament, which certainly seemed to serve them well here.
At the end of the day, however, it may have been the fact that Audi USA trained at high altitude that gave them the edge over White Birch in the final critical minutes of this match.
"[Training at altitude] wasn't easy, but it was good," said Ganzi.
During the past three weeks leading into the finals, Ganzi and his teammates would also spend much of their free time after practices and matches discussing different playing strategies and ideas or just laughing and having fun during dinners and meals.
"We're all pretty close and comfortable saying whatever we have to say to one another, which is great," said Roldan. "I think we all just want to be as good as we can be and are willing to work as hard as possible to try and make that happen."
Juancito Bollini, an up-and-coming 19 year-old two-goaler for Audi USA, agreed.
"We encourage and push each other and we're also good friends," he said.
The 'it' factor
Without a doubt, these players, along with Aguerre and Ulloa and all of the other accomplished players who participated in this tournament, seem to possess that intangible 'it' factor, a thing that for years, has been a reason why so many fans, sponsors, vendors and other factions of people have been so drawn to the Greenwich Polo Club, reputed to be one of the most prominent high-goal polo clubs in the U.S. today.
"This is an incredibly hard sport that is breathtaking to watch. The players and ponies are incredible and so much in unison and I felt at times as if I was watching ballet on horses," said Vermes.
Over the past few weeks, Vermes, along with so many of the players, officials, organizers, sponsors and spectators at this tournament, consistently lauded the breathtaking beauty and unique New England flavor of this spectacular club, citing how wonderful a locale it had been for the East Coast Open.
"I'm struck by the beauty here, it is so rich in regard to all of its trees and rolling hills and it emanates of such a refined casualness," said Vermes.
The most important thing about this tournament, however, was the fact that it helped bring so many people together for the purpose of watching highly skilled players work in tandem with thoroughbred horses, all of who competed against one other amidst such a majestic natural setting.
"I think everyone here appreciates the beauty and strength of the horses as well as the talent and skills of the players," said Vermes. "This is a sport that is fantastic and so unique and at the same time, it excites and inspires people, and that's what we're hoping to bring to everyone."
Tags:
Audi
,
East Coast Open Polo Championship
,
greenwich
,
Greenwich Polo Club
,
U.S. Polo Association
,
USPA
,
White Birch