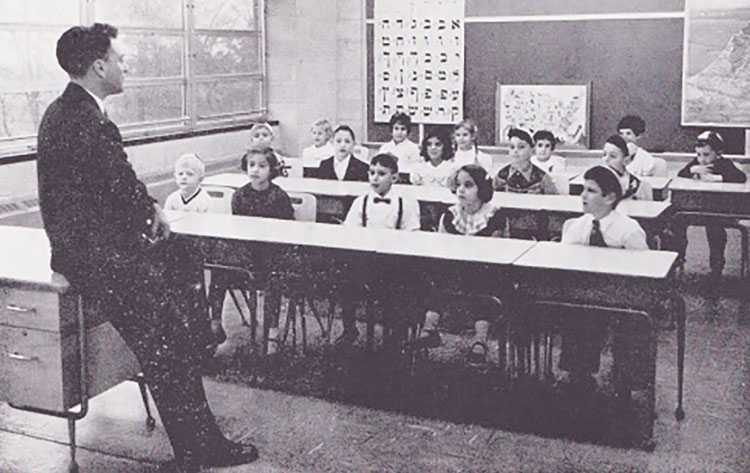 By Jen Cartmell
Sentinel Guest
For the past 100 years, Temple Sholom has served as a spiritual home and major religious influence for the Jewish community in Greenwich and the surrounding Fairfield and Westchester communities. Temple Sholom offers its members a warm and welcoming community with many opportunities for education, prayer, social action and informal ways to get to know one another. 
Temple Sholom is a traditional egalitarian Conservative synagogue with a diverse membership and is the largest synagogue in Greenwich. In 1916, with a charter granted by the State of Connecticut, ten Jewish families established the Jewish House of Worship which then became known as the Greenwich Hebrew Institute.  Shabbat Services were initially held in a small house on East Elm Street with a move to the current location in 1955 to accommodate the congregant growth to ninety families. The Greenwich Hebrew Institute was renamed Temple Sholom and became the "Putnam Hill" neighbor to Christ Church (Episcopal). Religious school classes had been hosted by First Presbyterian Church, however, in 1990, a new building was erected, at 300 East Putnam Avenue, to support further growth of the rapidly growing congregation. The Hershaft Pavillion was constructed in 2000 to accommodate eleven new classrooms as well as other educational facilities. 
Today, 100 years after its founding, Temple Sholom remains a vibrant, energetic and committed congregation with more than 650 families. The Selma Maisel Nursery School provides rewarding preschool experiences, while the Temple Sholom Learning Center offers an innovative and engaging religious school model, "Jewish Education – Reimagined," to its students. Temple Sholom is led by Senior Rabbi Mitchell M. Hurvitz, a scholar, teacher and community activist. Local enthusiasm has led to successful member-run groups like Sisterhood, Brotherhood, Jewish Network of Young Couples, Social Action and BBYO chapters for teens.
In recognition of its centennial year, the Temple Sholom community plans to honor the past, embrace the present and envision the future with a variety of special projects and events during the upcoming year.
Beginning this month, the Temple Sholom congregation will have the opportunity to participate in the writing of a new sefer Torah. The Torah, which will be used by future bar and bat mitzvah children, will be completed before Shavuot, the festival holiday when Moses and the Jewish people were given the Torah on Mount Sinai. An exciting roster of special projects and programming has also been planned in honor of the anniversary. Some highlights include: a centennial video, "Temple Sholom's Got Talent," a major guest speaker, an extraordinary Gala, a discussion with Mosab Hassan Yousef, author of "Son of Hamas," and a special spring concert.
Temple Sholom is busy planning for the high holidays and is looking forward to sharing these Days of Awe with you and your family. For more information about Temple Sholom or to receive one-time complimentary High Holiday tickets, contact Lori Baden at 203-542-7175 or lori.baden@templesholom.com.