August 21, 2015
Mission Accomplished for Greenwich Resident Harris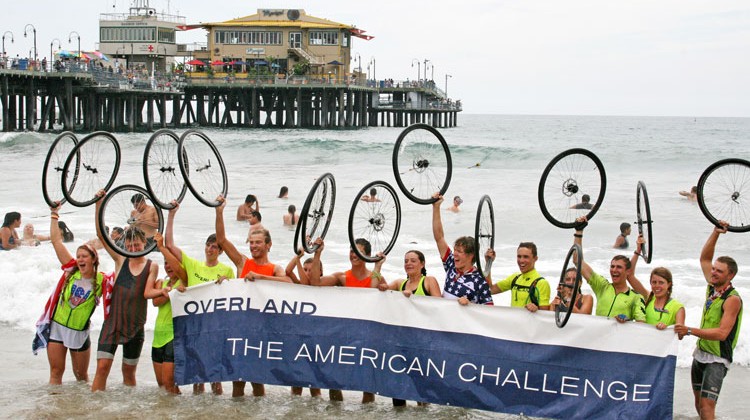 Greenwich resident Henry Harris had quite the bicycle ride. Along his cross-country journey, the Brunswick School senior dealt with fatigue, steep mountains, oppressive heat, nasty headwinds, and even picked up a couple of bumps and bruises from falling along the way.
Despite the hardships of the month-long adventure, Harris wouldn't trade this experience for the world.
"It was bittersweet," Harris said. "Myself and all my friends were really happy once we saw the ocean, but we were also sad because the trip was ending. If I had the time and ability, I would absolutely do this again, though. It was the greatest experience in my life."
Back in late June, Harris traveled down to Charlestown, S.C., to meet up with his American Challenge group to kick off a 3,000-mile journey that ended in Santa Monica, Calif. on Aug. 6, averaging 85 miles per day.
The American Challenge is run through a program called Overland, a summer camp for students in fourth through 12th grades.
"Physically I was pretty wiped out," Harris said. "It was a pretty exhausting trip. I am still trying to recover from the lack of sleep, but mentally I had mixed emotions. When we saw the ocean, everybody started breaking out in tears, but once we realized the trip was over, we were all sad. We made some great friends during this journey."
Once Harris' bike touched the Pacific Ocean, he saw his family, who made the trip from Greenwich to Los Angeles for a quick visit.
Then it was off for one last meal with the bike group. The next day Harris met up with his family and spent the time sightseeing around the City of Angels.
On Aug. 8, Harris and his family flew back to the East Coast.
Throughout the journey, there were some obvious challenges for Harris and his American Challenge group. Whether it was biking through the desert or trying to get by on limited sleep after riding for over eight hours a day.
The hardest part of the journey to California for Harris was riding through the panhandle of Oklahoma.
"There were 30 miles per hour headwinds constantly in my face, and it was just all uphill," Harris said. "There was just a 360-degree view of nothing. No matter where you looked there wasn't a single man-made object in sight. It was a really weird sight, but it was the hardest thing I've ever done. It was so mentally taxing looking around and knowing I have 12 hours left of biking or at 6 p.m. knowing I have four more hours of biking, where normally at that time I would be sleeping."
For Harris, his biggest obstacle was a relatively unknown mountain area in central Arkansas called Petit Jean. He conquered the mountain and moved on to his next challenge, though it's a spot Harris won't soon forget.
"No one ever heard of that mountain before, other than the people who live around there," Harris said. "That small mountain has such a significant role in my life now. It's interesting how the smallest things are hiding around the corner, and that there are going to be roadblocks or challenges my life. You just have to deal with them."
During his journey, Harris had a front-row seat to the beautiful scenery this country has to offer. He rode through South Carolina, Alabama and Arkansas and saw the Mississippi River and Ozarks. He rode across the Great Plains, Rocky Mountains and the Continental Divide. Harris also experienced the South Rim of the Grand Canyon, Arizona's Black Hills, and California's Mojave Desert.
Harris was biking for the adventure, but also for a great cause, the Marshall Legacy Institute's CHAMPS program.
The Children Against Mines Program (CHAMPS) is an educational outreach program that engages students in a global effort to rid the world of landmines. The program raises awareness about landmines and gives students the chance to fund-raise and sponsor a mine detection dog. In addition, students in the United States connect with students in mine-affected countries to promote global citizenship and cultural change.
"My school is raising money for a dog named after a late teacher [at Brunswick] named Robert Cosby, who was a huge part of the community and still is," Harris said, just prior to starting his journey in June. "He's famous for his handshake. So we decided to start a club for CHAMPS and to raise money for a dog in his name. My goal is to finish the fund-raising for this dog."
Tags:
American Challenge
,
biking
,
Brunswick School
,
CHAMPS
,
cross country
,
ctbike
,
greenwich
,
Henry Harris
,
Overland